September–October 2021 Newsletter
Visits from the EPA Administrator
Administrator Michael Regan recently concluded his inaugural visits to Arizona and California. In northern California, he joined Governor Newsom to view wildfire damage and learn about EPA's recovery work; he also met with Silicon Valley leaders to discuss technology companies' work to reduce their carbon footprints. In southern California, he announced funding for building water infrastructure, reaffirmed EPA's commitment to communities disproportionately affected by pollution, and met with local officials near the border to discuss the transborder wastewater challenge. In Arizona, the Administrator toured an abandoned uranium mine with Navajo Nation leaders and elected officials; he also met with officials about a project to revitalize the Salt and Gila Rivers.
A Partnership for Environmental Justice in California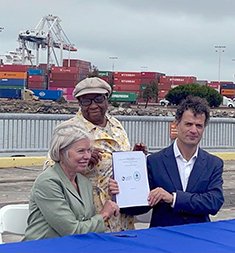 EPA has signed a five-year, first-of-its-kind Memorandum of Understanding (MOU) with CalEPA to improve environmental compliance and enforcement in communities disproportionately affected by pollution. The MOU creates a framework for the two agencies to expand collaborative activities related to inspections, compliance assistance, communication, community engagement, and training to benefit public health and the environment in overburdened communities.
Protecting Children's Health
October is Children's Health Month. Children are more vulnerable than adults to pollutants and toxic substances such as lead. This is because of differences in body size, behavior and biology that can lead to greater exposure and unique windows of susceptibility during development. EPA works to protect children from environmental exposures by consistently and explicitly considering early life exposures and lifelong health in all human health decisions.
Enforcement Update
Sixteen to One Mine Operators Agree to Protect Local Waterways
EPA and the Sixteen to One Mine, one of California's oldest operational gold mines, have agreed to an Administrative Order on Consent requiring the mine to install a new treatment system that will remove pollutants from mine drainage to prevent the pollutants from entering local waters. The mine was found to be in violation of its permit under the Clean Water Act after consistently discharging mine-influenced water that exceeded limits on pollutants. The Sixteen to One Mine, located in the Tahoe National Forest, discharges into Kanaka Creek, a tributary of the Yuba, Feather, and Sacramento Rivers.
Climate Partnerships
EPA is celebrating 30 years of climate change partnership programs. Learn about the history and impacts of climate partnerships and see the video for a conversation between present and past EPA Administrators on the legacy and future of such programs.
Alert

Mission Completed

California Wildfires
EPA has completed its post-wildfires recovery mission for the Federal Emergency Management Agency, in close partnership with California and local partners. In this first phase of the larger recovery process, EPA assessed properties with fire-damaged structures and removed household hazardous waste, laying the groundwork for rebuilding.
A New Commitment to Addressing PFAS
EPA Administrator Michael Regan has announced EPA's PFAS Strategic Roadmap, laying out an agency-wide approach to addressing  Per- and Polyfluoroalkyl Substances (PFAS), the "forever chemicals."
EPA's Coronavirus Resources
Resources