2020 WasteWise National Award Winners
Recognition was a key element of WasteWise. EPA awarded select WasteWise partners for their exemplary waste prevention and diversion activities. Partner awards were based on self-reported data in the categories of waste prevention, recycling and disposal.
The 2020 WasteWise national award winners shared details and quotes about their waste prevention and diversion activities, and about their awards with EPA. Read about their accomplishments and how they achieved them.
Disclaimer: EPA does not endorse these entities or their services.
On this page:
---
Kohl's
Menomonee Falls, Wisconsin

- Very Large Business Partner of the Year
Kohl's is an omnichannel retailer with over 1,100 stores in 49 states. With such a large retail footprint, Kohl's is in a unique position to make resounding impacts on the planet, especially in areas like waste management. Kohl's believes that incorporating sustainable solutions with the way they do business will help to build better futures for families. 
In 2019, Kohl's achieved an 84 percent waste diversion rate through multiple initiatives, including plastic and cardboard recycling, paperless billing, and beauty product and fabric scrap repurposing. Kohl's recycled over 140,000 tons of material, including more than 6.8 million pounds of plastic and 249 million pounds of cardboard. Other key accomplishments included:
Kohl's became an active member of the How2Recycle label program.
Kohl's stopped selling plastic water bottles at corporate and credit food service locations and vending machines, eliminating 150,000 plastic bottles annually.
Kohl's announced sustainability goals focused on three key areas: climate action, waste and recycling, and sustainable sourcing. Kohl's waste and recycling goals are focused on managing all wastes, reducing waste generation, and promoting relevant recycling information to customers. Kohl's has committed to achieving an 85 percent diversion rate. 
Kohl's has been an active WasteWise partner since 2007 and has earned multiple WasteWise awards.
---
Freightliner Custom Chassis Corporation
Gaffney, South Carolina

-

Large Business Partner of the Year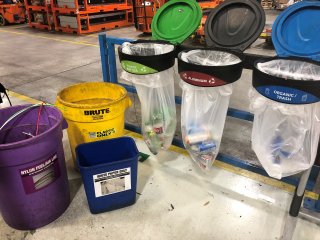 Freightliner Custom Chassis Corporation's (FCCC's) goals are to build as many chassis as possible and provide the best products to its customers. With these goals in mind, FCCC had to determine the best ways to reduce the waste the company generates through production processes. In 2008, FCCC accepted the challenge of going zero waste to landfill and became the first Daimler company to achieve this milestone. FCCC's practice is to recycle as much waste as possible. What cannot be recycled goes to an incinerator. FCCC's goal is to maintain a 95 percent recycling rate each month. The company has developed a network of recyclers throughout the Carolinas that help support its goals.
FCCC has worked diligently to ensure that its commitment to waste reduction has been engrained in the company's culture. Business boomed in 2019, which meant FCCC needed to find a better way to recycle the influx of material. With the help of an on-site services group, the company maintained its monthly goal of a 95 percent recycling rate. In 2019, FCCC diverted over 3,587 tons of material.
---
iThink Financial Amphitheatre
West Palm Beach, Florida

 - 

Mid-size Business Partner of the Year
As a responsible community leader, iThink Financial Amphitheatre in Palm Beach County is proud of its ongoing efforts to implement company-wide sustainability initiatives.
iThink Financial Amphitheatre has a team of zero waste managers who make sustainability a priority every day. The open-air amphitheatre has a robust recycling program, water refill stations, no plastic straws, and provides food and beverages in recyclable or compostable containers. With a capacity of 18,000 guests, the venue diverted 61 percent of its waste from landfills during the 2019 season, diverting 166,910 pounds of recyclable materials from 29 shows. Two water refill stations helped eliminate an estimated 35,000 water bottles during the season. The water refill tent also displays the amount of recycled materials diverted from prior shows and the aggregate recycling total for the venue. Clearly marked and strategically placed recycling stations greet fans in the parking lots prior to entering the facility. In addition, the facility donated approximately 1,000 pounds of food.  
iThink Financial Amphitheatre's biggest challenge of 2019 was safely and efficiently recycling and cleaning as much as possible between back-to-back shows. The facility's "post-show-pick" was its greatest accomplishment. Seventy-five crew members clean the venue for an hour after each show, which allows the facility to save countless hours, boost its recycling numbers, and reward participants with rebates.
---
Live Nation - PNC Music Pavilion
Charlotte, North Carolina

-

Mid-size Business Honorable Mention
In 2019, PNC Music Pavilion recycled over 140,000 pounds and composted over 91,000 pounds. The music venue strives to incorporate sustainability into all areas of its operations. It trained all staff on the sustainability program during orientations. Three-stream waste bins were placed around the venue to encourage fans to separate waste for recycling, compost, and landfill. Other initiatives, such as signage summarizing the "no straw" policy, use of locally sourced produce and humanely raised meat, and vegan food options, helped make fans aware of PNC Music Pavilion's goals. Free water refill stations encouraged fans and employees to bring their own reusable water bottles to prevent them from purchasing single-use items, saving over 21,000 plastic water bottles. All employees pick up and separate the three waste streams left on the ground after concerts to ensure proper management. A group of 11 dedicated team members focus on sustainability for their jobs. Employees hand sort waste from trash bags.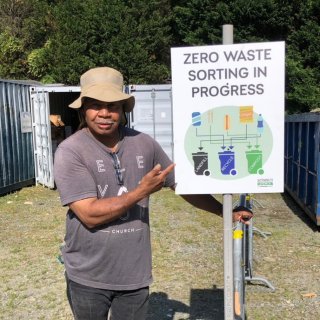 The most significant accomplishment during 2019 was diverting over 90 percent of concert-generated waste from landfills. This rate was the highest rate among Live Nation venues and earned PNC Music Pavilion the label of Zero Waste Venue. This, along with being named a sustainable destination by NC GreenTravel, made the long nights sorting trash all worth it. The greatest challenge faced in 2019 was finding a way to streamline the sorting process. PNC Music Pavilion stopped using bags in recycling containers and installed a ramp beside the recycling dumpster, which helped to reduce waste and save time by not having to rip open bags.
---
Ombligo, Inc.
Brooklyn, New York

 - Small Business Partner of the Year
Ombligo, Inc. minimizes the environmental impact of end-of-life management of information technology (IT) hardware by selling affordable refurbished IT hardware. Ombligo responsibly recycles any equipment that cannot be resold. All equipment marked for recycling is tracked by serial number through R2-certified downstream vendors. Ombligo has diverted tons of IT hardware and some hazardous materials from landfills. The company carefully inspects each unit to ensure that it only recycles parts with no resale value or other potential use. For example, the company has repurposed server chassis as table bases and has upcycled voltage regulator modules for business card holders.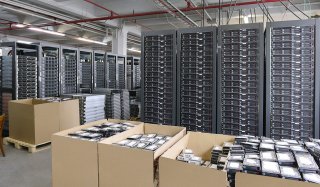 Ombligo's sustainability mission extends beyond warehouse walls. In 2019, the company's recycling operations for cardboard, mixed paper, wood, and other recyclables reduced carbon emissions by 30.3 MTCO2E when compared to landfilling, which is equivalent to the electricity needed to power over five homes for one year. As part of operations, the receiving and shipping teams diligently separate all packaging materials that can be recycled, and there are multiple recycling bins in the warehouse.
The IT company's other accomplishments in 2019 included obtaining recertification for Ombligo's four primary certifications: ISO 9001, ISO 14001, ISO 45001, and R2 Responsible Recycling. The company also received an Inner City 100 Award. In 2019, Ombligo hired and trained over a dozen employees. The most significant challenge was finding team members committed to the company's guiding sustainability principles. Ombligo improved its formal training procedures and focused its hiring efforts on identifying like-minded employees.
---
Central Michigan University
Mt. Pleasant, Michigan

-

College/University Partner of the Year
From the kitchens and residential halls to offices and facilities, every Central Michigan University (CMU) community member learns about waste reduction. CMU has a dual stream recycling program for paper, plastic, metal, fiber, and glass. CMU's waste reduction efforts are largely defined by zero waste kitchens and cafeterias that diverted 331.02 tons of organic material from landfills in 2019. In the same year, CMU recycled 417.54 tons of paper and plastic and 69.18 tons of metal. The university also prevented 182.84 tons of waste through university monthly auctions. Students learn about and implement waste reduction through electronics drives, Halloween pumpkin composting opportunities, and tabling at sporting events. In total, these practices enabled the university to achieve a diversion rate of 40.11 percent in 2019. While it is impossible to quantify the number of individuals that helped CMU to achieve this, university officials would like to acknowledge the hard work of CMU recycling, CMU kitchens, and the students who lead the on-campus efforts to reduce waste. 
Outreach and education defined CMU's 2019 waste reduction efforts.
Most notably, it marked the first half of an eight-month project to implement a composting program at the Andahwod Continuing Care Community, a tribally owned and operated elder housing community. Throughout the course of the project, students from both CMU and the Saginaw Chippewa Tribal College worked together to develop a composting program, which diverted over 6,000 pounds of food waste prior to the onset of the COVID-19 pandemic. CMU works to constantly engage students, staff, faculty, and community members in waste reduction efforts. Although this can be challenging, it has enabled CMU to progress as a community and to share a common goal of sustainability - on campus and beyond. Finally, CMU leads the country in composting efforts, placing second in the 2021 Campus Race to Zero Waste composting category.
---
City of Chesapeake Central Fleet Management
Chesapeake, Virginia

-

Local Government Partner of the Year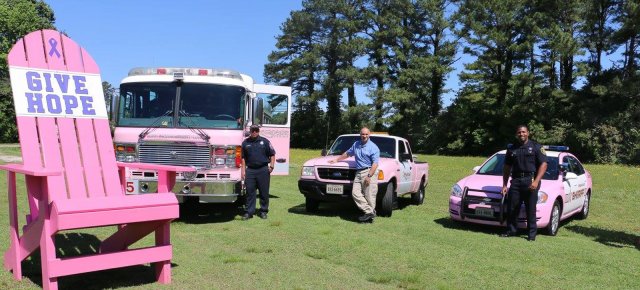 The City of Chesapeake Central Fleet Management recycles five items in its current program: scrap metal, used oil, used tires, mixed recyclables, and antifreeze. In 2019, Central Fleet Management recycled 311,020 pounds of scrap metal, mixed recyclables, and tires, as well as 5,750 gallons of used oil and antifreeze.
The city is making every effort to only purchase new vehicles that are hybrid or that operate on alternative fuels. 41 percent of the vehicles in the 1,495-vehicle fleet run on alternative fuel. Since starting the recycling and environmental program in 2005, City of Chesapeake Central Fleet Management has saved the city over 1.1 million dollars by using city labor. The program has made the city over $190,110 from recycling metal, oils, and tires.
In 2005, Central Fleet Management was the first department in the city to start a recycling program. That first year, the organization began recycling six items: metal, oil, coolant, tires, fuel, and oil filters. It recycled 6,467 gallons of oils and coolant, 227,448 pounds of scrap metal and tires, and five drums of contaminated oil absorbent and used oil filters. In 2009, the organization eliminated lead wheel weights from its tire shop and switched to steel and tin weights. Eliminating lead weights earned the City of Chesapeake Central Fleet Management a National Partnership for Environmental Priorities award from EPA.
---
Beth Israel Deaconess Medical Center
Boston, Massachusetts - Non-profit Organization Partner of the Year
Over the past two years, Beth Israel Deaconess Medical Center (BIDMC) has focused on improving the effectiveness of its management of 18 waste streams, as well as implementing waste reduction efforts. From 2019 to 2020, BIDMC increased its waste diversion rate from 46 percent to 57 percent. This was the result of its efforts to decrease waste, increase donations of medical supplies and equipment, and ensure that construction and demolition debris are properly managed and recycled. BIDMC's waste prevention and recycling activities have saved the medical center over $200,000 in 2019 and 2020.
---
Adams 12 Five Star Schools
Thornton, Colorado

-

School/School District Partner of the Year
As a public school district serving some 36,000 students in the Denver metropolitan area, Adams 12 Five Star Schools focuses on educating tomorrow's leaders, including in areas of environmental stewardship. In 2019, the sustainability team at Adams 12 focused its educational efforts by identifying existing green teams, recycling clubs, student environmental groups, and other groups focused on in-school recycling efforts. Adams 12 identified a strong desire to collect food waste in school cafeterias for composting. After receiving several grants through local non-profit Green Up Our Schools and conducting waste audits at all seven schools, Adams 12 determined that over 60 percent of school waste could be diverted to commercial composting.
Initiating a contract with a new waste hauler that provides actual weights for all three municipal waste streams – landfill (trash), comingled recycling (paper, aluminum, plastics), and compost (organics recycling including food and yard waste) - was crucial to focusing efforts. This data helped Adams 12 determine locations with higher-than-expected waste-to-landfill production and educate staff on recycling potential. The weights also clarified the impact collecting organics from cafeterias could have on a facility's waste diversion rate. It was determined that a typical elementary school may have a less than 16 percent waste diversion rate prior to composting; however, that value can jump to over 30 or 40 percent once composting begins.
Adams 12 has added access to hard-to-recycle streams such as alkaline batteries, printer cartridges and toner, electronics, light bulbs, and bulk metals. The district also grew its cafeteria composting program from five schools at the start of the 2018–2019 school year to nine schools at the end of the 2019–2020 school year. The district-wide diversion rate increased from 17.8 percent in 2018 to 21.3 percent in 2019. The district also reduced its total municipal and hard-to-recycle waste streams from 2,960.4 tons in 2018 to 2,701.6 tons in 2019. This reflects a nearly 15 percent reduction in total waste going to the landfill, a seven percent increase in recycling tonnage, and nearly doubling of compost tonnage.