2020 WasteWise Regional Award Winners
Recognition was a key element of WasteWise. The 2020 WasteWise regional award winners shared details and quotes about their waste prevention and diversion activities, and about their awards with EPA. Read about their accomplishments and how they achieved them.
Disclaimer: EPA does not endorse these entities or their services.
On this page:
Region 1
Region 2
Region 5
Region 6

Region 7
---
Region 1
Hypertherm, Inc. 
Hanover, New Hampshire
Hypertherm designs and manufactures advanced cutting and gouging products. Its procurement specialists work with suppliers to diminish shipping waste by using reusable shipping materials that can be returned after the products have been received. In 2019, Hypertherm also began to focus its internal and external processes to promote the United Nations' Sustainable Development Goals throughout the organization. These processes allowed Hypertherm to divert 2,532 metric tons of refuse from landfills, saving an estimated 1,407 tons of greenhouse gas emissions.
The company also focused on packaging standards in 2019. Hypertherm's packaging engineers created innovative solutions to ensure 100 percent of outbound packaging is recyclable. Hypertherm's rigorous environmental stewardship program accounts for the carbon of all products, from the carbon it takes to extract and create the resource through the life of the product and beyond. By creating recyclable packaging, Hypertherm removes barriers for customers and makes it easier to dispose of packaging and products in a sustainable way.
Hypertherm continued its mission to enrich communities and the environment. A highlight from 2019 includes the corporate social responsibility team's work to create an associate take-home program, which diverted unnecessary waste from entering the landfill or needing to be recycled. By reusing internal equipment, Hypertherm gave unused and outdated equipment a second life. This waste reduction practice also enriched the lives of associates. Initial engagement with the associate take-home program was over 50 percent.
---
Region 2
Impact Environmental
Bohemia, New York
For over thirty years, Impact Environmental has been a proud leader in the engineering, waste management, and recycling industries. The company's minimization work has protected communities and the environment from the effects of hazardous waste sites, substantially reduced greenhouse gas emissions, and conserved the nation's natural resources. In 2019, Impact Environmental used over 2.5 million tons of eligible soils excavated from construction sites in the New York City metropolitan area to construct earthen protective caps above five hazardous waste sites in New Jersey and Pennsylvania. These protective caps created a necessary safety barrier to protect surrounding communities from the toxic contaminants at the waste sites. The construction site soils were reused in lieu of virgin quarry products, conserving natural resources. The beneficial use of these soils avoided their disposal in far-off landfills, reducing truck transport times and truck diesel engine emissions.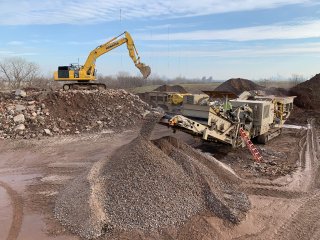 In 2019, Impact Environmental's Reuse and Recovery Center in Lyndhurst, New Jersey, accepted over 150,000 tons of clean soil, 85,000 tons of concrete, and 341,000 tons of aggregate to manufacture recycled building products. These products are cost-effective alternatives to the natural resources they replace.
In its 31st year in business, Impact Environmental continues to promote sustainability, waste minimization, beneficial use, recycling, environmental stewardship, wildlife habitat conservation, and job creation in the five states that it operates within. In 2021, Impact Environmental exceeded its goal to divert over three million tons of mixed earthen materials from landfills.
---
Live Nation - PNC Bank Arts Center
Holmdel, New Jersey
In 2019, PNC Bank Arts Center continued to promote a culture of sustainability through the efforts of the venue's sustainability department. Led by sustainability coordinator Palmer Dube, the sustainability team diverted 70 percent of the waste generated by the venue in the 2019 season. The department is equipped with a small, but dedicated team of zero waste captains who, along with the center's sustainability coordinator, sort show-day waste and ensure the materials generated are properly managed. Despite not being able to compost, PNC Bank Arts Center diverted an average of 7,000 pounds of waste per show, with a season spanning several months and 34 shows. Since the venue implemented water refill stations and started encouraging crew members to bring reusable water bottles, the venue has been able to offset over 21,000 water bottles. Mr. Dube ensured construction materials were also properly recycled during the venue's upgrades.
As the world leader in live entertainment, Live Nation is setting the precedent for implementing policies aimed at reducing its environmental footprint. As the program continues to expand to more venues around the country, its impact will only continue to grow thanks to dedicated sustainability coordinators like Palmer Dube and his team of zero waste captains.
---
Evelyn Hill, Inc.
New York, New York
Evelyn Hill, Inc., a family-run company in its third generation, operates the food service cafes and retail stores at the Statue of Liberty and Ellis Island. In 2021, Evelyn Hill, Inc., celebrated its 90th anniversary at the Statue of Liberty.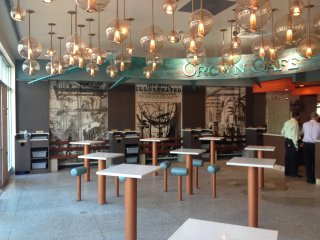 In 2019, over 4.2 million visitors came to Evelyn Hill cafes and retail stores. The company diverted 97.6 percent (over 317 tons) of its waste from landfills. By carefully sorting waste, Evelyn Hill was able to divert more waste. For the past nine years, Evelyn Hill has diverted over 94 percent of its waste from the landfill. Evelyn Hill's biggest accomplishment in 2019 was the 44 percent decrease in the amount of landfill waste, from 14.29 tons in 2018 to only 7.94 tons in 2019. In 2019, the company also captured seven percent more low-density polyethylene for recycling than the previous year. Evelyn Hill reduced kitchen waste. The company outsourced some of the food items that were previously prepared on-site, which decreased the waste created in the kitchen by 26 percent. The company also changed some of the items sold, so there may have been less cardboard inbound. This resulted in a 36 percent decrease in cardboard waste due to the change in packaging. Finally, Evelyn Hill also considers the potential for reducing waste when purchasing products.
---
BB&T Pavilion
Camden, New Jersey 
In 2019, BB&T Pavilion diverted nearly 60 percent of its internal venue waste away from landfills. The Pavilion produced almost 100 tons of recyclable waste, compared to roughly 77 tons of landfill waste, increasing its diversion rate by nearly 10 percent from the previous year.
BB&T Pavilion is committed to upholding Live Nation's global sustainability goals, including a goal to eliminate single-use plastics and achieve zero waste concerts by 2030. BB&T Pavilion, helped by dedicated crew members, serves water in recyclable aluminum cans, has eliminated plastic straws and lids, and uses only reusable, recyclable, or compostable food service ware. Additionally, BB&T provides free water refill stations, which have helped save nearly 33,000 single-use bottles.
During concerts, the zero waste captains work hard to hand sort recyclables from landfill waste so that all recycling is properly recovered. Every employee in the venue is trained on zero waste practices and work together to collect recyclables from the pavilion and the lawn after each show.
These practices, combined with a hardworking team, were significant factors in reducing the environmental impact of concerts at BB&T Pavilion in 2019.  More on Live Nation's sustainability platform, Green Nation, can be found here.
---
Region 5
Live Nation - Blossom Music Center
Cuyahoga Falls, Ohio
Not only is Blossom Music Center one of Live Nation's premier amphitheaters, it is also a focal point for Live Nation's sustainability program. During the 2019 season, the venue and its sustainability department, led by sustainability coordinator Anna Moore, worked to divert waste from landfills and educate both staff and fans about the importance of sustainability. Thanks to Live Nation's efforts, the venue is equipped with three waste stream options for fans, free water bottle refill stations, educational signage, and staff training regarding sustainability methods. After each show, Live Nation crew members team up to collect and sort the remaining waste, followed by Ms. Moore and her team of zero waste captains, who properly sort the waste. While these practices are common in other Live Nation amphitheaters across the country, the Blossom Music Center's sustainability department went above and beyond in the 2019 season and recorded some impressive benchmarks.
By the end of the season, Blossom Music Center diverted over 1.75 million pounds of waste away from landfills through composting, recycling, and donation efforts. Thanks to Ms. Moore and the zero waste captains, the venue achieved a show-day diversion rate of 67 percent in 2019, a 19 percent increase from the season prior and one of the highest diversion rates of any Live Nation venue. A significant accomplishment was donating over 5,000 pounds of various items to groups such as the Humane Society of Summit County, Battered Women's Shelter, Penguins on the Pond, and Haven of Rest. Live Nation's sustainability program stresses the importance of local partnerships when determining the best way to use diverted materials.
---
Region 6
Virco Manufacturing Corporation
Conway, Arkansas
Since 1989, Virco Manufacturing Corporation has demonstrated its commitment to the environment while producing school and commercial furniture. In 1994, Virco joined the WasteWise program and began documenting its waste prevention, recycling, and diversion efforts. 2019 and 2020 were very challenging years for businesses across the United States; however, Virco's Conway Division weathered the challenge by not closing and continuing normal manufacturing processes and recycling efforts while implementing practices to protect employees and others. Virco's recycling department, comprised of four employees, had no interruption in service and continued to find markets for recyclables and partner with businesses and schools. The Take-Back Program, which started in 2002 with the purpose of taking back, recycling, and repurposing furniture manufactured by the company or its competitors, flourished in 2019 as Virco donated 400 tons of furniture to a local flea market, financially distressed school districts, an addiction recovery home, and Goodwill.
Virco also continued the Cash for Cardboard Program, which started in 1993 to help elementary school students attend space camp by collecting, recycling, and donating the proceeds from cardboard collection back to the school. The program continues to thrive and has expanded to include seven school districts, 34 schools, and four businesses. As of 2021, over $300,000 in proceeds from cardboard recycling have been disbursed to participating schools. Although material showed a slump in revenue, Virco continued to move recyclables through the system.
During 2019 and 2020, Virco diverted over 6,400 tons of potential waste from the landfill. Waste management policies, community involvement, and an environmentally focused corporate mindset are essential for a waste prevention and recycling program's success.
---
Daikin Texas Technology Park
Waller, Texas
Complete with an office building, a manufacturing plant, a cafeteria, a wellness center, engineering labs, training dojos, and wastewater treatment plants, Daikin Texas Technology Park (DTTP) is much like a small city. DTTP receives an enormous amount of packaging material, which makes Daikin's commitment to achieving zero waste to landfill even more critical.
In 2019, DTTP and Quietflex, a Daikin group company, implemented a returnable container system. The companies began packaging and delivering supplies in returnable metal containers. This project reduced 46.5 tons of wood pallets and 63 tons of cardboard in 2019.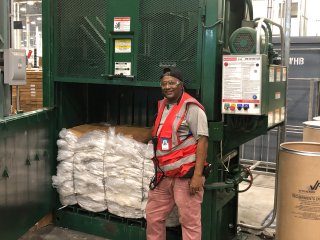 Also in 2019, DTTP created four recycling technician positions to reduce contamination of its recycling streams, increase the volume of recyclables, and improve recycling rebates. Because of these employees, film plastics recycling increased from 0 to 100.  DTTP's waste management efforts saved $646,579 in 2019.
DTTP's most significant accomplishment in 2019 was expanding wood waste recycling. Historically, DTTP struggled to find a recycling vendor that could handle the volume of pallets it needs to recycle. Fortunately, DTTP identified two vendor partners who were able to help. Consequently, DTTP diverted 1,491 tons of wood waste from landfills.
DTTP's greatest challenge to recycling and waste diversion is contamination. To solve this, the company put tremendous effort into signage and employee communication. However, DTTP saw a greater reduction in contamination rates once it transitioned from recycling compactors to balers. The company has since become more intentional about container selection, policy development, and making the process easier for internal customers.
---
Region 7
Hy-Vee Cherokee Distribution Center
Cherokee, Iowa
Each Hy-Vee distribution facility weighs, tracks, and reports waste each month to ensure they divert as much waste as possible from landfills. Waste streams include bread trays, cans and bottles, battery cores, food waste, pallets, plastic, scrap metal, textiles, tires, totes, and wood scraps. In fiscal year 2019, Hy-Vee diverted 31.57 million pounds of waste, including 22.47 million pounds of wood pallets, 701,956 pounds of cardboard, 687,837 pounds of plastic, and 132,144 pounds of donated product. The overall diversion rate was 98.99 percent.
Hy-Vee does quarterly evaluations to divert waste and minimize resources used. Company sustainability practices include double-sided printing, water filtering, and composting or recycling damaged products. A local beekeeper visits regularly to pick up damaged bags of sugar to feed their hives. Hy-Vee also donates damaged pet food and litter packages to animal shelters. In addition, the company has repurposed furniture from other buildings to minimize the impact of its office remodel.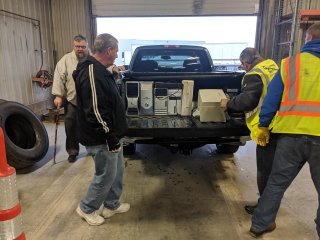 In 2020, Hy-Vee's most significant accomplishment was maintaining a 98.4 percent diversion rate during most of the COVID-19 pandemic. Because of employee health concerns, Hy-Vee switched from bulk items to individually packaged items. However, the employees rose to this challenge, and Hy-Vee still diverted the majority of its waste.
Hy-Vee's greatest challenge so far has been finding reliable partners to assist in waste reduction efforts. Composting companies are hard to come by in Cherokee, a small community in northwest Iowa, which has necessitated partnering with several providers. Hy-Vee uses two companies to help cut composting costs—an industrial composting company and a vendor that picks up raw compost for livestock feeding. Despite this challenge, Hy-Vee is committed to its zero waste efforts.
---
Northern Natural Gas
Omaha, Nebraska
Northern Natural Gas owns and operates the largest interstate natural gas pipeline system in the United States, which stretches across 11 states, from the Permian Basin in Texas to Michigan's Upper Peninsula. Northern's waste management program promotes waste minimization, reduction of landfill disposal, and recycling, and requires annual training for over 900 employees. The program emphasizes recycling by requiring operations personnel to log monthly recycling efforts. 
In 2020, Northern diverted more than 2.7 million pounds of material from landfills. This total includes large-scale construction projects that recycled more than 888 tons of scrap metal, as well as office settings that recycled 12.8 tons of paper. Field operations' recycling efforts prevented the disposal of hazardous or potentially hazardous materials. Employees recycled or reused approximately 80,000 gallons of used oil, 17,823 gallons of glycol, and 4.88 tons of batteries. Northern Natural Gas also participates in a solvent continued use program that prevented the disposal of 8,070 gallons of used solvent, which would have been characterized as hazardous waste. The company also recycles aluminum cans, cardboard, e-waste, plastic, and newspapers.
Companywide initiatives have decreased the need to recycle by reducing or eliminating waste. By replacing fluorescent bulbs with longer lasting LEDs, Northern Natural Gas decreased the number of bulbs recycled from 3,884 pounds in 2019 to 1,659 pounds in 2020. In 2019, every Northern employee received an insulated metal cup to eliminate the waste created by using disposable cups. Water dispensers have been installed at many locations to decrease the number of plastic bottles used. These are examples of Northern's commitment to the Environmental RESPECT business principle in all aspects of operations: Responsibility, Efficiency, Stewardship, Performance, Evaluation, Communication, and Training. Northern continually challenges employees to improve and not just maintain ecological efforts. 
---
Live Nation - Hollywood Casino Amphitheatre
St. Louis, Missouri 
As a world leader in live entertainment, Live Nation Entertainment has a responsibility and an opportunity to inspire global environmental action. Given the scale of Live Nation's business, even the smallest change made to help the environment can have a huge impact. In 2018, Live Nation removed six million plastic straws from venues and installed free water refill stations, which fans used over 175,000 times, reducing single-use plastic water bottles. Sorting waste after each show led to an over 150 percent increase in waste diversion across 14 pilot venues. In 2019, Live Nation's sustainability efforts doubled by expanding to over 30 venues.
As one of the initial venues chosen to participate in Live Nation Entertainment's companywide sustainability effort, Hollywood Casino Amphitheatre focuses on waste diversion in multiple ways, including a textile donation program, composting, and outreach opportunities for both staff and fans. In 2019, Hollywood Casino Amphitheatre achieved a waste diversion rate of 60 percent and donated 1,050 pounds of textiles. The venue also has over 15 staff members devoted to waste diversion and green initiatives.
Each year, Hollywood Casino Amphitheatre strives to increase its waste diversion rate. The venue collects and diverts mixed recyclables (e.g., aluminum cans, bottles, paper, cardboard) as well as organic food waste and compostable service ware from concession operations. The venue has also begun collecting plastic wrap, which is recovered by the waste hauler and taken to a material recovery facility.
Each season, waste diversion seems overwhelming, but the dedication of the local green team, venue management, and corporate support makes it easier than anticipated. One of the biggest hurdles the venue faces is the changing requirements around what materials can and cannot be recycled. Hollywood Casino Amphitheatre takes pride in knowing they have made a difference at the venue and aims to educate staff about how they can apply sustainability practices outside of work.