Region 7 Science Program
What is the Regional Science Program?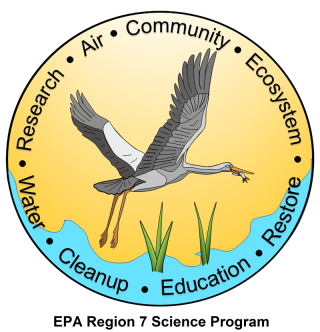 The Regional Science Program links EPA's Office of Research and Development (ORD) with EPA's Regional Offices and emphasizes building networks and partnerships between Regional and ORD scientists, effectively transferring research results on high-priority regional science issues and conducting science outreach to the states, tribes, and communities.
On this page:
EPA Region 7's Science Priorities aim to:  
Study impacts of emerging contaminants such as

PFAS

,

ethylene oxide (EtO)

, and

microplastics

.

Use social science research to assist communities with climate and resiliency planning.
Evaluate/address climate impacts of harmful algal blooms and nutrients on water resources.

Develop remote sensing techniques to measure burn areas/impacts on downwind communities.

Identify preventive and mitigating approaches for community resiliency.

Develop real-time measurement methodologies to characterize

EtO

emissions.

Develop technologies to expedite large-scale, complex mining/mineral processing site remediation.
The cross-cutting Issues of technical support, environmental justice, climate change, and reuse are included in each science priority.
Success Stories
Emily Nusz and Dr. Eliodora Chamberlain, EPA Region 7, and Hillary Stoll and Cyril Martinmaas, Nebraska Department of Environment and Energy, attended ORD's ROCS-Net event in Cincinnati, Ohio, in November 2022.
They visited four ORD Research Centers over three days and attended numerous research demonstrations and presentations, along with other EPA Region 7 staff and state and tribal representatives from across the nation.
Regional-ORD Community of Science Networking (ROCS-Net) is an ORD orientation and networking program that provides an opportunity for regional, state, and tribal staff to visit EPA research facilities and discuss collaborative research opportunities, science priorities, and cross-cutting issues with ORD scientists.
The program includes overviews of ORD research programs, meetings with lab scientists, facility tours, research demonstrations, and information-sharing sessions between participants.
The group received laboratory tours of the following facilities:
Andrew W. Breidenbach Environmental Research Center (AWBERC)
Testing and Evaluation Facility (T&E Facility)
Experimental Stream Facility (ESF)
Center Hill Research Facility (CHRF)
The group learned about ORD's research on the following topics:
Microplastics Research (AWBERC)
Lead Corrosion Control Studies, Lead Service Lines, and Pipe Analysis (AWBERC)
Drinking Water Pilot Studies-Legionella, Lead in Drinking Water, and PFAS Drinking Water Treatment (AWBERC)
Oil Spills Research and Wave Tank Simulation (AWBERC)
PFAS Analytical Method Development and Validation (AWBERC)
Wastewater Surveillance and Sewage Virus Levels (AWBERC)
Infrastructure Decontamination, Premise Plumbing, and Water Security Test Bed (T&E Facility)
Ecotoxicological and Ecosystem Structure/Function Effects, and Aquatic Contaminants/Pollutants of Concern (ESF)
fMaterials and Landfill Management (CHRF)
Region 7 participants discussed issues and concerns in Nebraska with several ORD researchers on microplastics, drinking water, and lead. As a result, participants discussed various approaches and ideas benefitting Region 7 and the state. This is the beginning of future collaborative research between ORD, Region 7, and Nebraska to address our science needs and environmental issues.
ORD Research and Small Business Funding Opportunities
People, Prosperity and the Planet (P3) National Student Design Competition – EPA's P3 Program is now seeking applications from teams of U.S. college students proposing to research, develop, and design solutions to real-world challenges that respond to the needs of people across the U.S, including those in small, rural, tribal, and underserved communities. P3 highlights the use of scientific principles in creating innovative technology-based projects that achieve the mutual goals of improved quality of life, economic prosperity and environmental protection. EPA's P3 Program is a unique competition that is open to teams of college/university students working to design innovative solutions for a sustainable future. P3 offers students hands-on experience that brings their classroom learning to life, while also allowing them to create tangible changes in their communities.
Opened: Oct. 4, 2022
Closes: Feb. 1, 2023

Award amounts: EPA P3 is now a one-phase competition where teams are awarded a two-year grant of up to $75,000 to develop their idea and showcase their research at EPA's National Student Design Expo (NSDE).
New Funding Opportunity: Developing and Demonstrating Nanosensor Technology to Detect, Monitor and Degrade Pollutants Request for Applications (RFA) – EPA, as part of its Science to Achieve Results (STAR) program, is seeking applications for research to develop and demonstrate nanosensor technology with functionalized catalysts that has the potential to detect, monitor and degrade pollutants. Environmental contaminants, including pesticides, per- and polyfluoroalkyl substances (PFAS), and heavy metals, can have an adverse effect on human health even at low concentrations. Nanosensors have the potential to detect a wide variety of different pollutants, and their deployment for environmental contaminant detection is growing rapidly. Because of their unique properties, nanomaterials have enabled advances in sensor design such as miniaturization, portability, and rapid signal response times. Nanosensors can help monitor many pollutants and environmental chemicals in more cost-effective, efficient, and selective ways than traditional methods. The goal of this RFA is to define a holistic approach for detecting, monitoring, and degrading environmental pollutants using nanosensors. EPA is seeking projects with expected results that can be practically applied in real-world settings and potentially transform environmental monitoring and management.
There are two distinct areas of research covered by this solicitation. Applicants should address both of the following research areas.

Research Area 1: Develop and demonstrate nanosensor technology to detect and monitor pollutants.
Research Area 2: Develop and demonstrate nanosensor technology with functionalized catalyst to degrade selected contaminants.

Opened: Oct. 19, 2022
Closes: Dec. 7, 2022
If you are interested in potentially serving on the external scientific Peer Review Panel, rather than applying, please send your contact information and a copy of your resume to Aaron Wishnuff (wishnuff.aaron@epa.gov) at your earliest convenience.
Learn more about Chemical Safety for Sustainability and EPA Research Grants.
The Center application should include two individual research projects involving multidisciplinary teams with appropriate expertise to address the two research subtopics identified below:

Characterize cumulative health impacts of early lifestage (prenatal and childhood including adolescence) exposure to pollutants in underserved, rural agricultural communities.
Propose a cumulative impact assessment approach or method that will lead to potentially effective interventions or decisions to reduce exposures and mitigate the adverse health outcomes from the chemical and non-chemical stressors being investigated for early lifestages (prenatal and childhood up to adolescence) in underserved, rural agricultural communities in the United States.

Register for webinar here: Tuesday, Dec. 6, from 1 to 2 p.m. EST
Opened: Nov. 10, 2022
Closes: Jan. 11, 2023
If you are interested in potentially serving on the external scientific Peer Review Panel, rather than applying, please send your contact information and a copy of your resume to Chris Rea (rea.chris.l@epa.gov) by Dec. 31, 2022.
Learn more about Health Research Grants and EPA Research Grants.
EPA Research Grants – EPA's Research Grants Program aims to stimulate and support scientific and engineering research that advances EPA's mission to protect human health and the environment.
Research Grant Topics (on left at link above): Air Research, Climate Change Research, Ecosystems Research, Health Research, Safer Chemicals Research, Sustainability Research, and Water Research

Opens and closes: See "Open RFAs" at link above

Award amounts: Vary by topic
Small Business Innovations Research (SBIR) – EPA is one of 11 federal agencies that participate in the SBIR Program which funds small businesses to develop and commercialize innovative technologies. EPA releases one Phase I solicitation per year for environmental technologies in specific topic areas that change from year to year.
If you are interested in receiving email RFA updates on research funding opportunities, sign up on EPA's website.
Upcoming ORD Events, Webinars and Training
ORD Tools and Resources Training Webinar: Sensor Pods for Volatile Organic Compound Fenceline Monitoring and Data Analysis
Thursday, Dec. 1, from 3 to 4 p.m. EST
ORD's Next Generation Emission Measurement (NGEM) program is developing lower-cost fenceline Sensor Pods (SPods) with near-source data analysis approaches that enable new forms of air pollution source monitoring. Easy to site, solar-powered SPods can help industry, regulators, and communities improve understanding of certain types of industrial source emissions, such as fugitive leaks and process malfunctions. This webinar will review progress from EPA SPod prototypes to commercially available versions with example field applications. The webinar will also include a description of best use practices for the SPod and discuss development of an EPA software system called the SEnsor NeTwork Intelligent Emissions Locator (SENTINEL). Presenters will outline emerging partnerships with EPA Region 4 (Southeast) and others that will help make these NGEM systems available to various groups. 
Who should attend? State and local governments, tribes, and others interested in learning more about using emerging fenceline monitoring tools near facilities.
Access presentation materials from past EPA Tools and Resources Training Webinars.
Access presentation materials from past EPA Tools and Resources Webinars.
For registration questions, email EPA.
Webinar Series Coordinator: Lisa Matthews, senior advisor and state liaison.
---
ORD posts upcoming events, webinars and training several months in advance, which EPA's research staff is participating in, hosting, or supporting in other ways.
Check out the EPA Research Events page often for updates.
ORD Publications, Products, Resources and Toolkits
Strategic Research Action Plans, Fiscal Years 2023-2026
ORD published the FY23-26 Strategic Research Action Plans (StRAPs) for these six National Research Programs (NRPs):
Air, Climate, and Energy (ACE)

Chemical Safety for Sustainability (CSS)

Health and Environmental Risk Assessment (HERA)

Homeland Security (HS)

Safe and Sustainable Water Resources (SSWR)

Sustainable and Healthy Communities (SHC)
As part of the StRAP development process, ORD identified six cross-cutting topics – environmental justice, climate change, cumulative impacts, community resilience, children's environmental health, and contaminants of immediate and emerging concern – for close coordination throughout strategic research planning and implementation. Importantly, the plans also anticipate emerging issues.
Region 7 had 23 representatives (internal and external) working with ORD to incorporate our science priorities into the StRAP. This is the most involvement Region 7 ever had, and the Region hopes to continue that level of involvement in future StRAPs to address our science needs.
Available Online: CompTox Chemicals Dashboard Version 2.1 and GenRA Version 3.1
The Center for Computational Toxicology and Exposure (CCTE) has released new versions of the CompTox Chemicals Dashboard (CCD) and the Generalized Read-Across (GenRA) web application.
The CCD provides public access to chemical data in support of the Agency's mission to apply New Approach Methods (NAMs) and is a widely used resource for chemistry, toxicity, and exposure information for hundreds of thousands of chemicals.
CCD version 2.1 includes: new data and information on bioactivity (including those associated with PFAS chemicals) exposure, in vitro to in vivo extrapolation (IVIVE) of toxicokinetics, and hazard data; the addition of over 80 chemical lists and expanded dashboard functionality (e.g., batch searching and downloading); new data visualization tools; and bug fixes that allow users to access and utilize data of interest for over 1,200,000 chemicals. Users will experience: 1) increased information with the included 300,000 new chemicals, as well as increased metadata associated with the previous data, and 2) improved software to accommodate the inclusion of new chemicals and data. The Release Notes provide more information on the updates. More background about the CCD is available online.
GenRA is a standalone application that is linked to the EPA CompTox Chemicals Dashboard. GenRA version 3.1 fixes a number of bugs and allows users to better download, visualize, and utilize the data in GenRA, as well as relevant information from other databases like ToxCast and ToxRefDB. The update also introduces several significant new enhancements that allow users to: 1) better evaluate candidate analogues through physical-chemical property similarity, 2) make toxicity potency predictions, and 3) make ToxCast hit-call predictions. More information about GenRA and the update can be found in the GenRA Manual.
---