Dental Effluent Guidelines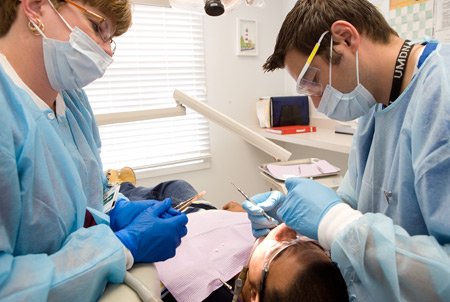 EPA is proposing pretreatment standards for discharges of pollutants into publicly owned treatment works (POTWs) from certain existing and new dental practices. Dentists would be required to control discharges of dental amalgam pollutants into POTWs.
EPA is also proposing to amend the General Pretreatment Regulations (
40 CFR Part 403
) to streamline oversight requirements for the dental sector.
Federal Register Notice (PDF) (October 22, 2014)(30 pp, 457 K, About PDF)
Support documents, including:

Fact sheet
Technical and Economic Development Document
Describes industry processes, pollutants generated, available control & treatment technologies, the technical basis and costs of the proposed rule
Documents related to this rulemaking can be found on EPA's docket at regulations.gov. The Docket Number is EPA-HQ-OW-2014-0693.
The public comment period closed on February 20, 2015.
On this page:
---
Public Hearing
EPA conducted a public hearing on the proposed pretreatment standards on November 10, 2014. A transcript of the hearing has been added to the rulemaking record.
---
Background
Across the United States, many states and municipal wastewater treatment plants (publicly owned treatment works) are working toward the goal of reducing discharges of mercury to POTWs.
Mercury is a persistent bioaccumulative toxic element. It is a concern to human health when fish and shellfish convert it to methyl mercury, which can harm the nervous systems of fetuses, infants and children exposed through fish and shellfish consumption. Many studies have been conducted in an attempt to identify the sources of mercury entering these POTWs.
Key facts about dental clinics and mercury:
Dental clinics are the main source of mercury discharges to POTWs

A 2003 study estimated that 50 percent of mercury entering POTWs was contributed by dental offices

Dentists discharge approximately 4.4 tons of mercury each year to POTWs

About 160,000 dentists working in over 120,000 dental offices use or remove amalgam in the United States; almost all of these send their wastewater to POTWs
Mercury-containing amalgam wastes may find their way into the environment when new fillings are placed or old mercury-containing fillings are drilled out and waste amalgam materials that are flushed into chair-side drains enter the wastewater stream. Some of the waste amalgam particles that reach the sewer system settle out in the sewers, and some are carried to POTWs. The physical treatment processes used in POTWs remove about 90 percent of the mercury received in wastewater. The mercury removed from wastewater then resides in the biosolids or sewage sludge generated during primary and secondary treatment processes.
Memorandum of Understanding on Reducing Dental Amalgam Discharges
In December 2008, the EPA signed a Memorandum of Understanding (MOU) with the American Dental Association (ADA) and the National Association of Clean Water Agencies (NACWA) to establish and monitor the effectiveness of a Voluntary Dental Amalgam Discharge Reduction Program. The purpose of this MOU is to have dental offices voluntarily install and properly maintain amalgam separators, and recycle the collected amalgam waste. EPA intends to continue outreach efforts under the MOU during the rulemaking process.
Resource Document
EPA has compiled information on current mercury discharges from dental offices, best management practices, and amalgam separators.
---
Additional Information
For additional information regarding dental amalgam, please email Damon Highsmith (highsmith.damon@epa.gov) or call him at 202-566-2504.