National Study of Nutrient Removal and Secondary Technologies
If you are a publicly owned treatment works (POTW), please consider filling out a short questionnaire to help inform a national study examining efficient and cost-effective approaches for nutrient removal.
Screener Questionnaire – Available Now!
EPA's voluntary POTW Screener Questionnaire is now available. This short questionnaire contains multiple choice and "yes/no" questions that can be quickly and easily completed online.
EPA appreciates your participation in the questionnaire. Your contribution to this nationwide study will be instrumental in guiding a new, collective understanding of low-cost, effective solutions for reducing nutrient discharges.
Study Goals
Some POTWs have added new treatment processes to remove nutrients, but these upgrades may not be affordable or necessary for all facilities. This study is helping EPA learn about other ways that POTWs are reducing their nutrient discharges, while optimizing operation and maintenance practices, and without incurring large capital expenses. The study has three main goals:
Obtain nationwide data on nutrient removal.
Encourage improved POTW performance with less expense.
Provide a forum for stakeholders to share best practices.
Benefits to POTWs
The study will:
POTWs have already seen the benefits of low-cost optimization. In 2012, the Montana Department of Environmental Quality began training POTW staff in the state on nutrient removal and optimization. POTWs whose staff fully engaged in the optimization process significantly reduced their nutrient discharges. See the Fact Sheets.
---
Nutrient Removal Accomplished Nationwide
results of the screener questionnaire help demonstrate an important aspect of the National Study: improved nutrient removal is attainable by all types of POTWs. Survey results to date show more than 1,000 POTWs with different biological treatment types (including both conventional and advanced treatment technologies) can achieve effluent total nitrogen of 8 mg/L and total phosphorus of 1 mg/L. The figure below includes those POTWs with a population served of at least 750 individuals and a design capacity flow of at least 1 million gallons per day.
Note: Survey respondents could select multiple biological treatment types.
---
Fact Sheets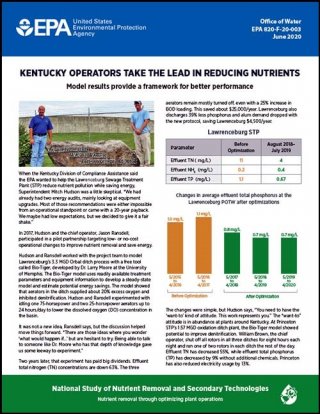 Descriptions of low-cost adjustments to reduce nutrient pollutant discharges at sewage treatment plants.
---
Additional Resources
EPA Resources
EPA has developed many resources related to nutrient pollution, wastewater treatment, and nutrient removal in wastewater. Get started building your knowledge base with these educational websites, reports, and factsheets.
Nutrient Pollution
Wastewater Treatment
Nutrient Removal in Wastewater
Wastewater Optimization for Nutrient Removal
State and Other Government Agency Resources
Many states and other government agencies have archived helpful resources on their websites while also launching technical assistance programs for operators in their area. EPA has compiled these resources to help POTW operators across the country find information and support for plants like theirs.
Industry Publications
Many independent wastewater organizations have developed valuable educational resources that help all wastewater operators assess and improve their plants. Read these articles to learn more about how to optimize all kinds of wastewater systems for improved nutrient removal.
Additional Information
Contact us for more information about the study (nutrient-removal-study@epa.gov).