National Study of Nutrient Removal and Secondary Technologies
EPA is conducting a national study focused on nutrient removal at municipal wastewater treatment plants, also called publicly owned treatment works
publicly owned treatment worksA waste-treatment works owned by a state, unit of local government, or a tribal entity, usually designed to treat domestic wastewaters. (POTWs).
Back River Wastewater Treatment Plant, Baltimore.
Background
Nutrient pollution is one of America's most widespread, costly and challenging environmental problems impacting water quality. Excessive nitrogen and phosphorus in our waters can lead to a variety of problems including eutrophication and harmful algal blooms, with impacts on drinking water, recreation and aquatic life. A wide range of human activities can contribute to nutrient pollution including stormwater runoff, agriculture, and wastewater discharges.
Many POTWs have added treatment processes for extensive nutrient removal, but these upgrades are not affordable or necessary for all facilities. Some POTWs have reduced their nutrient discharges by optimizing operation and maintenance practices without incurring large capital expenses.
Improving Nutrient Removal at POTWs
Currently, there are no comprehensive nationwide data on nutrient discharges and removal at POTWs. EPA and POTWs can use the information gathered from this study to learn about low-cost, effective solutions for reducing nutrient discharges.
Study Goals
Obtain nationwide data on nutrient removal to help set more realistic and achievable nutrient reduction targets.
Encourage improved POTW performance with less expense.
Provide a forum for stakeholders to share best practices.
Study Design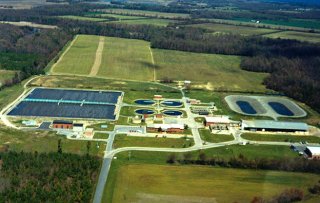 The full study is designed with multiple phases over the course of four to five years, allowing for interactions with stakeholders and experts in each phase. Conventional secondary treatment plants are the technical focus of the National Study.
The first phase of the study is collecting basic information from all facilities nationwide using an interactive, online screening questionnaire. The screener will collect data on technology in place and typical operations challenges. The questionnaire is tailored to minimize the number of questions, and reduce burdens on facilities that have limited staff available.
EPA expects to distribute the screening questionnaire in early 2018. Following the screening questionnaire, EPA plans to select a sample of facilities for further study, through a detailed questionnaire, or influent/effluent sampling.
How has the screener questionnaire changed?
In response to stakeholder comments, EPA has eliminated several questions, and simplified other questions to reduce burden.
Questions include those necessary to identify and stratify the universe of POTWs and, within that population, the secondary treatment POTWs not designed specifically to remove nitrogen and phosphorus. The survey makes use of multiple choice and "yes/no" questions, with the intention to use drop-down menus and checkboxes from which respondents will choose the best answer.
The screener has been revised to reduce burden by asking fewer questions for POTWs serving small populations and having no industrial inputs. EPA is not including open-ended questions in the screener questionnaire which would likely be unwieldy, due to the number and expected variation of responses and in the extensive follow-up needed when entering the responses into a database. EPA has provided webinars to demonstrate the electronic format, which is also designed to reduce burden.
Why is a complete population of POTWs needed to conduct the screener questionnaire?
Getting an accurate, national profile of POTWs is difficult without first identifying a complete population. Currently there exist multiple, disparate databases containing information concerning various subsets of treatment facilities; however, each of these databases is incomplete with respect to identifying all facilities. In addition, each existing database has missing or incomplete data fields.
In the initial notice for this survey (September 19, 2016), EPA indicated that the screener questionnaire would be conducted as a mandatory census of POTWs. The current survey is no longer mandatory, but this change requires EPA to take a different approach in developing the population and sampling frame for subsequent phases of the study.
Through collaborative efforts to date, more than half of the states have already provided EPA with lists and contact information for POTWs in their states. EPA plans to request the data from the remaining states under existing NPDES reporting requirements. Obtaining the list directly from the responsible permitting agency will ensure that EPA has the most complete list of POTWs possible. EPA plans to merge data from multiple sources to supplement the screener questionnaire, where necessary, to create the full population data set.
---
Benefits to POTWs
The multi-phase study will:
Help POTWs optimize nutrient removal by providing operation and performance information from similar types of POTWs that have already achieved cost-effective approaches to nutrient removal.

Serve as a major new nationwide data resource on nutrient removal to help stakeholders evaluate and develop achievable nutrient reduction values.

Provide a rich database of nutrient removal performance for POTWs, states, academic researchers, and other interested parties.
---
Documents
The public comment period for the following notice is closed. The draft questionnaire and public comments may be seen at
regulations.gov
. The Docket Number is EPA-HQ-OW-2016-0404. Facilities do not need to respond to the draft questionnaire at this time.
---
Additional Resources
---
Additional Information
For more information on the study, please send inquiries to nutrient-removal-study@epa.gov.
Photo credits:
Jane Thomas, Integration and Application Network, University of Maryland Center for Environmental Science.Exit