Great Lakes Water Quality Monitoring Program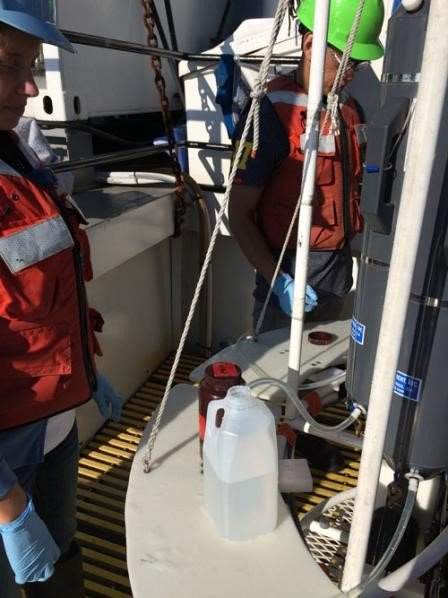 GLNPO's water quality monitoring program is designed to measure the quality of Great Lakes open waters and track changes in water quality through time. Since 1983, GLNPO's water quality monitoring program has sampled water quality parameters, including nutrient concentrations, water chemistry (pH, hardness, conductivity, temperature, dissolved oxygen) and water clarity, all of which can influence the health of the Great Lakes ecosystem. 
Lake water samples are collected from the Great Lakes from aboard the R/V Lake Guardian using a Rosette water sampler, which is equipped with twelve Niskin bottles. The Niskin bottles collect water from different depths, providing grab samples for water chemistry analyses. A Sea Bird profiler also measures water parameters as the rosette is deployed to the bottom of the lakes, collecting a profile of high-resolution water quality data at each station.
The main elements for the Great Lakes Water Quality Monitoring Program are nutients and metals, weather chemistry measures, and physical peramiters.
On this page:
---
Nutrients and Metals
Nutrients are elements that organisms use to grow and survive. It is important for lake ecosystems to maintain a healthy balance of nutrients because both high and low concentrations of nutrients can be harmful to lake health. This is also true for trace metals, such as copper, iron and zinc. Metals are necessary for biological processes in low amounts, but when concentrations in the water are too high, they can interfere with organism and ecosystem processes.
Phosphorus and Nitrogen: Phosphorus and nitrogen are necessary nutrients for aquatic plant growth, including phytoplankton in the lakes. However, if there is too much phosphorus or nitrogen entering the lakes, excess phytoplankton can grow. These "blooms" can be harmful algae. Algal blooms can also reduce or eliminate dissolved oxygen in the water, which can result, in rare instances, in fish illness and death along with reduced water quality and ecosystem health.
GLNPO monitors phosphorus and nitrogen levels in all five of the Great Lakes to inform fisheries managers about the health of the food web and to help agencies address eutrophication issues. Phosphorus and nitrogen can be found in multiple forms in the lakes. GLNPO samples and monitors total phosphorus, total dissolved phosphorus, soluble reactive phosphorus and total particulate phosphorus; total nitrogen, total particulate nitrogen and nitrite-nitrate nitrogen. Particulate organic carbon is also monitored.
Silica: Silica is monitored in the lakes because it is an important element required for diatom growth and can be an indicator of diatom community health and abundance. Diatoms are an important type of phytoplankton that contribute to lake primary productivity.
Chloride: Chloride is monitored in the lakes, as it is an indicator of anthropogenic impacts on the aquatic ecosystem.
Metals: Magnesium, calcium and sodium are among the monitored metals in the lakes. These metals are essential for many biological and chemical processes of organisms throughout the aquatic food chain.
Water Chemistry Measures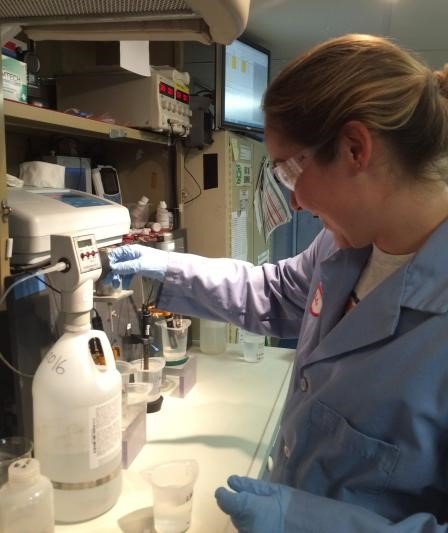 Water chemistry procedures are completed onboard the R/V Lake Guardian directly after the water samples are collected from the Rosette water sampler at each sampling station. The pH, alkalinity, conductivity and turbidity are determined for each collected water sample depth. Hardness is also measured for some water samples.
pH is a measure of the hydrogen ion (H+) concentration in the water, which is commonly used to determine if the water is more acidic (higher H+ concentration, associated with a lower number on the pH scale) or basic (higher OH- concentration, associated with a higher number on the pH scale). As pH controls many chemical and biological processes that occur in the lakes, monitoring pH is important for understanding lake-wide processes and the aquatic organism health.
Alkalinity is a measure of the buffering capacity of the water, which is the water's ability to resist changes to pH when an acid is added. Alkalinity provides information on the ecosystem's ability to buffer against changes in pH.
Conductivity in water is used as a measurement of the concentration of ions in the water. The higher the ion concentration, the higher the conductivity of the water, which is the ability of the water to conduct electricity. Salts are examples of an ions, which are atoms or molecules with a net charge. Conductivity is useful as a general measure of water quality. Each water body tends to have a relatively constant range of conductivity that, once established, can be used as a baseline for comparison with regular conductivity measurements.
Turbidity ;is a measure of water clarity. When light is shown through a water sample, turbidity is the amount of light scattered 90 degrees by the material in the water. When there is more material in the water, such as organic matter or sediment, there is higher light scattering, which is measured as higher turbidity. Higher turbidity indicates more material suspended in the water, which affects water quality and other processes in the water column. It also affects light penetration in the water column, limiting the depths of organisms that require sunlight for photosynthesis.
Physical Parameters
Physical parameters, including water temperature, air temperature, incident light, Secchi depth, wind speed, wave height, dissolved oxygen and barometric pressure are measured at each GLNPO sampling station on the Great Lakes. The Rosette water sampler is outfitted with a Sea-Bird multi-parameter profiler (conductivity, temperature and depth) and other sensors.
Water temperature is important for chemical, physical and biological processes in the lakes. It is important to track temperature at different water depths, and monitoring water temperature is critical for understanding any changes in lake productivity.
Secchi depth is a measure of transparency, or general clarity, of the water. A Secchi disk, which has alternating black and white quadrants, is used to measure Secchi depth. The Secchi disk is lowered into the water until it is no longer visible by the observer, with this depth of disappearance called the Secchi depth.
Dissolved oxygen (DO) concentration of lake water is important for chemical and biological processes in the lakes. Fish and other aerobic aquatic organisms need oxygen to survive, therefore monitoring DO is key to understanding the health of the lake ecosystems.
Highlights
Great Lakes Lower Food Web Report