Plug-in Electric Vehicle Charging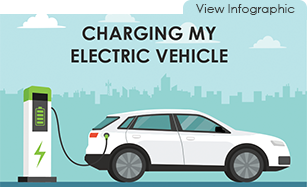 Charging your all-electric vehicle (EV) or plug-in hybrid electric vehicle (PHEV)–together known as plug-in electric vehicles (PEVs)–is similar to charging your other electronics. One end of an electrical cord is plugged into your car, and the other end is plugged into a power source or charging equipment.
There are three categories of charging equipment based on how quickly each can recharge a car's battery. Charging times for PEVs are also affected by:
How much the battery is depleted
How much energy the battery can store
The type of battery
Temperature
Charger Fast Facts
Charging Options

Level 1 (120V)
 

Level 2 (240V)
 

Direct-current (DC) Fast Charging
 

What does the charge port on the vehicle look like? 
 

 

 

How fast do they charge?

About 5 miles per 1 hour of charging*

About 25 miles per 1 hour of charging*

~100 – 200+ miles per 30 minutes of charging†

Where can I find them?

In your house/garage
Possibly at your apartment/condo and workplace
No need to install anything; most automakers provide charger cords with vehicle purchase

In your house/garage (You will need additional equipment)
Possibly at your apartment/condo and workplace
At public charging stations

At public charging stations
Limited availability, though becoming more common
 
EV charger images are courtesy of Con Edison.
Does Level 1 charging look familiar? It's the same outlet you use for your cell phone and toaster! And Level 2 is similar to the 240V outlet you use for your electric range and other high-powered appliances.‡
You can plug your car directly into the 120V outlet, but you will need the appropriate Electric Vehicle Supply Equipment (EVSE) to charge a PEV via the 240V outlet.
Visit the Department of Energy (DOE) website to learn more about charging equipment.
*Power levels vary among charging equipment; L1 estimate of recharging time assumes 1.9 kW, L2 assumes 6.6 kW.
†Charging time may be shorter depending on station power. Higher powered DC Fast stations that charge cars more quickly are becoming available, along with vehicle models that can accept the faster charge.
‡Consult with your electrician and the EVSE manual for detailed specifications.
Frequent Questions about PEV Charging
 
Can I use any charger?
Not yet. All PEVs can use Level 1 and Level 2 (non-Tesla) chargers. DC Fast Charging, however, is vehicle-specific and not available for all PEVs. If your PEV has DC Fast charging capabilities, it has one of the three types of fast charging ports – CHAdeMO, CCS, or Tesla. Vehicles' charging ports vary by auto manufacturer, so make sure to check which connector is compatible with your vehicle before charging.
Fortunately, many DC Fast charging stations now provide multiple connector options in order to service as many EVs as possible. You can check if a specific station has your vehicle's connector in DOE's Alternative Fuel Data Center's station locator. Map of available public chargers.
Is my PEV-charging experience similar to filling up my car at a gas station?
In some ways, yes:
Like a hose to a gas pump, charging a PEV is plugging an electric cord into an outlet/charger.
Like gas stations, there are public charging stations, where you pull off the road and fill up (i.e., charge).
In other ways, charging a PEV is different:
If you have a home charging option, and typically don't travel beyond your car's range, almost all your charging can be done at home. No more gas station stops.
Workplace charging is becoming a more common option. Rarely do you have access to a gas pump at your office.
Fully charging your PEV at a public charging station does take longer than the usual 5-10 minutes spent filling your car at a gas station (see chart above), although you could "top up" at a public station, then finish charging when you get home.
There are still far more gas stations than public charging stations, so vehicle charging may require a bit more planning when you hit the road with your PEV.
How do I pay to charge my PEV?
For public charging stations, payment is by credit card at the pump, by a mobile app, or a monthly subscription service. And sometimes public charging is even free! If you charge at home, the cost will be included in your monthly electric bill, just like you pay for the electricity use of home appliances.
Can I get reimbursed for installing a charger at home or at my workplace?
There may be federal, state, or utility incentives available for installing a level 2 charger. Visit DOE's Alternative Fuels Data Center to search for current incentives for chargers.
Ready to buy an EV charger? Installing an energy efficient, ENERGY STAR certified electric car charger adds to the environmental benefits and cost savings.
How does the cost of charging compare to gasoline?
It depends. The price of gasoline and electricity varies around the country, but it is typically cheaper to charge a PEV than to fill up a gas tank. Fueleconomy.gov's fuel cost calculator is a great place to compare refueling costs of a plug-in electric vehicle that recharges at home with a gasoline vehicle. The calculator allows you to personalize fuel prices* and driving habits when comparing two vehicles. The results provide fuel cost comparisons by week, month, year, or over 10 years.
*Visit U.S. Energy Information Agency website to find your state's average price for electricity (cents/kWh) and regional gasoline (per gallon) price.