Carcass Management During Avian Influenza Outbreaks
During an avian influenza (AI) outbreak, many birds, both wild and domestic, may be infected and die from the disease. For domestic flocks, some may be also be depopulated (euthanized) to control the spread of the disease. Responding to the incident will create a large number of carcasses, along with other wastes such as manure, personal protective equipment and liquid wastes from certain decontamination activities. All of these wastes will need to be managed in a manner that is protective of public health, including that of workers and the environment. Responders should use the safest, most timely, environmentally responsible and cost-effective methods available for carcass management. Improper carcass management could lead to environmental cleanups, public controversy, and the potential for future legal liability.
On this page:
---
What is Avian Influenza?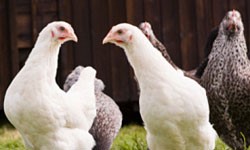 Avian influenza, often called "Bird Flu," refers to illnesses caused by a number of different viruses. There are two main forms of the disease:
low-pathogenic (LPAI) and
high-pathogenic (HPAI).
LPAI is fairly mild in birds, while HPAI (also called Avian Influenza A) is a much more serious threat to bird health.  Avian influenza viruses do not usually infect humans, although rare cases of human infection with these viruses have been reported.
There are various strains of "bird flu" with names such as H5N1 or H7. While each strain has unique properties, the strains have many similarities, particularly when it comes to potential environmental impacts. For example, environmental risks may result from carcass management when birds die from AI or are euthanized to prevent the spread of the disease. They also may result from actions taken to respond to the situation since cleaning and disinfecting responders, equipment, materials and buildings generates wastewater that needs to be properly managed. Another risk may arise from the personal protective equipment that responders normally wear, which must be disposed of as solid waste.
The Centers for Disease Control and Prevention (CDC) tracks incidents of avian influenza worldwide and also provides information about the rare situations where humans have contracted the disease from close contact with contaminated birds, contaminated surfaces or via air droplets.
For the most current information on avian influenza cases, visit the CDC web page Information on Avian Influenza.
---
Who Oversees Carcass Management?
The Animal and Plant Health Inspection Service (APHIS) of the U.S. Department of Agriculture (USDA) is the lead federal agency for responding to a large-scale animal disease outbreak. Large scale incidents exceed the ability of state and local agencies to respond and require them to request federal assistance. APHIS may pay for carcass management costs, but state agricultural and environmental officials and the property owner select the site-specific carcass management strategy.
During an AI incident, EPA provides technical assistance and support for decontamination, including licensing the use of disinfectant pesticide and the interpretation of waste management requirements. State environmental agencies are critical partners, as they make many of the waste management decisions, including the permitting of some waste management facilities that may be utilized in an AI outbreak. 
During an AI incident, the state and local governments make decisions about the management of carcasses and other wastes specific to that situation. In order to ensure containment and inactivation of the virus, and to protect public health and the environment, state and local agriculture agencies should work closely with state and local environmental agencies. 
In 2006, EPA developed a document titled "Disposal of Domestic Birds Infected by Avian Influenza – An Overview of Considerations and Options."  While the information in this document remains valid, the specific treatment options and approaches have evolved as the science has. The latest detailed guidance is developed and maintained by the USDA/APHIS, and for this reason, rather than updating the 2006 EPA document, EPA recommends visiting the APHIS web page on Highly Pathogenic Avian Influenza, which is continually being updated with the latest information.
---
How are Carcasses Managed?
Because of the potential for a large number of bird deaths and the resulting potential consequences, EPA recommends that producers and growers, as well as state and local authorities, develop pre-incident waste management plans that cover the management, treatment and disposal of the wastes generated during an AI outbreak. The planning activity helps ensure that responsible parties have evaluated issues (including, but not limited to health and safety, transportation, and ultimate treatment and disposal of the wastes) and generally available options. Pre-incident planning facilitates rapid response if an outbreak occurs.
EPA encourages all involved to review potential disposal options in advance of an outbreak and to reach out to state and federal agricultural and environmental counterparts to assist in developing state plans for carcass disposal. 
Communities faced with an AI incident have multiple options for the management of animal carcasses. In a widespread outbreak, multiple means of carcass management will be required. Composting and disposal in a permitted landfill are the most preferred methods because they address the need to minimize negative environmental impact while also mitigating virus spread.
Composting was used in the 2014–2015 U.S. HPAI outbreak for 85 percent of the poultry carcasses.  It can be performed on-site, either "in-house" or outdoors (with biosecurity measures to prevent further spread of the disease implemented in either case). Composting may be an accessible option because farmers likely have ready access to the other materials needed to compost (e.g., wood chips or other carbon sources, in particular) depending on the size of the outbreak. Landfills, when fully permitted and compliant with state regulations, may be equipped to handle such waste appropriately, though their ability or willingness to accept carcasses may vary.
Incineration is another option, including combustion at fixed-facility incinerators, mobile units and open pyres. Fixed-facility incinerators with permits have emission control devices, which are protective of human health and the environment. Mobile units vary in their capacity and emissions, but are generally protective of human health and the environment. Open pyres are uncontrolled, and may pose risks to human health and the environment.
In the past, some communities looked to on-site burial as a commonly accepted means of disposal, though it may present risk of environmental contamination depending on site-specific factors such as soil type and distance to water sources. Off-site burial may also be considered in a large HPAI incident in certain situations where it is safe to do so.
Detailed technical information and guidance for carcass management is described in the Foreign Animal Disease Preparedness and Response Plan (FAD PReP) Standard Operating Procedures on the APHIS website.
---
What Possible Environmental Concerns Arise From Carcass Management?
Carcasses, in sufficient numbers, can present a potential environmental and public health risk. In addition to carcasses, potentially contaminated feces, litter and bedding may also pose a risk to human health and the environment.
As carcasses begin to degrade, bodily fluids, chemical and biological leachate components (liquid that results from the decomposition of the biomass, which includes bodily fluids that leak from the dead animal), and hazardous gases (e.g., methane) release into the environment, potentially impacting the health and safety of surrounding humans, livestock and wildlife.
When deciding upon a carcass management strategy, communities should consider potential issues, such as the release of particulate air pollution from incineration or the potential contamination of groundwater and surface water from unlined burial or composting. EPA recommends the long-term monitoring of releases from such management options to ensure the proper protection of human health and the environment. Because incident and site-specific decisions about carcass management are made at the state and local level, and since each state has its own statutes and authorities on animal disposal, it is important to consult with appropriate state environmental regulatory agencies about permits for potential sites before initiating operations.
Carcass management plans should consider potential methods of euthanasia (e.g., lead bullets, drugs) to ensure any potential additional environmental impacts from such actions are minimized.
---
What about Disinfection?
The proper cleaning and disinfection of contaminated equipment, materials and all other fomites is important to both ongoing biosecurity measures and the containment of the HPAI virus.
EPA registers pesticide products, including disinfectants against Avian Influenza A (HPAI). Currently, approximately 200 disinfectant products are registered and intended for use against Avian Influenza A viruses on hard, non-porous surfaces. These products are typically used by the poultry industry to disinfect their facilities. The label will indicate that the product is effective against "Avian Influenza A" and specifies the sites (e.g., poultry houses and farm premises) for application of the product to kill or inactivate the Avian Influenza virus. 
For additional information, visit EPA's page on Anticrobial Products Registered for Disinfection Use against Avian Influenza on Poultry Farms and Other Facilities.