Protecting IAQ During School Energy Efficiency Retrofit Projects with Energy Savings Plus Health Guidelines
Energy Savings Plus Health: Indoor Air Quality Guidelines for School Building Upgrades (pdf) (1.72 MB) equips school districts to integrate indoor air quality (IAQ) protections into school energy efficiency retrofits and other building upgrade projects. School districts starting the building retrofit process will be able use this resource to optimize energy efficiency upgrades without compromising occupant health.
On this page:
---
Energy Savings Plus Health Guidelines for Schools
EPA developed Energy Savings Plus Health: Indoor Air Quality Guidelines for School Building Upgrades (pdf) (1.72 MB) to help school officials protect and improve IAQ in schools during building upgrades, particularly energy efficiency upgrades and building renovations. This document describes the opportunities such undertakings present to reduce energy costs and improve student health by addressing 23 specific priority issues and contaminants commonly associated with building upgrades.
Considering both energy management and protection of IAQ together during construction and energy upgrade tasks can improve school facility management. When energy efficiency and IAQ protection goals are integrated and addressed during project planning, scheduling and execution, schools can achieve strong results in both areas and reduce costs. Alternatively, if careful attention is not paid to the interaction between energy management and IAQ, building efficiency and occupant health can suffer
---
Making the Business Case for Energy Savings Plus Health
Economics of Integrating Energy Efficiency Retrofits with Health Improvements
Well-conceived and coordinated school energy and IAQ management programs can save money. A recent report, Greening America's Schools: Costs and Benefits, reviewed 30 "green schools" and concluded that green schools cost on average 2% more than conventional schools, but the financial benefits stemming from those investments are about 20 times greater from those buildings than the additional 2% in costs.1 By understanding the relationship between typical energy management activities and IAQ, and by following the recommendations in Energy Savings Plus Health: Indoor Air Quality Guidelines for School Building Upgrades (PDF), schools can potentially realize substantial improvements in IAQ and cost savings.
There also are measurable costs for not taking steps to promote healthy school environments. The costs imposed by environmentally attributable diseases—such as asthma—on children, families and schools are immense. According to the Centers for Disease Control and Prevention (CDC), the economic cost of asthma — including direct medical costs from hospital stays and indirect costs (e.g., lost school and work days)—amounts to more than $56 billion annually.2,3
For states, a large percentage of these costs can be attributed to health care expenditures, lost school days and lost productivity (e.g., parents having to stay home to care for a sick child). Given the amount of time that children spend in school each day, high-quality school environments are critically important for ensuring that children are healthy and able to perform in the classroom.4 Using the Energy Savings Plus Health: Indoor Air Quality Guidelines for School Building Upgrades (PDF) will help energy managers, school officials, construction coordinators and others avoid these costs and health problems for the schools they serve.
How IAQ Affects Health and Student Performance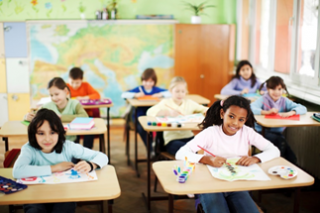 Studies have demonstrated that increased classroom ventilation rates are associated with improved student health and performance.
One study showed that doubling the ventilation rate from about 7.5 cubic feet per minute per person (cfm/person) to 15 cfm/person improved academic performance by about 8 percent.

5

A U.S. study of fifth-grade classrooms in 100 schools used student performance in standard academic tests as the measure of performance and estimated that there was nearly a 3 percent increase in the proportion of students passing standardized math and reading tests for each 2 cfm/person increase in the ventilation rate across the range of 2 to 15 cfm/person.

6
A detailed discussion of how IAQ issues can affect student health and academic performance, with supporting studies, can be located at the IAQ Scientific Findings Resource Bank website, hosted by the Lawrence Berkeley National Laboratory.
---
Basic Steps to Using the Energy Savings Plus Health Guidelines
 The table provides examples of typical school energy efficiency and building upgrade projects and the potential indoor air quality (IAQ) and health risks and opportunities that may be encountered when executing these upgrades. To be effective, the recommended protocols and actions should be built into the very earliest stages project conceptualization and design. Working as a team, energy managers, facility managers, IAQ Coordinators and risk managers can use the guidelines to better understand the interrelationships between energy efficiency and IAQ goals while implementing building upgrades in manageable segments.
Step 1. Identify Your Project(s)
Start by identifying the components of the projects under consideration. These may include:
Lighting (e.g., roof, ceiling, wall and ground-level slab assemblies);
Heating ventilation and air conditioning (HVAC) systems and controls; and
Materials selection for sealants, carpets, and paints.
 Step 2. Review IAQ Health Risks and Opportunities
After you identify the types of projects under consideration, open Table 1 IPDF) in the guide and find the desired (or similar) projects in the left-hand column. Then review the health information and priorities often associated with those projects in the right hand column. Reviewing the information in the table will allow school building and energy professionals to address both the need for efficiency and concerns about common contaminants, such as mercury in light bulbs, asbestos in insulation, and polychlorinated biphenyls (PCBs) contained in older lighting fixtures.
Step 3. Use the Interactive Air Quality Plan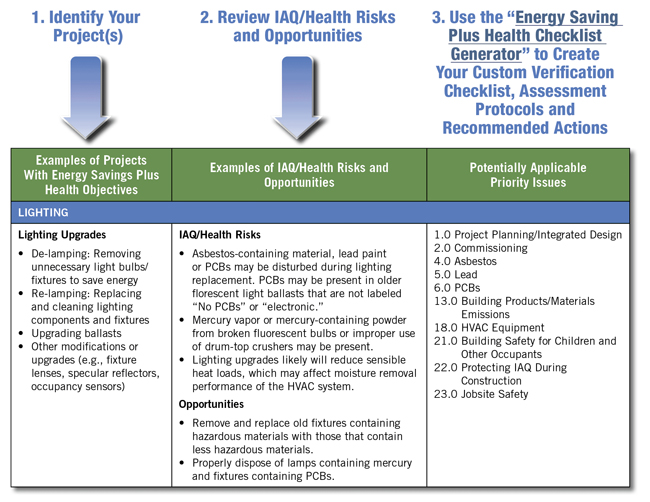 Download the Energy Savings Plus Health Guidelines for the full table (PDF).
The Energy Savings Plus Health Guide includes an Interactive Air Quality Plan to help locate key information for planning and managing retrofits and other building projects. The IAQ Plan tool can be used easily to develop a customized verification checklist that will refer you to specific assessment protocols and recommended actions, tailored to your projects.
Note: When using the Interactive Air Quality Plan, it may be necessary to enable macros for functionality, depending on the user's Excel settings.
Step 4. Complete Project Planning and Scheduling While Optimizing Efficiency and Health Conditions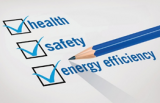 Use the checklists, assessment protocols and recommended actions in the Interactive Air Quality Plan to reduce health risks during your building upgrade project. Formalize your project plan and schedule and carefully follow your plan to improve conditions in the school for all occupants, including those doing the upgrades and retrofits. Following those steps, you will be well on your way to improving building efficiency and the performance of students and teachers.
---
Trainings
---
Additional Resources
---
References
Kats, Greg: "Greening America's Schools: Costs and Benefits" (PDF) (26 pp, 1.8MB, About PDF). October 2006. A Capital E Report.
Landrigan, P., Schechter, C., Lipton, J., Fahs, M., and Schwartz, J.: Environmental pollutants and disease in American children: Estimates of morbidity, mortality, and costs for lead poisoning, asthma, cancer, and developmental disabilities (PDF) (8 pp, 569 K, About PDF). 2002. Environmental Health Perspectives, 110 (7), 721–728.
CDC Asthma in the U.S.: 2011. U.S. Centers for Disease Control and Prevention.
EPA State School Environmental Health Guidelines: 2012. U.S. Environmental Protection Agency.
Wargocki, P. and Wyon, D.: Research report on effects of HVAC on student performance. October 2006. ASHRAE Journal, 48: p. 22-28.
Haverinen-Shaughnessy, U., Moschandreas, D., and Shaughnessy, R.: Association between substandard classroom ventilation rates and students' academic achievement. 2011. Indoor Air, 21(2): p. 121-31.