P2 Awards
EPA Region 7 Pollution Prevention (P2) Awards (Iowa, Kansas, Missouri and Nebraska)
On this page:
Submissions for the EPA Region 7 2020 P2 Awards Program were accepted from Jan. 6 to Feb. 29, 2020. If you have any questions, please use the contact box at the bottom of the page.
Mike Petefish, Business Unit Environmental Coordinator, Rachael Robertson, Regional Natural Resources Manufacturing Technology Engineer, and Kim Sullivan, Engineer III, Eddyville Plant Operations, accept a 2019 P2 Award from EPA Region 7 Administrator Jim Gulliford. (Click to enlarge)Cargill, Eddyville in Iowa is a corn milling facility with 750 employees and contractors. Cargill pursued and obtained certification for the ISO 50001 standard, an energy management system that strives for continual improvement.
Facility energy performance and greenhouse gas emission reductions improved significantly by implementing ISO 50001. For example, a drying system and a distillation process significantly reduced energy and its greenhouse gas emissions by nearly 15,000 metric tons, saving the facility hundreds of thousands of dollars annually. This contributes to the Cargill corporate goal of reducing greenhouse gas emissions by 10% by 2025.
Due to the success of the project, Cargill now has four additional facilities working towards ISO 50001 certification, with a goal of having nine facilities across the U.S. and Brazil completed by the end of 2020. Read the full details on the awardee's P2 projects
---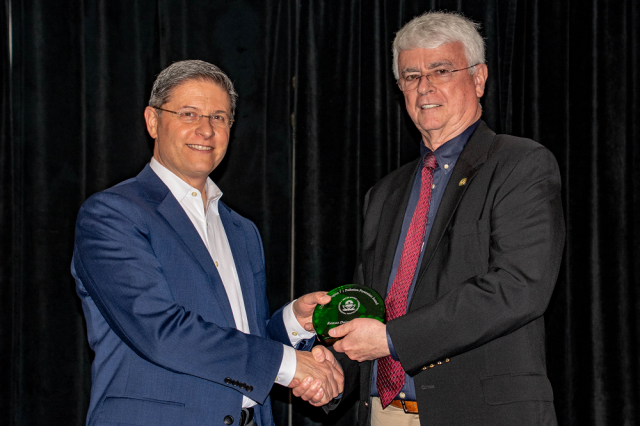 Joe Saitta, Chief Financial Officer, accepts a 2019 P2 Award from EPA Region 7 Administrator Jim Gulliford. (Click to enlarge)Kansas Dairy Ingredients in Hugoton, Kansas, is an EPA Region 7 P2 Award winner for both 2019 and 2018. This small dairy manufacturing facility operates with less than 100 employees. Since last year, Kansas Dairy Ingredients has changed truck washing procedures; activated an on-site wastewater treatment plant with aerobic and anaerobic treatment technologies; and implemented a sustainability program to optimize energy use.
The truck washing procedure change avoids 379 trips a year, which eliminates 50,331 miles driven. This change eliminated 73,649 kilograms of greenhouse gas emissions, saving $20,000 annually. The new wastewater treatment plant completely eliminated sludge disposal and prevented oxygen demand.
Read the full details on the awardee's P2 projects
---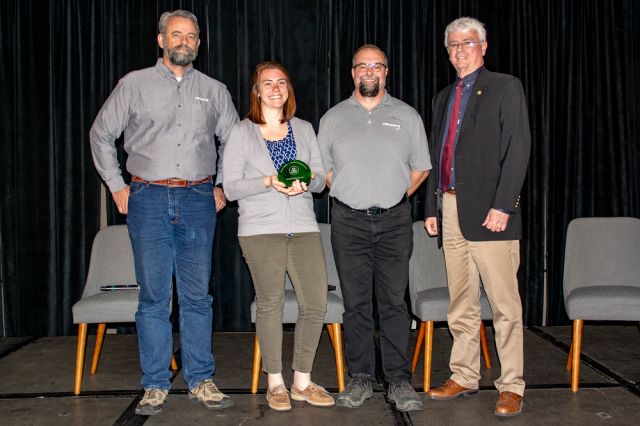 Brent Buckley, EHS Manager, Emily Jackson, Green Team Member, and Tim Murray, Plant Manager, accept a 2019 P2 Award from EPA Region 7 Administrator Jim Gulliford. (Click to enlarge)Valmont Industries in El Dorado, Kansas, is a steel manufacturing facility that operates with less than 100 people. Valmont established a sustainability improvement team that implemented a range of pollution prevention projects. Such projects include replacing a water downdraft plasma table with an air version; increasing product output while moving from a 7-day production schedule to 4½ days; and replacing 51 floor fans with seven high-volume, low-speed ceiling fans.
Water use decreased by about 160,000 gallons and electric use decreased by approximately 234,600 kilowatt hours. These reductions in water and electricity result in Valmont Industries saving approximately $41,300 each year. Read the full details on the awardee's P2 projects
Bayer Crop Science Facility in Kansas City, Missouri
City of Eudora, Kansas
Iowa City Veterans Affairs Health Care System Facility in Iowa City, Iowa
JBS Swift Foods in Ottumwa, Iowa
Johns Manville Facility in McPherson, Kansas
Kansas Dairy Ingredients Facility in Hugoton, Kansas
Purpose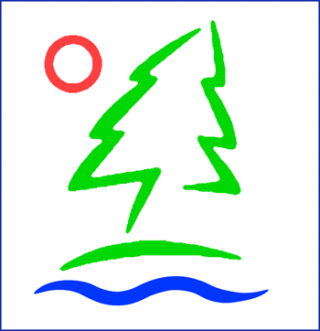 Pollution prevention (P2) is a successful, non-regulatory approach to energy conservation, water conservation, reduction of toxic materials used, and money savings. This awards program is designed to further recognize P2 successes and encourage other entities to consider a P2 approach.
Consider applying for a non-monetary award to recognize businesses, industry, tribes, and nonprofits from Iowa, Kansas, Missouri, and Nebraska.
Definition of Pollution Prevention (P2)
P2 includes practices that reduce environmental releases of hazardous substances, pollutants, or contaminants prior to entering a waste stream for recycling, treatment, or disposal. In other words, P2 is source reduction, the prevention of generating waste and environmental releases at the source. P2 is not treatment, minimization, or diversion of wastes. P2 conserves natural resources, including water and energy.
Eligibility for 2020 Program
APPLICANTS:
Businesses, industry, tribes and nonprofits from Iowa, Kansas, Missouri, and Nebraska are eligible for the EPA Region 7 2020 Pollution Prevention Awards Program. These non-monetary awards recognize environmental excellence. Entities that have been subject to civil enforcement actions that included assessment of either monetary penalties or criminal enforcement actions are not eligible for this program, until a period of at least one year after the enforcement action has been resolved. In addition, projects conducted as a settlement condition in a consent order with the environmental regulating agency, such as EPA, are not eligible. Enforcement screens will be conducted for all award applicants.
EPA grantees, contractors, and cooperative agreement recipients are not eligible for this awards program. However, businesses assisted by grantees may apply.
PROJECTS:
P2 is a multimedia environmental management technique, emphasizing the elimination or reduction of wastes at the source of generation. P2 also emphasizes the reduction of direct environmental impacts and the use of resources and materials. Award candidates should focus on projects implemented between 2017 and present to be eligible.
The goals of P2 are:
Eliminate or reduce waste generation
Conserve natural resources and materials, including water and energy
Prevent spills and accidental releases
Prevent product losses
Reduce hazardous materials use
Promote the purchasing and use of less hazardous or more efficient equipment
Examples of P2 activities or projects are:
Reducing chemical use
Substituting hazardous chemicals with safer alternatives
Water or energy conservation
---