How to Identify Sites
On this page:
---
Looking for a Renewable Energy Site? Find Sites in the RE-Powering Mapper
EPA's RE-Powering Mapper, an interactive web application, allows users to identify contaminated lands, landfills and mine sites for renewable energy development.
Using renewable energy criteria developed in collaboration with the National Renewable Energy Laboratory (NREL), EPA has pre-screened over 190,000 sites for their renewable energy potential. As part of this effort, EPA collaborated with state agencies from California, Colorado, Connecticut, Florida, Hawaii, Illinois, Iowa, Maine, Maryland, Massachusetts, Minnesota, Missouri, New Jersey, New York, North Carolina, Oregon, Pennsylvania, Rhode Island, Texas, Virginia, West Virginia and Wisconsin. Site screening was performed in August 2021.
To get started: Please read the User Guide and Data Documentation
Mapper features include:
Over 190,000 sites for solar, wind, biomass, and geothermal energy.
Search data by attributes including state, acreage, renewable energy capacity, distance to nearest substation, and more.
Site–specific renewable energy reports.
Links to EPA or state program managing the site clean-up.
Access the Mapper
To launch the RE-Powering Mapper, click on the image below.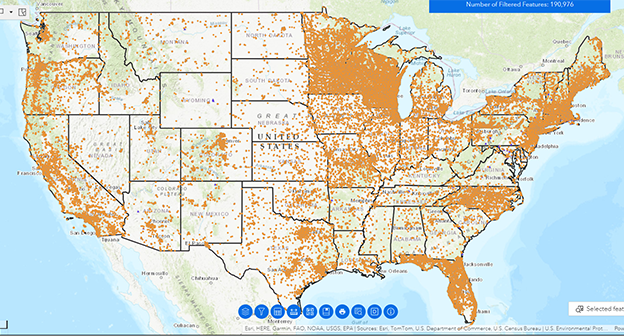 More Mapping Resources
Colorado Brightfields Map
Colorado Brightfields combines over 100 datasets into one easy to use mapping application users can access to identify sites for renewable energy development. This mapper is an important tool to help Colorado make progress toward its goal of 100% renewable energy for the grid by 2040.
Hawaii Renewable Energy Map
The State of Hawaii launched an online mapping tool as part of its Hawaii Brightfields Initiative that will make it easier for land owners, developers, community members, and policymakers to assess the renewable energy potential of contaminated sites. This tool supports siting renewable energy projects by providing specific information to help inform the site assessment process, including renewable energy resource information, zoning, topography and other site characteristics.
New Jersey Community Solar PV Siting Tool
New Jersey has a solar siting tool that supports the BPU's Community Solar Energy Pilot Program the Bureau of Climate Change and Clean Energy has developed a Community Solar PV Siting Tool to help solar developers, municipalities and interested stakeholders find locations to site community solar arrays. Renewable EnerGIS Mapping Tool
Energy Zones Mapping Tool
The Energy Zones Mapping Tool is a free online mapping tool to identify potential energy resource areas and energy corridors in the United States. The tool enables users to identify areas with a high concentration of clean energy resources that could provide significant power generation in the future. The EZ Mapping Tool includes the RE-Powering dataset of contaminated lands, landfills, and mine sites.
PVMapper
The Department of Energy's SunShot Program's PVMapper is a utility-scale solar site mapping Web application that is open-source and free to use. It is a geographical information system (GIS) with an easy-to-use interface that provides end users with specific information and capabilities relevant to siting large solar energy projects. PVMapper also includes the RE-Powering dataset of contaminated lands, landfills, and mine sites.
Is a Solar or Wind Project Feasible at My Site? Use the RE-Powering Decision Tree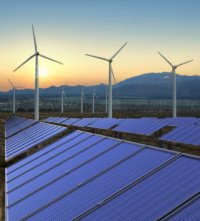 Learn what characteristics make a site more attractive for solar or wind energy development with RE-Powering's Electronic Decision Tree tool. Developed by US EPA's RE-Powering America's Land Initiative, the RE-Powering Electronic Decision Tree tool guides interested parties through a process to screen sites for their suitability for solar photovoltaics or wind installations. EPA encourages renewable energy on already developed or degraded land instead of green space. This informational resource will help ascertain whether potential barriers to a solar or wind project exist at a site of interest. Download the tool here.
An overview of this tool can be found in the following fact sheet.
Review Sites with NREL Feasibility Studies
EPA and the U.S. Department of Energy's National Renewable Energy Laboratory (NREL) are evaluating the feasibility of developing renewable energy production on Superfund, brownfields, and former landfills or mine sites. This project pairs EPA's expertise on contaminated sites with the renewable energy expertise of NREL. Interested parties can review the results of these NREL Feasibility Studies.
Interested in Diving Deeper? Read These Discussion Papers.
EPA's RE-Powering America's Land Initiative has developed discussion papers that discuss and explore topics related to creating successful renewable projects on contaminated lands, landfills and mine sites. The Re-Powering Discussion Papers cover topics including: