About the 2021 Food Recovery Challenge Regional Award Winners
We are grateful for the dedication of our Food Recovery Challenge partners and their efforts to reduce and divert waste. EPA is planning to evolve our Sustainable Materials Management partnership programs to align with our new priorities. At this time, we are no longer accepting new Food Recovery Challenge partners. Please visit our website to learn more about how to engage with us as we re-imagine our partnership efforts for the future.
Read about the 2021 Food Recovery Challenge Award winners' accomplishments and how they achieved them.
On this page:
---
Northeast Region (Region 2)
Rock and Wrap It Up!
Cedarhurst, New York
Rock and Wrap It Up! (RWU) is an anti-poverty think tank that has been rescuing leftover food to feed the hungry for 29 years. RWU identifies potential donor organizations who have wholesome, surplus food; analyzes the organizations' ability to donate food efficiently; requires donors to have health certificates issued by their municipalities; and links donors with local food rescue services. RWU has recovered over one billion pounds of food since 1991. Currently, RWU works with educational institutions, the hospitality industry, the entertainment industry, sports teams, and hospitals throughout North America. RWU has a presence in all 50 states and estimates that its donors rescue at least 20 million pounds of food each year. 
RWU developed a Whole Earth Calculator app that translates donor organizations' food donations into the number of meals made, gallons of water saved, and greenhouse gases averted. The app allows organizations to post these statistics directly to social media. 
RWU has worked extensively with military veterans. RWU created the Andy Parise Veterans' Toolkit, an app that allows veterans to find food pantries, colleges, and educational institutions that serve donated food in all 50 states. In June 2020, RWU started the Veteran Farmer's Market to reduce senior at-risk veterans exposure to COVID-19 in food stores by providing them recovered food. RWU worked with the Trader Joe's of Hewlett, New York, the Costco of Lawrence, New York, and American Legion Lawrence-Cedarhurst Post 339 members set up the farmer's market, which is held three times weekly. All food not claimed is then shared with Gammy's Food Pantry, part of the Five Towns Community Center in Inwood, New York where it is distributed to the local community. 
These RWU organizations are receiving awards for donating food for hungry people in 2020: 
Costco of the Five Towns: 61.4 tons 
New York Yankees: 10 tons 
Universal Studios: 133.5 tons 
"We are blessed to use our 30 years' experience to feed so many people safely across the United States. Our sustainability application, the Whole Earth Calculator, is a beacon for others to emulate. It converts food recovered into greenhouse gas emissions diverted, water saved, and meals generated."—Syd Mandelbaum, Founder and CEO 
---
HelloFresh
New York, New York  
HelloFresh uses enhanced demand forecast modeling, smart just-in-time ordering, and robust rollover processes to reduce food surplus before it happens. While the company's business model largely designs out significant operational food waste in comparison to traditional grocery retail, HelloFresh has taken the extra step to reduce the limited food waste it does produce. In 2020, distribution centers diverted 2,355 tons of food surplus from landfills, 96 percent of which was donated to feeding people. 
The 2020 fiscal year came with a variety of challenges. Because of the COVID-19 lockdowns, combined with unprecedented weather in the southern U.S., several of HelloFresh's sites experienced staffing shortages and supply chain constraints. The pandemic also brought an unprecedented 95 percent growth in demand, requiring HelloFresh to double its operations in a matter of weeks. Despite these challenges, HelloFresh is proud to note that the teams stepped up to not only deliver over 40 million boxes, but also a diversion rate of 57 percent. 
In 2020, HelloFresh had a donations outlet at every site, with organics recycling solutions available at all distribution centers. While HelloFresh saw an overall increase in total surplus due to higher order volumes and operational challenges, the largest facility in Newark demonstrated inventory management excellence, with a 13 percent reduction in total cost of unsold inventory compared to 2019. 
"Our mission at HelloFresh is not only to change the way people eat, forever, but to engage and uplift our local communities. During the pandemic, our staff came together like never before to divert surplus food into the communities where we operate through our food rescue partners. It was incredibly inspiring, and we were honored to be a part of the fight against food waste and food insecurity."—Jeff Yorzyk, Director of Sustainability for HelloFresh U.S. 
---
Wegmans Food Markets
Rochester, New York 
Every year, Wegmans Food Markets continues to expand its efforts aimed at minimizing all forms of waste in stores, with food waste front and center.  
Following EPA's Food Recovery Hierarchy, Wegmans first aims to minimize food waste at the source. This comes in the form of efficient ordering with the assistance of electronic sales data to keep inventory levels in line, as well as using less-than-perfect produce and slightly blemished food in culinary operations. All 106 Wegmans stores donate perishable and non-perishable food items to local food pantries and food banks each week, to get food into the hands of those who need it most. At 30 Wegmans stores, food scraps unsuitable for human consumption are sent to livestock farmers for animal feed, and all but one of their 106 store locations divert remaining food scraps for compost or anaerobic digestion.  
Wegmans' same-store food donations were up 1.65 million pounds in 2019 and up another 1.6 million pounds in 2020. Total company donations amounted to 18.6 million pounds in 2019 and 19.6 million pounds in 2020. Wegmans diverted 69.60 million pounds of food waste in 2019 and 69.67 million pounds in 2020.  
"We've been addressing food waste since the 1970s, but over the last six years, we've focused on improving those efforts by increasing food donations. Food has a purpose—to feed people. We want to do everything we can to ensure the food in our stores serves that purpose to the fullest extent possible. By expanding our existing programs, educating our people, and helping them understand the programs, why they're in place, their importance, and how they benefit the environment, community, and the company, we've experienced incredible success."—Chris Foote, Wegmans Sustainability Manager 
---
Sodexo: Various Locations
New York, New Jersey and Maryland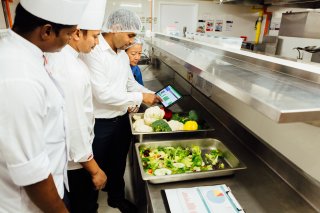 Sodexo has prioritized food loss and waste reduction efforts as part of the company's corporate social responsibility strategy for over 10 years. Ending hunger has been Sodexo's philanthropic purpose since 1999, and the Sodexo Stop Hunger Foundation has provided over $35 million in grants to eradicate hunger in America. During 2020, Sodexo continued to focus on deploying technology that helped reduce food loss and waste at the source and increase participation in the Food Recovery Challenge. Sodexo also jumped into action with its key partners to save food and feed those in need as operations were disrupted due to the COVID-19 pandemic. Key results included: 
FRC participation increases 

A total of 340 Sodexo sites participating in FRC with 68 percent increase, or 232 new sites, in 2020. 

Source reduction through WasteWatch powered by Leanpath at Sodexo USA 

Prevented 1.95 million pounds of food waste from occurring. 
Saved the equivalent of 1.63 million meals. 
Helped avoid 6,191 metric tons of CO2

Food recovery through Stop Hunger 

Over 200,000 meals recovered through volunteers and Sodexo's partnership with Move for Hunger. 
Over 860 volunteer hours logged by students through Sodexo's partnership with the Food Recovery Network. 
Sodexo's most significant accomplishments of 2020 include the following: 
Expansion of food recovery partnerships through the Stop Hunger Foundation. 
Development of change management training targeted at on-site managers to help increase the effectiveness of food waste measurement technology. 
Founding of the Sodexo Waste Action Team, which creates leadership around food waste reduction and sustainability in Sodexo's business lines.
A focused effort to deploy food waste measurement technology in the company's healthcare segment, with 160 additional trackers deployed in that segment alone.  
 The locations receiving awards are as follows:
Sodexo at Le Moyne College, Syracuse, New York
Sodexo at Russell Sage College, Troy, New York
Sodexo at Saint Peter's University, Jersey City, New Jersey
Sodexo, Inc., Gaithersburg, Maryland (Region 3 Endorser award) 
One of Sodexo's greatest lessons learned is that even if it educates people about the importance of mitigating food waste and increasing food recovery, the company must have the right resources in place to transport and refrigerate food. Working with organizations like Move for Hunger has demonstrated that having effective partnerships that span across the entire supply chain is critical to meet the company's goals. 
"If we have learned anything over the past 18 months, it should be that no one organization can accomplish mitigating food waste and ensuring surplus food gets to where it is needed most by itself. We need to think creatively across the entire supply chain and leverage the expertise and resources of both for-profit and nonprofit organizations. We must work together to save people and the planet."—Roxanne Moore, Executive Director, Sodexo Stop Hunger Foundation  
---
Ravitz Family Markets: Various Locations 
New Jersey
Ravitz Family Markets continues to strive toward becoming a zero-waste facility. They have continued to grow their program over the years through meetings, training, and a commitment to working together with the community.  
In partnering with The Food Bank of South Jersey, Ravitz Family Markets: Shoprite of Evesham Road donated over 50 tons of food to be distributed to those in need in the surrounding communities. Through the same partnership, the location at Shoprite of Union Mill Road donated over 53 tons of food, the Shoprite of Garden State Pavillion location donated over 142 tons of food, and the Shoprite of Mount Laurel location donated over 33 tons of food.   
Ravitz Family Markets: Shoprite of Evesham Road was also able to divert over 70 tons of food waste in partnership with Organic Diversion LLC, which was recycled into animal feed for local farms. The Shoprite of Union Mill Rd. and Shoprite of Garden State Pavillion locations also both diverted over 70 tons of food, while the Shoprite of Mount Laurel location diverted over 37 tons of food to be recycled into animal feed. 
Ravitz Family Markets plan to continue growing their partnerships and food waste program. 
"To Care Deeply About People, Helping Them To Eat Well And Be Happy." Ravitz Family Markets mission statement
---
Midwest Region (Region 7)
Eat Greater Des Moines
Des Moines, Iowa 
Eat Greater Des Moines's (EGDM's) work in 2020 focused on a few key programs: the Food Rescue Transportation Program, Operation Fresh Produce Drop, and the Local Gleaning Program. 
In 2018, EGDM launched the food rescue transportation program. Since then, the program has grown immensely and surpassed many milestones. At the beginning of the COVID-19 pandemic, EGDM hired 10 new delivery drivers, many of whom had been furloughed or laid off. Three days a week, these drivers picked up food from 35 different Kum & Go stores and delivered it to community partners. In 2020, EGDM rescued 321,000 pounds of food from Kum & Go stores. That's over 208,000 meals diverted from the landfill!
Operation Fresh Produce Drop started in April 2020 to help move excess bulk products from wholesale distributors while supporting organizations affected by the pandemic. As the initiative evolved, EGDM distributed over 3,500 boxes of produce and dairy a week through the United States Department of Agriculture (USDA) Farm to Families food box program. In 2020, EGDM moved over 1.31 million pounds of fresh food. More than 100 volunteers helped make this happen; they spent over 1,000 total hours manually unloading, moving, and reloading to get the boxes to receiving organizations.
EGDM supplemented this program with their gleaning work. Each day, volunteer gleaners head to the field and harvest, sort, and package fruits and vegetables. During 2020, EGDM volunteers harvested over 5,000 pounds of fresh produce. 
"There is a real misunderstanding regarding food insecurity in the United States. A lot of the time, the message is focused on food scarcity when that is not the situation. We have an abundance of food; it is just in the wrong place at the wrong time. This is why Eat Greater Des Moines's mission is to create innovative, forward-thinking solutions that prove what's possible in the food system. By empowering people and organizations to share food and support their neighbors in new ways, we help alleviate hunger, address climate change, improve our health, and support local businesses."—Aubrey Alvarez, Executive Director of Eat Greater Des Moines
---
MARC Solid Waste Management District
Kansas City, Missouri 
The Mid‐America Regional Council (MARC) Solid Waste Management District addresses food waste as part of its general outreach through a food waste prevention webpage and presentations to local organizations. The COVID-19 pandemic hampered many efforts in 2020 because many meetings and events were cancelled or transitioned to a virtual platform. As a result, the District focused most of its food waste prevention efforts on a social media campaign. This limited campaign reached over 16,000 individuals in the Kansas City metro area through a series of social media posts, primarily on Facebook. The campaign focused on simple tips for homeowners to reduce the amount of food that they waste through proper planning, food storage, and use.
In 2020, the District also provided grant funding to Kanbe's Market, a nonprofit organization working to eliminate food deserts in Kansas City. The purpose of the grant was to assist Kanbe's in growing its local food waste alliance. The alliance receives food from various sources, sells products in Healthy Corner Stores, and donates additional food to partners that help feed people, such as churches and kitchens. Food that isn't suitable for feeding people goes to partners that feed animals or compost the food. In 2020, the alliance diverted more than 70,000 pounds of food from landfill disposal.
"Everyone in our region has a role to play in reducing food waste. Our focus is helping families get started by providing simple, actionable tips to reduce food loss and food waste in their households."—Lisa McDaniel, Solid Waste Program Manager for the Mid‐America Regional Council
---
Lincoln Public School's Hartley Elementary School
Lincoln, Nebraska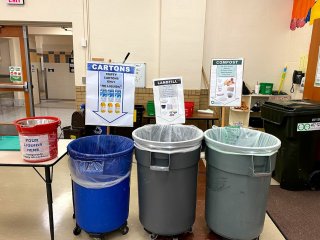 Lincoln Public Schools strive to operate more efficiently and build a culture of sustainability. One area of focus is waste diversion through composting and recycling. In August 2019, Hartley Elementary implemented a composting program in the cafeteria. This program consisted of an unopened food share table, milk carton recycling, and the collection of food scraps and organic material for composting. Approximately four tons of organic waste was collected from Hartley when the program began in 2019. By 2020, that number increased 60 percent, and Hartley was able to divert more than six tons of organic material from the landfill. Prior to starting the compost program in the cafeteria, Hartley was only able to achieve a 30 percent diversion rate and sent nearly 23 tons of waste to the landfill annually. 
Proper training and education about waste diversion efforts in the cafeteria increased the school's 2020 diversion rate to 51 percent. Training incoming staff and students on proper composting and the waste diversion systems used at Hartley ensures the yearly success of the program. Daily reminders and announcements about composting help students successfully engage with the program. By the end of first quarter, kindergarteners and other new students are familiar with the compost sorting process and are mostly independent in disposing of their waste at the end of lunch. In addition, Hartley's daytime custodian focuses on teaching students about the importance of reducing waste.
"Plan your work. Work your plan."—John Jennings, Daytime Custodian at Hartley Elementary School
---
Pacific Southwest Region (Region 9)
Sprouts Farmers Markets: Various Locations
Arizona & California 
Sprouts Farmers Market has a robust Food Rescue Program where stores donate edible food, that is not in retail condition, to local food pantries and hunger relief agencies. Sprouts sends food that does not meet donation guidelines to local cattle farms or compost facilities. Sprouts uses meat rendering programs to process meat and seafood waste for more productive uses, and recycles the grease rendered from their roasted chicken program. 
In 2020, various Sprouts Farmers Market locations achieved the following percent increases in food waste diverted: 
Sprouts Farmers Market #255: 680 percent. Donation and animal feed were much higher in 2020 than in 2019. 
Sprouts Farmers Market #40: 461 percent. Donation, animal feed, and biomaterials all increased.  
In 2020, Sprouts introduced zero waste scorecards, which allows locations to see how much food waste and recyclable materials they divert. This has been a game changer for Sprouts stores, and their landfill diversion efforts have increased. 
"Working at Sprouts has given me a unique opportunity to interact with those serving some of the most vulnerable members of our local communities. Partnering with the Food Bank of South Jersey, we have volunteers pick up donations daily so we can get food directly to struggling families and their children, which is, in my opinion, one of the most impactful things you can do to directly serve your community. I'm proud to be able to take direct action to serve our local communities on behalf of Sprouts."—Levi Young, Receiving Manager 
---
Feeding It Forward, Inc.
Napa, California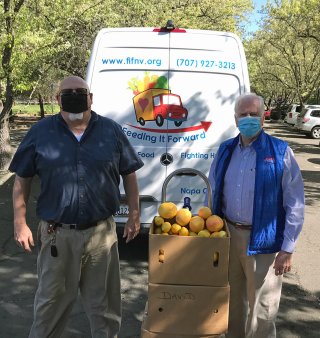 Feeding It Forward works to reduce waste and alleviate hunger in Napa County through collaborative efforts. The organization focuses on recovering fresh, perishable food and transporting it to partnering local organizations; actively ensuring vulnerable populations in Napa County have access to food; and reducing the environmental impacts of food waste. In 2020, COVID-19 vastly expanded the need for Feeding It Forward's recovery and distribution services in Napa County. Feeding It Forward increased its recovery efforts by 375 percent, recovering over 38 tons of food compared to only eight tons in 2019. In 2020, 1,500 pounds of food were diverted to feed animals. The remaining 74,500 pounds were provided to people in the form of around 62,000 meals. Some of the largest recovery events in 2020 were from local farmer's markets whose vendors had reduced events at other locations, independent grocery stores affected by wildfires, and other large food preparers.
Prior to 2020, Feeding It Forward limited the size of donations due to lack of vehicle capacity. In 2020, Feeding It Forward leveraged available support and funding to acquire a refrigerated van. The van provided a safe way to transport recovered food greater distances within Napa County, which was invaluable during the pandemic. 
"Feeding It Forward's willingness to bring nutritious food directly to populations (who can neither afford it nor drive to a location) has made all the difference during an already stressful pandemic year. In 2020, Feeding It Forward delivered fresh, nutritious food and huge smiles to nearly 200 Napa Valley seniors each month, which made a significant impact on their physical, mental, and financial health during a stressful year."—Karen Wyard, Senior Outreach Specialist, UpValley Family Centers
---
FoodCycle LA 
Los Angeles, California
FoodCycle is a Los Angeles-based nonprofit working to create systemic change in the regional food recovery space. In 2020, FoodCycle introduced more innovative technology to effectively incorporate rescued food into hunger relief efforts. FoodCycle uses electric vehicles, and for the past two years has used the ChowMatch app to better match them with volunteers, staff drivers, and donations, all while tracking impact. 
Since 2019, FoodCycle has collaborated with Hack for LA to create the Food Oasis Resource Map, identifying 1,834 organizations that serve food insecure populations in Los Angeles. When the COVID-19 pandemic hit, FoodCycle used this map to direct more resources to the food deserts of South Los Angeles. They identified organizations positioned to connect these communities to FoodCycle's resources. These efforts drew the attention of major corporate partners who helped FoodCycle send more food to where the need was greatest. During 2020, FoodCycle expanded their collecting from 53 to 112 donating businesses. By partnering with community-based organizations and engaging with more donors, FoodCycle was able to support 166 additional food distributions in 2020. By collaborating with existing community-based distributions, they were able to grow their impact and recover 1,250 percent more food than the previous year. 
During 2020, FoodCycle diverted over 1.74 million meals to food insecure populations throughout Los Angeles. This resulted in a total of 2.09 million pounds of food diverted from landfills, the equivalent of 2,176 metric tons of greenhouse gas reductions.
FoodCycle had to quickly ramp up its food recovery program in response to the COVID-19 pandemic. Because COVID-19 resulted in a dramatic increase in food insecurity, FoodCycle had to find ways to safely integrate volunteers to support their paid drivers. FoodCycle grew from 30 food recovery volunteers in 2019 to 270 volunteers by the end of 2020. So far in 2021, that number has doubled. The foundation laid by collaborating with Hack for LA and creating a database of distributions allowed FoodCycle to work with many organizations and share resources to maximize impact.
"I can't express how rewarding it has been to volunteer for FoodCycle. Not only as a strong advocate for food security initiatives but also as a mom. To know that the pounds and pounds of food I'm recovering is going to other moms so they can feed their children and themselves is something that I will never forget. Not one person on this planet should ever go hungry. FoodCycle LA's mission to feed people, not landfills, has had an unprecedented impact on fighting hunger in Los Angeles and I'm honored to be a small part of it."—Christine Lewison, FoodCycle Volunteer
---
Pacific Northwest Region (Region 10)
PCC Community Markets
Seattle, Washington
As the nation's largest community-owned grocery cooperative, PCC Community Markets has a long history of working to both reduce food waste and divert it from the landfill. PCC has run a form of its grocery rescue program since opening its first storefront in 1967. Since 2018, PCC has donated over 3 million meals to neighbors in need by partnering with more than 40 local food banks and nonprofits throughout the Puget Sound. PCC also sorts unconsumable food, such as organic trimmings, into commercial composting or their onsite WISErg biodigestion systems. In 2020, PCC diverted and processed 2,699 tons of compostable waste. 
PCC is a proud signatory of the Pacific Coast Collaborative, one of the largest public–private partnerships in the world, focused on reducing food waste in the region by 50 percent by 2030. By collaborating with other retailers and the public sector to cut food waste, PCC can help to reduce greenhouse gas emissions, conserve water and land resources, and support communities facing food insecurity.
"PCC Community Markets operates on a triple bottom line, always balancing the co-op's economic, social, and environmental impact and results," said Brent Kawamura, PCC Community Markets Sustainability Manager. "With efforts to be one of the most sustainable grocery stores in the U.S., including working to achieve zero waste, the co-op takes actions including getting food into the hands of those who need it rather than landfills. We will continue our commitment to reduce food waste through food recovery practices and waste diversion to be the best partner we can for our community and planet."
---
Seattle-Tacoma International Airport (SEA)
Seattle, Washington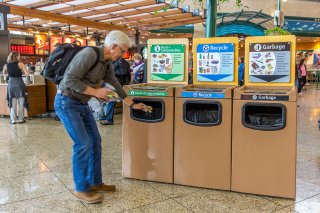 Seattle-Tacoma International Airport (SEA), operated by the Port of Seattle, ranks among the top 10 busiest airports in the United States, serving over 20 million passengers in 2020. SEA's efforts to reduce food waste span nearly two decades. Its commitment to sustainability is reflected in its goals to reduce and divert 60 percent of airport waste from landfills and become the most energy-efficient port in North America. Participating in EPA's Food Recovery Challenge has helped SEA sharpen its focus and track progress on key food waste reduction strategies, like organics composting, food rescue, and used cooking oil recycling.
SEA's composting program recovers pre- and post-consumer food scraps, compostable food packaging, and green waste. SEA composted 665 tons of organic waste from terminal operations in 2020. A local composting partner transforms recovered materials into nutrient-rich soil additives for use in local gardening and SEA's own landscaping and construction projects.
SEA's food donation program rescues leftover foods from dining establishments to reduce food insecurity in local communities, prevent food waste and cut disposal costs. Partners at the Des Moines Area Food Bank collect and serve the donations in surrounding cities of Des Moines, SeaTac and Kent. Since 2006, SEA tenants have donated nearly 400,000 meals, including over 54,000 pounds of food in 2020.
Also in 2020, SEA launched the "SEAson of Caring" community food drive in partnership with the Des Moines Area Food bank and South King County Food Coalition, which collected nearly 500 pounds of food and $4,000 in donations from the public and airport tenants.
Finally, SEA restaurants generate thousands of gallons of used cooking oil preparing meals for passengers each year. SEA partners with another local vendor who collects used oil and recycles it into biodiesel.
"Our airport programs to reduce food waste contribute to many of our strategic goals and provide an excellent opportunity to partner with airport businesses. I'm particularly grateful for our 2020 efforts because we could help address food insecurity in nearby communities during the pandemic."—Aryln Purcell, Director, Aviation Environment and Sustainability, Port of Seattle
---
Seattle Mariners/T-Mobile Park
Seattle, Washington
The Seattle Mariners' commitment to sustainability has made T-Mobile Park one of the greenest ballparks in Major League Baseball (MLB). Each year since MLB created the award, the Mariners have been named the top recyclers in the American League, and in 2017 and 2020, the team received MLB's Green Glove Award for recycling 98 percent of all waste generated at T-Mobile Park. The Mariners, and the team's concessions partner, Sodexo Live!, have closed the loop with three important steps:
Sourcing recyclable and compostable products for nearly all service ware used at the ballpark.
Hand sorting compostable and plastic waste after each event to reduce contamination of the waste streams.
Donating leftover food to keep it out of the waste stream in the first place.
In partnership with Tito's Handmade Vodka, T-Mobile Park donated produce from its urban garden to Seattle area organizations that provide healthful, affordable food to under-resourced communities.
Responsible food management is an important element in any organization's sustainability initiatives. In 2019, T-Mobile Park diverted 457 tons of food waste. In 2020, when there were no fans present for the pandemic-shortened baseball season, T-Mobile Park diverted 94 tons of food waste. The goal for the 2021 season, which operated for three months under capacity restrictions, was to divert 400 tons of food waste.
"Sustainability is an important part of our mission at T-Mobile Park. The Mariners have a powerful platform as community leaders to educate and encourage fans, partners, employees, and the community at large to make changes both large and small that advance the cause of sustainability."—Trevor Gooby, Senior Vice President, Ballpark Operations
---
Microsoft Corporate Headquarters Campus
Redmond, Washington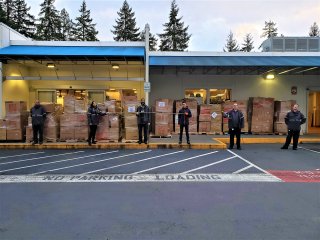 In 2020, Microsoft's dining and catering teams at the company's Redmond campus came together to donate more than 57 tons of food to local nonprofit and community groups.
At the start of the year, all campus dining locations closed because of COVID-19. The Microsoft food service team jumped into action to ensure the food on hand could be repurposed for those in need in the community. In March 2020, team members volunteered to prepare more than 6,400 meals each day. Microsoft donated these lunches to organizations such as Mary's Place, Northwest Harvest, and other local nonprofit schools and groups. With the help of the regional wellness director on campus, every donated meal followed National School Lunch Program guidelines and included a sandwich, fruit, vegetable, snack, dessert, and beverage. By May 2020, Microsoft had donated over 326,000 meals to local groups to feed people in the community. 
Over the next seven months, through partnerships with local organizations such as Operation Sack Lunch and Food Lifeline, Microsoft continued to donate excess product (such as packaged snacks, fruit, produce, beverages, and prepared foods) along with café inventory that would otherwise be wasted. In addition, the Microsoft catering team (known as Eventions) donated excess product each week.
---
Gonzaga University 
Spokane, Washington 
In 2020, Gonzaga University faced many challenges as it navigated the COVID-19 pandemic and related restrictions. The university was determined to continue with its sustainability programs and supported dining services' efforts to continue those programs. With that dedication came the greenhouse production. During a normal school year, food grown in the greenhouse would be consumed by students eating within the main dining unit. Because of the pandemic, fewer students were on campus, and the remaining students on site could not consume the 70 to 100 pounds of romaine grown each week. Gonzaga used this opportunity to donate that unused product to the community. Gonzaga supported the continuation of the greenhouse production during these challenging times. The university donated greenhouse romaine to local soup kitchens each week and increased the number of local donations throughout the past year.
"The success of our sustainability efforts here at Gonzaga is due to the unprecedented support of such initiatives throughout the Gonzaga community, all the way up to the president of the university."—Curtis Raddatz, Sodexo Production and Sustainability Manager 
---
University of Washington—Seattle Campus
Seattle, Washington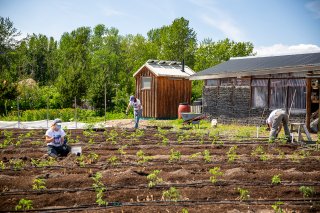 The University of Washington (UW) is recognized as a leader for its deep commitment to sustainability on its campuses and in the community. In 2020, UW's Seattle campus recovered 10,720 pounds of food that would have otherwise been wasted. This was a 13 percent increase in food recovery from 2019 and a 26 percent increase from 2018.* UW owes its success to its food recovery efforts across dining facilities, its on-campus farm and food pantry, and its partnership with Food Lifeline.
The UW Housing and Food Services department works extensively with local food banks, including the on-campus food pantry, to divert excess food purchased or overproduced at dining facilities. Dining units freeze perishable food for future donations and work through inventory to identify opportunities for waste diversion. During the COVID-19 pandemic in 2020, UW Dining set up a "remote bulk purchase and donation" to allow students not on campus to make purchases to be donated to the UW Food Pantry. In addition to UW Dining, the Nutrition Clinic at UW Medical Center—Montlake began a recovery program with the pantry in 2020. 
The UW Farm (an on-campus, organic, 15-acre urban farm) donates excess produce to food banks, including the UW Food Pantry. The on-campus pantry provides foodstuffs to any student, staff member, or faculty member on the Seattle campus. 
To help reduce the amount of food wasted on campus, UW Dining manually tracked overproduction in dining locations during the 2019–2020 school year. These efforts allowed UW Dining to forecast their needs more accurately so they can reduce overproduction that adds to campus waste and its carbon footprint. 
Both food donation and preventative waste efforts help divert the university's food waste from the landfill. The university is committed to improving its food recovery efforts and decreasing the amount of food wasted.
*This data did not account for food recovery efforts at the University of Washington Bothell or Tacoma campuses. 
"To be truly sustainable, we must consider how our decisions impact not only the environment, but also society and our economy. Supporting the fight against food insecurity is an important part of achieving sustainability. We believe that food should be a right afforded to all, not a privilege accessible by only some. We are incredibly proud to be able to support our campus and community through our food recovery efforts."—Casey Crane, UW Dining Projects and Purchasing Specialist