Contact Us About Sustainable Management of Food

Report possible violations of environmental laws and regulations.
Have questions about Sustainable Management of Food or how you can reduce wasted food? Interested in joining the Food Recovery Challenge? Contact an expert near your region of the United States. Select a state or territory from the map below: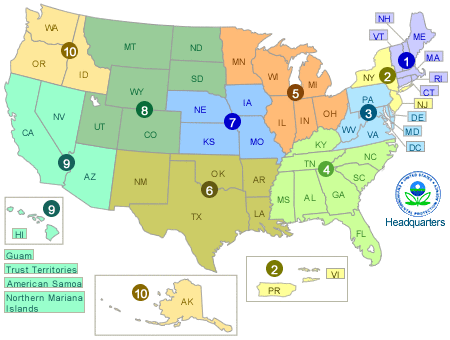 Headquarters in Washington, DC
Ellen Meyer, meyer.ellen@epa.gov, 703-347-0239
Region 1 Office for New England
Christine Beling, beling.christine@epa.gov, 617-918-1792
Janet Bowen, bowen.janet@epa.gov, 617-918-1795
Region 2 Offices in New York
Lorraine Graves, graves.lorraine@epa.gov, 212-637-4099
Rachel Chaput, chaput.rachel@epa.gov, 212-637-4116
Kimiko Link, link.kimiko@epa.gov, 212-637-4182
Region 3 Office for the Mid-Atlantic
Luke Wolfgang, wolfgang.luke@epa.gov, 215-814-2913
Region 4 Office for the Southeast
Thornell Cheeks, cheeks.thornell@epa.gov, 404-562-8479
Region 5 Office for the Great Lakes
Julie Schilf, schilf.julie@epa.gov, 312-886-0407
Region 6 Office for the South Central
Golam Mustafa, mustafa.golam@epa.gov, 214-665-6576
Stephen Sturdivant, sturdivant.stephen@epa.gov, 214-665-6673
Region 7 Office for the Midwest
Penny Harrell, harrell.penny@epa.gov, 913-551-7474
Region 8 Office for the Mountains & Plains
Virginia Till, till.virginia@epa.gov, 303-312-6008
Region 9 Office for the Pacific Southwest and Hawaii
Andre Villasenor, villasenor.andre@epa.gov, 213-244-1813
Region 10 Office for the Pacific Northwest and Alaska
Kendra Tyler, tyler.kendra@epa.gov, 206-553-0041
Domenic Calabro, Calabro.domenic@epa.gov, 206-553-6640
Please use the form below to send us comments or questions. Be sure to include your e-mail address if you'd like a response.
Mailing Address:
Office of Resource Conservation and Recovery
1200 Pennsylvania Avenue, N. W. 
MC 5305P 
Washington, D.C. 20460