Regional Resources to Reduce and Divert Wasted Food Across the United States
Food loss and waste is a growing problem in our modern society. The amount of food Americans throw away each year is staggering.
EPA estimates that more food reaches landfills and incinerators than any other single material in our everyday trash, constituting 24 percent of the amount landfilled and 22 percent of the amount combusted with energy recovery.  About 63 million tons of wasted food were generated in the commercial, institutional, and residential sectors. Only 32 percent of that food was diverted from waste streams to animal feed, bio-based materials/biochemical processing, codigestion/anaerobic digestion, composting, donation, land application, and sewer/wastewater treatment (2018).
There are growing efforts to prevent wasted food from occurring in the first place and to divert if from landfills and incinerators. 
Below are links to state and local environmental agencies and waste management programs, nonprofit and partner organizations that provide resources and information about food systems, food recovery, food rescue, food donation, composting, and anaerobic digestion. 
Choose your state or EPA region from the map below or scroll down the page and find information about regional, state, and local wasted food prevention and diversion efforts.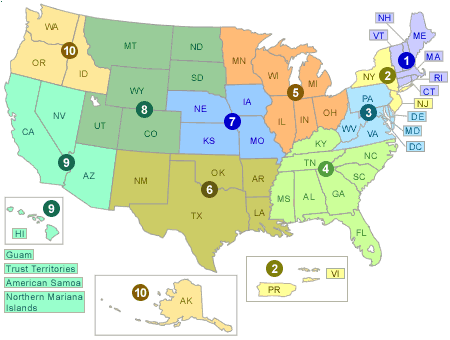 ---
EPA Region 1: Connecticut, Massachusetts, Maine, New Hampshire, Rhode Island, and Vermont
Recent projects and grants awarded by the EPA New England Sustainable Food Management Program are listed below:
Healthy Communities Grant Program
The Healthy Communities Grant Program is EPA New England's main competitive grant program to work directly with communities to reduce environmental risks, protect and improve human health and improve the quality of life. Below are the organizations that have received grant awards in the past three years to further wasted food reduction and diversion projects:
2022 Awardees
MEANS Database, Rhode Island & Bristol County Food Recovery Extension, $30,000
Loving Spoonfuls, Inc., Food Rescue and Hunger Relief in Massachusetts, $40,000
Product Stewardship Institute, Building Back Better with Less Packaging and Plastic Waste, $39,992
City of Middletown CT, Fostering Circular Solutions for Takeout Containers, $40,000
Growing Places Project, Inc., Local Food Works - Closing the Loop. $39,997
Environmental Council of RI, Rhode Island Schools Recycling Club Get Food Smart RI: K-12 Schools, $40,000
Institute for Local Self-Reliance, Inc., Composting for Community Initiative, $40,000
Center for Eco Technology, Wasted Food Solutions New Haven County, $40,000
Center for Eco Technology, Wasted Food Solutions Providence County, $40,000
 
2021 Awardees
Center for Ecotechnology; Wasted Food Solutions in Providence County Phase III, $35,000

Center for Ecotechnology; Wasted Food Solutions in New Haven County Phase III, $35,000

Northeast Waste Management Officials Association (NEWMOA); End Food Waste Initiative in East Boston, $30,000

Farm to Institution New England (FINE);  Addressing the Impacts of College "Grab n' Go" Dining:  A Pilot Project to Reduce the Risk of Perfluorocarbons (PFAS) in College Dining Containers Due to COVID-19 Responses, $30,000
2020 Awardees
Center for Ecotechnology; Wasted Food Solutions in Providence County Phase II, $35,000
Center for Ecotechnology; Wasted Food Solutions in New Haven County Phase II, $35,000
Lakes Region Planning Commission; The WoTu Sustainability Cooperative Community Food Systems Project, $34,659
Rhode Island (RI) Department of Environmental Management; RI School's Recycling Club Get Food Smart RI, $35,000
State

Resources

New England
Connecticut

Connecticut Department of Energy and Environmental Protection Commercial Organics Ban took effect on October 1, 2014 and was updated in Public Act (PA) No. 21-16, approved May 2021. It requires that "on and after January 1, 2022, each commercial food wholesaler or distributor, industrial food manufacturer or processor, supermarket, resort or conference center that is located not more than 20 miles from an authorized source separated organic material composting facility and that generates an average projected volume of not less than 26 tons/year of source separated organic materials shall: Separate such source separated organic materials from other solid waste; and ensure that such source separated organic materials are recycled at any authorized source separated organic material composting facility that has available capacity and that will accept such source separated organic material.

The Center for Eco Technology has developed a resource for Connecticut businesses interested in learning more about the potential financial savings from preventing food waste. This document includes success stories, a baseline formula, and more.

Maine

Massachusetts

Massachusetts Department of Environmental Protection Statewide Commercial Organics Disposal Ban took effect on October 1, 2014 and states that businesses and institutions that dispose of one ton or more of source separated organic materials per week need to divert food wastes from disposal to composting, conversion, recycling or reuse, recovery for donation or animal feed. Note: as of November 1, 2022, the threshold on commercial organic/food waste to facilities generating more than one-half ton of these materials per week is included in the ban.

Recyclingworks Massachusetts is a state sponsored program that provides technical assistance to businesses and institutions to reduce waste, including food waste. A variety of tools and resources, including food donation best management practices, have been developed.

New Hampshire

Rhode Island

Rhode Island Department of Environmental Management Food Waste Ban took effect on January 1, 2016 and applies to organic waste producing institutions generating more than 104 tons per year (two tons per week). Food waste generators are exempt from recycling their materials if there is not a composting or anaerobic digestion facility within 15 miles of the institution's location.

As of January 1, 2018, covered educational institutions that generate 1 ton of organic waste per week or more, must recycle it at a composting or anaerobic digestion facility, or by another authorized recycling method. 
The Rhode Island school food waste law, as of January 1, 2022, requires all schools to comply with the state's Food Waste Ban to divert waste from landfills and promote the donation of nonperishable foods. Schools will need to conduct a waste audit every three years with the Rhode Island Resource Recovery Corporation, which will provide individualized guidelines and strategies for reducing waste at each school. It also requires all Rhode Island schools to implement and use share tables and encourages selecting food service companies that recycle organic waste and purchase at least 10% of product locally.

The Center for EcoTechnology has developed a supplemental training video, in partnership with the Rhode Island Department of Health, that highlights the importance of food donation in Rhode Island. The video reviews the roles of surplus food recovery and distribution organizations and showcases the impact grocery stores can have when they partner with these organizations on food donation programs.

Vermont

Vermont Department of Environmental Conservation Universal Recycling Law (Act 148), effectively bans disposal of traditional recyclables, leaf and yard waste, and food scraps found in Vermonters' trash bins. Food scrap (organic, compostable kitchen wastes) diversion began in a phased approach on July 1, 2014, applying to food scrap generators with greater than 2 tons per week of food waste and located within 20 miles of a certified composting or anaerobic digestion facility. Since 2020, all food scraps, including those from households, must be diverted with no exemption for distance.

The Center for EcoTechnology has developed the Wasted Food Solutions website that highlights resources from Vermont.
---
EPA Region 2: New Jersey, New York, Puerto Rico, and the United States Virgin Islands
| State | State Environmental Agency Resources | Additional Resources and Information |
| --- | --- | --- |
| New York | | |
| New Jersey | New Jersey Department of Environmental Protection | |
---
EPA Region 3: Delaware, Maryland, Pennsylvania, Virginia, West Virginia, and the District of Columbia
---
EPA Region 4: Alabama, Florida, Georgia, Kentucky, Mississippi, North Carolina, South Carolina, and Tennessee
State
State Environmental Agency Resources
Additional Resources and Information
Alabama
 

Florida

Florida Department of Environmental Protection:

Florida Department of Agriculture and Consumer Services - Florida's Food Recovery Resource Guide (pdf)(1.66 MB).

Georgia

Georgia Department of Natural Resources, Environmental Protection Division - information and resources on reducing food waste and composting.

Atlanta Community Food Bank is a nonprofit organization that takes food donations across the Atlanta area.  

Foodwell Alliance connects people and resources across Metro Atlanta to amplify and accelerate the local food movement through community gardens, grants and workshops. 

Georgia Organics is a nonprofit organization that has resources for teachers and cafeteria workers to implement farm to school resources, along with an interactive map to find local food resources in Georgia.

Kentucky

GleanKY is an organization that gathers and redistributes excess fresh fruits and vegetables to nourish Kentucky's hungry.

Organics Recovery Program Development Tool (pdf) (2.2 MB) was created by the Environmental Finance Center at the University of Louisville in conjugation with EPA, to assist colleges and universities with organizing or expanding organics recovery programs. 

Seedleaf works to increase the amount, affordability, nutritional value and sustainability of food available to people at risk of hunger in central Kentucky by growing, recycling and sharing food. 

Mississippi

Mississippi Department of Environmental Quality Composting Program and Managing Food Scraps for a Sustainable Food System curriculum (pdf) (73.6 KB).

North Carolina

North Carolina Department of Environmental Quality:

South Carolina

Don't Waste Food S.C. - a collaborative campaign between the public and private sectors. Find information on food labels, composting for businesses and at home. 

South Carolina Department of Agriculture - information on buying local food across the state.
 

Tennessee

Tennessee Department of Environment and Conservation:

Get Food Smart TN - a statewide initiative that provides technical assistance and resources to consumers, restaurants, grocers, businesses, government entities, nonprofits, and other entities to combat food waste in Tennessee.
---
EPA Region 5: Illinois, Indiana, Michigan, Minnesota, Ohio, and Wisconsin
State
State Environmental Agency Resources
Additional Resources and Information

Illinois

Illinois Environmental Protection Agency Bureau of Land

The Illinois Food Scrap Coalition is a group of solid waste agencies, counties, community and government organizations, businesses, schools, institutions, service providers, and processors dedicated to advancing food scrap composting in Illinois through program implementation, policy, and advocacy. It is also a participating state chapter of the U.S. Composting Council. 

The Illinois Recycling Foundation is a statewide 501(c)3 group charged with providing educational literature, events, tours, networking opportunities and webinars promoting food waste reduction and composting.
The Illinois Wasted Food Action Alliance is comprised of a diverse set of organizations helping build a unified approach towards reducing and diverting wasted food.

Indiana

Indiana Department of Environmental Management

Circular Indiana is focused on education and advocacy to strengthen the circular economy across the state of Indiana and addresses food waste across the entire food system.

Michigan

Michigan Department of Environmental Quality, Great Lakes and Energy

The Michigan Recycling Coalition, through its Michigan Organics Council, works to bring together organics generators, processors, and end users to network, share best practices, and promote diversion of organics and utilization of compost and other end products. In November 2017, the Michigan Organics Council voted to become Michigan's charter chapter of the U.S. Composting Council.

Minnesota

Minnesota Pollution Control Agency

Information on preventing wasted food

The Minnesota Composting Council is the Minnesota state chapter of the U.S. Composting Council. As a state affiliate of the U.S. Composting Council, it is dedicated to the development, expansion, and promotion of the composting industry based upon sound science, principles of sustainability, and economic viability. 

The Recycling Association of Minnesota is committed to promoting resource conservation through waste prevention, reuse, recycling, composting and purchasing practices using the most cost effective and environmentally sound methods available in Minnesota.

Ohio

Ohio Environmental Protection Agency

Materials and Waste Management Composting Guidance and Rules

Wisconsin

Wisconsin Department of Natural Resources

Associated Recyclers of Wisconsin (AROW) is a 501(c)(3) non-profit association that provides statewide proactive leadership on waste reduction and recycling through education, advocacy, collaboration, programs and services. AROW's Organics and Composting Committee advises and guides the organization's organics and composting programming, creates awareness about the value of organics, and collaborates with groups, businesses and agencies to promote the use and diversion of organics. 

Recycling Connections is a 501(c)(3) nonprofit supported through service contracts, grants, product sales, and donations for waste reduction, recycling, and resource conservation. Recycling Connections helps communities compost and reduce food waste through outreach, education, social media and programming.
---
EPA Region 6: Arkansas, Louisiana, New Mexico, Oklahoma, and Texas
---
EPA Region 7: Iowa, Kansas, Missouri, and Nebraska
Sign up for the EPA Region 7 Digest Newsletter
Learn about upcoming events, webinars, and grant opportunities. To subscribe, email R7_POIS_Communities_Mailbox@epa.gov. For more news from EPA Region 7, visit Region 7's Facebook page.
Find local and national food loss and waste resources curated by the Wichita Environmental Finance Center (includes recordings).
---
EPA Region 8: Colorado, Montana, North Dakota, South Dakota, Utah, and Wyoming
State
Resources
Colorado

Montana

Great Bear Foundation holds a seasonal gleaning program to feed good food to people while protecting the local bear population.

Grow Montana is a broad-based food policy coalition that promotes community economic development and education policies that support sustainable Montana-owned food production, processing, and distribution, and that improve everyone's access to healthy Montana foods.

North Dakota

Hunger Free North Dakota Garden Project addresses hunger in North Dakota by encouraging farmers and gardeners to plant an extra acre or row of produce and donate that fresh produce to food pantries, soup kitchens, and other charitable community programs.

Great Plains Food Bank works to end hunger in North Dakota and western Minnesota through community partnerships.

South Dakota

Feeding South Dakota (multiple chapters) works to eliminate hunger in South Dakota communities, distributing food to those in need and advocating at the state and federal level on behalf of those who are hungry.

Utah

The Utah Food Bank Grocery Rescue Program is a business alliance between the Utah Food Bank and Utah retailers that provides a safe and efficient donation outlet for food. 

The Utah Food Recovery Network recovers meals from college dining halls and delivers them to local partners to distribute to the community.

Wasatch Food Waste Recovery works with hotels, restaurants, and other food businesses to turn food waste into energy through anaerobic digestion.

Wyoming

Hole Food Rescue is a nonprofit organization that works to reduce food waste and food insecurity in their community.
---
EPA Region 9: Arizona, California, Hawaii, Nevada, Guam, and American Samoa
---
EPA Region 10: Alaska, Idaho, Oregon and Washington
Below are links to state environmental agencies, nonprofit organizations and universities that provide information about composting, recycling, food rescue, source reduction, food donation and waste reduction in Region 10 states:
The following links exit the site
---
Resources Relevant to All Regions