Zero Waste Case Study: Berkeley
On this page: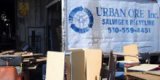 Public-Private Reuse Partnership
Berkeley has a longstanding commitment to reducing and ultimately eliminating the waste that goes to landfills and established one of the first municipal recycling programs in the nation.
Reuse is a key zero waste strategy for extending the life of materials and products. In 2019, the City adopted the Berkeley Single Use Foodware and Litter Reduction Ordinance to reduce the use and disposal of single use foodware, including cups, lids, utensils, straws, clamshells, and other disposables that contribute to street litter, marine pollution, harm to wildlife, greenhouse gas emissions, and waste sent to landfills. This is the first ordinance in the nation to require that food vendors utilize reusable foodware for on-premises dining, and to require a $0.25 itemized charge on customers' receipts for all disposable take-out beverage cups. The disposable cup charge is intended to incentivize reusable cups; customers bringing their own reusable cups do not pay the $0.25 charge.
Urban Ore Salvage Contract Video
The City of Berkeley owns and operates its transfer station, and the City has a contract with a locally owned for-profit business called Urban Ore, which was founded in 1980. Urban Ore has exclusive rights to salvage reusable materials from the City's transfer station tip floor, where materials are collected and hauled to the landfill. Urban Ore is allocated space on the transfer station property for a staff shed and a box truck which transports the salvaged materials to the company's reuse retail and recycling Ecopark on the other side of town. There, the materials are processed and sold for reuse and recycling. Urban Ore salvagers also spot and report hazardous materials to City staff to avoid illegal disposal.
In July 2020, during the COVID-19 pandemic, the Berkeley City Council renewed Urban Ore's contract and re-established its salvage service fee of $47.74 for every ton salvaged from the City's transfer station. This is the same amount that the City pays another third party for hauling and landfill disposal tipping fees.
"This salvage and reuse/recycling program supports increased diversion of materials from landfills and helps move the City toward its Zero Waste Goal. In addition, the Transfer Station's operational expenses associated with long-haul transportation and landfill use are also reduced." - Berkeley City Council Salvage Contact Resolution Rationale for Recommendation"
Historically, Berkeley paid Urban Ore $40 per ton for materials salvaged, which was less than the cost of landfilling and disposal, but from 2012 to June 2020 the salvage payment was eliminated.
This salvage contract has multiple benefits for the City:
Assists in attaining Berkeley's Zero Waste and Climate Action Plan goals.
Reduces manufacturing resource use and energy impacts by returning goods and materials to the commerce cycle.
Reduces the City's transportation costs to haul waste to the landfill.
During 2018, Urban Ore salvaged 823 tons from the transfer station floor and hauled them to its 3-acre site, which includes a 30,000 square-foot warehouse. During the same year, the company recycled 357 tons of materials, including ferrous and non-ferrous metals, glass, ceramics, electronics, plastics, textiles, auto batteries, paper, and cardboard. It's been estimated that 7,000 additional tons of reusable goods pass through Urban Ore's doors. Most items are dropped off on Urban Ore's site by 50-100 self-haulers per day. Urban Ore offers its drop-off service at no cost, and sometimes staff pay out cash or store credit in exchange for high-quality goods; this amount is approximately $100,000 annually. The company also has an Outside Trader Department that does pick-ups and deliveries throughout the Bay Area.
Urban Ore sells its merchandise at affordable price points to its customer base, which includes local artisans, contractors, property managers, and residents. These goods then circulate throughout the local economy. Top selling categories include doors, furniture, windows, and hardware. As of 2020, Urban Ore provided 32 living wage jobs with income-sharing performance incentives, profit sharing, and benefits. In 2020, Urban Ore had gross sales of over $2.7 million.
Contractual Arrangement
The City contracts with Urban Ore to salvage reusable materials from the transfer station floor, and under the resolution and new contract, the City will pay Urban Ore $47.74 for each ton salvaged for reuse (up to $114,576 during the three-year contract term). The City would otherwise haul these materials to the landfill, paying for both transportation and the disposal tip fee costs of $47.74 per ton. Urban Ore salvagers are contractually obligated to identify and report hazardous materials to City staff.
Advantages
Environmental Benefits of Reuse: Reuse is a priority zero waste strategy because it extends the life of materials without significant additional processing. This reduces directly reduces pollution and greenhouse gas emissions.
Community Development: Reuse industries support local jobs and economic growth. Reused goods and building materials support low income community members and are often used for community theater and artwork.
Cost Savings: The city saves money by avoiding disposal hauling and tipping fee charges and extends the life of the landfill.
Transfer Station Alternative: Under the current agreement, customers may drop-off many reusable goods at Urban Ore for free and receive cash or store credit for some items. This diverts materials from the transfer station and landfill efficiently.
Screen Out Hazardous Materials: Salvaging reusable materials from the transfer station allows sorters to identify and remove hazardous and banned materials from disposal.
Disadvantages/Omissions
Reuse Capacity: Large-scale reuse contracts require contractors with reuse expertise and reuse warehouse capacity. Affordable siting of reuse facilities can be challenging.
Short-term Agreement: Short-term reuse agreements limit mid- and long-term planning. The most recent salvage fee contract was awarded for a three-year term.
Transfer Station Design: The existing structures on the city-owned 9.6-acre transfer station site were not designed to support reuse. Both the City and the contractor have invested in redesigning the transfer station for easier capture of potentially reusable and recyclable materials, but front-end design-for-reuse is preferable.