Great Lakes Zooplankton Monitoring
On this page:
---
What are Zooplankton?
Zooplankton are small, free-swimming aquatic organisms carried by currents. The zooplankton community is composed of both primary consumers, which eat free-floating algae, and secondary consumers, which feed on other zooplankton. 
Copepods: small, torpedo-shaped crustaceans found in nearly every freshwater habitat,
Cladocerans: small crustaceans commonly called water fleas,
Rotifers: complex, multicellular animals in a variety of sizes, shapes, and types
Why does GLNPO monitor zooplankton?
Zooplankton are a vital component of the Great Lakes food web and the Great Lakes fishery. All Great Lakes fish feed solely on zooplankton at some point in their life cycle.
Decreasing zooplankton populations means less food for fish, which results in fewer, smaller fish. Also, changes in zooplankton populations and diversity can indicate water quality changes in the lakes.
Invasive zooplankton have altered the Great Lakes ecosystem. Monitoring zooplankton is therefore another way to track the introduction of new species, as well as the abundance and distribution of existing species, in the lakes.
How does GLNPO sample and analyze zooplankton?

Aboard the R/V Lake Guardian, GLNPO implements two sampling methods for zooplankton collection:
100-meter (or 2 meters off the lake bottom in shallower locations) net tows with a 153 micrometer net to collect the full profile of zooplankton species, including those that migrate vertically in the lake
20-meter net tows with a 63 micrometer net to collect species living in the surface waters and those species too small to be caught in the 153 micrometer nets (i.e., rotifers)
Once collected, the zooplankton samples are preserved in formalin and analyzed by trained taxonomists with microscopes to determine the zooplankton biomassThe amount of a living species, expressed as a concentration or weight per unit area. and species diversity and densityThe quantity of mass contained in a specific volume. across each Great Lake.
What are the resulting data trends?
Since the early 2000s, summer zooplankton communities have declined in numbers and biomass in Lakes Huron, Michigan and Ontario. The zooplankton communities in these lakes have become increasingly similar to those characteristic of cold, oligotrophic systems, such as Lake Superior, which have low nutrient levels.
Populations of calanoid copepods, considered oligotrophic indicators, have increased, while cladoceran populations have declined. Cladocerans are easily caught prey for many fish species in the lakes, so cladoceran decline decreases the amount of available food for fish, which has a negative impact on Great Lakes fisheries.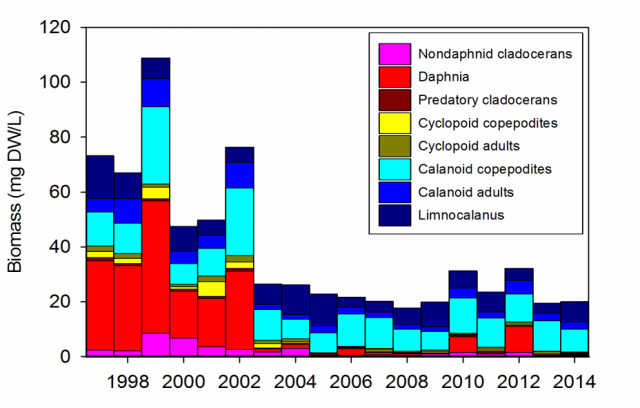 An example would be that total zooplankton biomass in Lake Huron has declined overtime since 1997. The total biomass of cladocerans in Lake Huron has also declined since 2002, with a change in the composition of the zooplankton population overtime in the lake.
Where to access the EPA GLNPO zooplankton data
A downloadable file is now available at EPA's Central Data Exchange, which contains EPA GLNPO's abundance and biomass data for the Great Lakes crustacean zooplankton community. The data are organized by major taxonomic group, for all five lakes from 1997, the first year in which deep (100 m) zooplankton tows were analyzed by GLNPO's program, through 2016.