Power Market Structure
Depending on where you live, different organizations supply electricity and manage the generation and transmission systems that deliver it to you. Variables of electricity market structures that can impact your access to different green power product options where you live include:
Whether an electricity market is traditionally regulated or restructured.
Whether an organized wholesale market or a utility manages transmission of electricity.
Whether retail choice is available.
Regulated vs. Restructured Wholesale Electricity Markets
In a regulated wholesale market, utilities are typically vertically integrated monopolies, meaning they are solely responsible for generating, transmitting, and distributing electricity to their customers. In these markets, utilities determine the mix of resources that they use to generate electricity, with approval from state public utility commissions. The electric system in much of the South and West is managed using these traditional wholesale electricity markets.
By contrast, in a restructured—or deregulated—wholesale market, utilities that serve retail customers are only responsible for delivering electricity to their customers; the electricity is generated by other entities. Those generating entities typically sell the electricity they generate through competitive power markets known as "independent system operators" and "regional transmission organizations."
Independent system operators (ISOs) and regional transmission organizations (RTOs) are independent organizations that oversee the generation and delivery of electricity to consumers in restructured markets. They manage the processes in which power suppliers compete based on price to generate electricity. These process informs wholesale electricity prices in those regions. RTOs and ISOs also operate portions of the electric transmission system.
ISOs and RTOs were formed in response to two orders by the Federal Energy Regulatory Commission. They are intended to foster competition and guard against market manipulation among power suppliers; facilitate grid planning and operations to ensure reliability; and guarantee that all types of power suppliers have access to the electricity grid. About two-thirds of U.S. electricity consumers live in a region where transmission is managed by an ISO or RTO.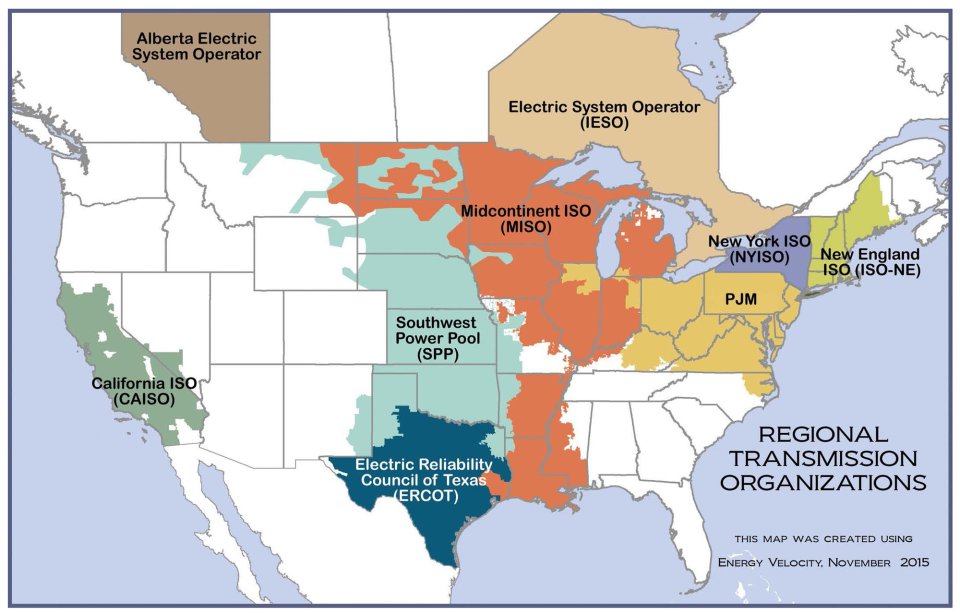 Selecting Your Electricity: Retail Choice
In addition to wholesale electricity market structures, which impact electricity supply across entire regions, there are also retail electricity market structures that govern how individuals and organizations may purchase power in certain places. One such retail market structure is the concept of retail choice. Customers who live in states with retail choice may purchase their electricity from other retail suppliers besides their local utility. Retail choice was designed to foster competition among electricity suppliers to reduce prices. It has also provided customers with choices surrounding the resources used to generate the electricity they purchase.
Retail choice is not widely available in most parts of the country. While it is more common in states located in restructured wholesale power markets, it is also offered in some states located in regulated wholesale markets—sometimes to certain types of customers, such as commercial or industrial customers.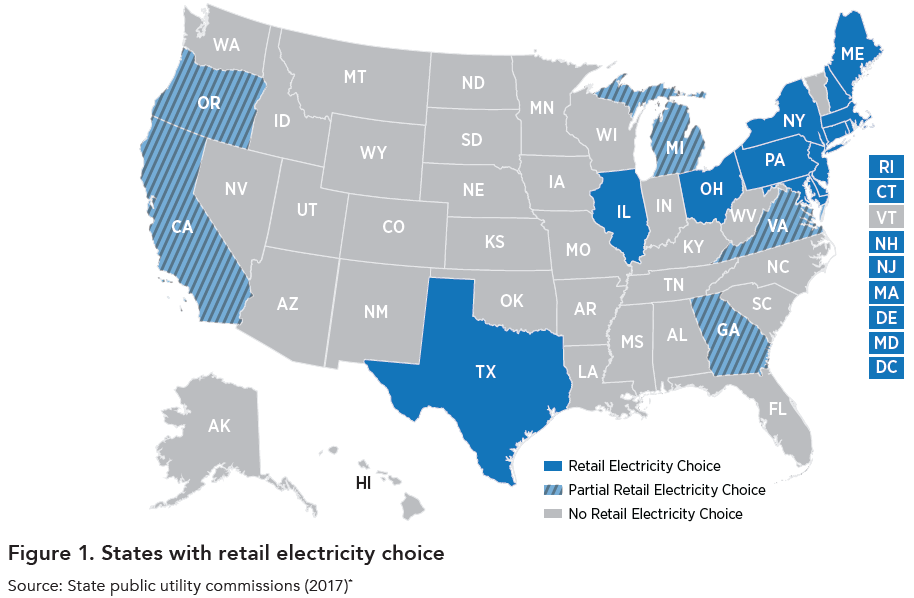 Market Structure Impacts on Customer Options
Power market structures can impact a customer's access to green power products. For instance, in states with retail choice, customers can opt to purchase electricity from a supplier that offers electricity products generated from a larger proportion of emissions-free, renewable electricity than other local suppliers. In some cases, this might enable customers to purchase more green power than they could from their default supplier. In vertically integrated markets, a customer's access to different renewable electricity products will largely be based on what options their local utility makes available.
One green power product available to everyone—regardless of the power market structures in place where they live—is retail renewable energy certificates (RECs). Although the administrative costs may be untenable for an individual residential customer, RECs are realistically accessible to all organizational customers.