What If Electric School Buses Could be Used to Supply Power When Off Duty?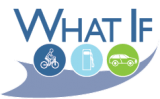 The Big Yellow School Bus first entered the U.S. transportation scene in 1939 and has since become an iconic symbol of American life. We sing about them in nursery rhymes and wait for them with anticipation during the school year. Up until now, these boxy yellow buses had a sole purpose—to safely transport children. What if these buses could serve a dual purpose?
Going for the "A":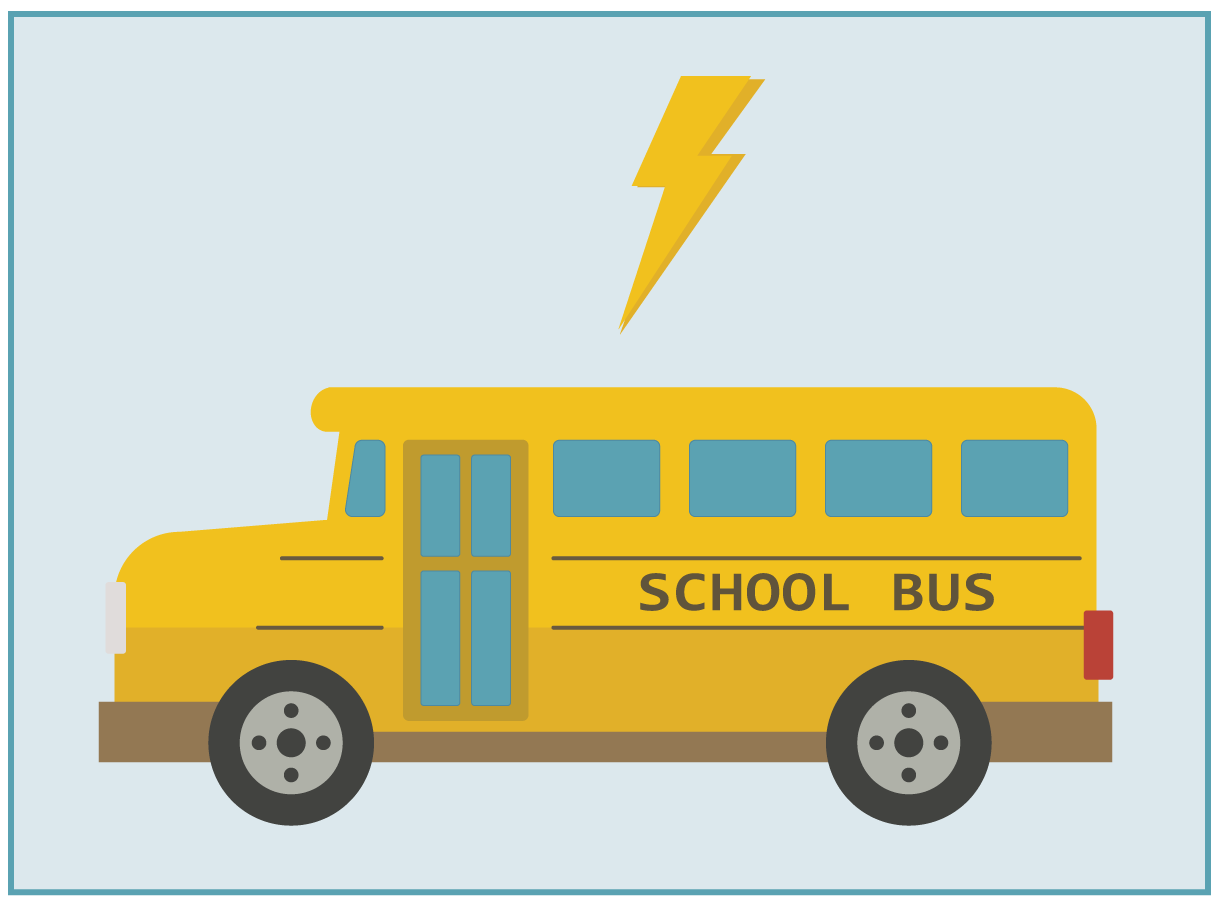 If a city like Denver with around 400 school buses switched half of them from diesel to electric, it could save roughly:
$461,000 in fuel costs per year
1,700 tons of CO2 per year
The emissions benefit would be equivalent to taking 370 passenger cars off the road for a year.2
Though school buses have become cleaner over the years, most still operate on diesel fuel, emitting air pollutants from their tailpipes that are particularly harmful to children. This tailpipe diesel exhaust also contains greenhouse gases (GHGs) that are warming the climate. The good news—advanced technology that drastically reduces pollution is available today for school buses. They can now be powered by electricity, just like some popular cars on the road. Widespread adoption of electric buses could result in significantly less pollution and offer other benefits too. If half of all school buses in the country switched from diesel to electric, about 2.1 million tons of carbon dioxide (CO2) could be reduced annually (even when accounting for emissions from electricity generation).1 This electric vehicle technology also presents a unique opportunity...
Extra Credit:
On average, school buses are parked for up to 18 hours a day during the school year and nearly three months over the summer. Why not give them another assignment for extra credit? When they aren't being used to transport students, electric school buses can be used as mini, mobile sources of power via their battery storage. Experts are exploring advancements in vehicle-to-grid (V2G) technologies. V2G technologies make use of bidirectional batteries (meaning energy goes in and out) that can store surplus energy and then return it to the grid during peak times of use. This is an important function as more renewable energy sources are added to the grid.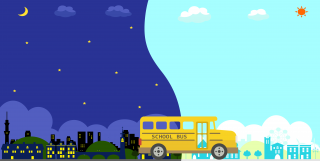 Renewable energy is intermittent—the wind blows and the sun shines, but not always when consumers need electricity.
A school bus often sits idle when renewable energy production exceeds the need for power—like during mid-day and hot summers when the sun is shining.
As more renewables are added to the grid, energy storage technologies like V2G batteries can store surplus energy, and then send it back to the grid when it is needed most—they can help balance load.
What's the Bottom Line?
If half of the school buses in the U.S. went electric and used V2G batteries, they could store enough energy to power:
Over half the homes in Vermont for up to three days3
15 million school laptops—enough for nearly every high school student in the U.S.—for a month4
What Would It Be Like?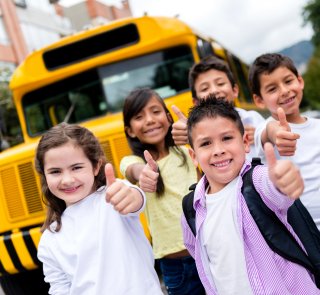 The air in and around the bus would be free of diesel exhaust. And riding the bus would be quiet! In fact, electric school buses are so quiet that they are equipped with sound devices to alert others on the road. Additionally, not having a noisy engine and dirty air can lead to calmer kids and a safer ride.5
Electrification components would not impact the rider experience but may change routines at quitting time—instead of filling up when the school bus tank is empty, the school bus would need to be plugged in for charging.
Electric school buses are gaining popularity, reaching nearly 1% of new school bus sales in 2019, with growth expected to continue.6 An added benefit—electric school buses have fewer moving parts, so are easier and cheaper to maintain. And fuel costs can be much lower throughout the life of a bus.7 When an electric bus with V2G technology is plugged in, energy in its battery can be tracked and managed to ensure that adequate power is available to get children to and from school. Plus, school bus fleets are centrally managed and located, and driving routes are predictable. This makes school bus fleets a great choice for V2G.
So, what would it take for school bus fleets to adopt this technology? Upfront costs are high—a new electric bus can cost two to three times as much as a conventional diesel school bus. However, compensation for supplying power back to the grid could help defray the upfront costs of going electric while making the grid more reliable and resilient—a power-full win for school districts, electric utilities, and the planet.8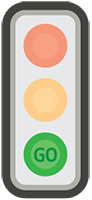 As V2G technology matures and with proper planning, school buses could be used to keep the lights on in buildings during power outages. Given they're mobile, they can provide power to emergency shelters or meet other needs during extreme weather events, like hurricanes and wildfires, which are occurring more frequently as a result of climate change.
When the power STOPS, these buses could be on the GO!
---
1 Assumes half of ~500,000 registered diesel school buses in the U.S., according to data from R.L. Polk & Company (October 2015). Assumes that school buses travel 12,000 miles each per year (see U.S. Department of Energy (DOE) Alternative Fuels Data Center (AFDC) at https://afdc.energy.gov/data/widgets/10309, accessed July 2021). Assumes that electric buses operate at 1.5 kWh/mi bus efficiency. National average emissions associated with upstream electricity generation (710 g/mi) were estimated using EPA's Beyond Tailpipe Calculator and could vary depending on where the school bus is charged. Tailpipe diesel emissions savings were estimated using EPA's Diesel Emissions Quantifier (DEQ). Diesel upstream estimates are based on Argonne National Lab's GREET model.
2 In addition to references in first citation, cost estimates assume $2.40/gallon diesel and $0.13/kWh electricity. See DOE's AFDC at https://afdc.energy.gov/fuels/prices.html%20(as%20of%20October%202020) (October 2020). Emissions benefit estimate was determined using EPA's Greenhouse Gas (GHG) Equivalencies Calculator, found at: https://www.epa.gov/energy/greenhouse-gas-equivalencies-calculator.
3 Assumes that each 160-kWh bus is run at 80% capacity. Uses delivered electricity consumption estimate per home from assumptions in EPA's GHG Equivalencies Calculator.
4 Assumes that each 160-kWh bus is run at 80% capacity, but uses annual electricity usage of 24 kWh per laptop from the U.S. Energy Information Administration, found at: https://www.eia.gov/todayinenergy/detail.php?id=24812
5 See Mondal, et. al, 2014 (https://www.sciencedirect.com/science/article/pii/S2212609014000508) and Noel, et. al, 2018 (https://www.sciencedirect.com/science/article/pii/S0967070X17306479).
6 School Bus Fleet Blog (Blue, January 2020), found at https://www.schoolbusfleet.com/10111921/school-bus-sales-show-growing-demand-for-type-as-electric.
7 School Bus Fleet (Schlosser, May 2018), found at: https://www.schoolbusfleet.com/10009621/electric-school-buses-take-to-the-road-real-world-results.
8 CITATION FOR BOX: T&D World (Wolf, December 2019), found at: https://www.tdworld.com/distributed-energy-resources/article/21114503/plugging-in-at-the-grid-edge.