Participatory Science Water Projects
Between Two Worlds Science Program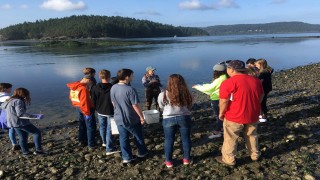 The Between Two Worlds Indigenous Science program educates Swinomish Indian Tribe youth on natural resources management, including salmon recovery, water quality, and habitat restoration. 
Proctor Creek Watershed Community Science
Communities near Proctor Creek suffer public health threats due to flooding and pathogens from sewage overflow. In 2013, the Urban Waters Federal Partnership was created to promote community efforts for socio-economic and ecological revitalization. 
South Carolina Adopt-a-Stream (SC-AS) Program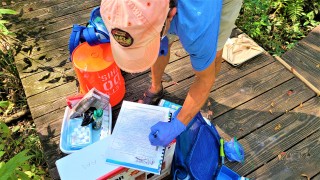 South Carolina's Adopt-a-Stream program seeks to protect local waterways through volunteer water quality and habitat monitoring. A mobile-friendly database houses the collected data and shares information with resource managers. 
Chesapeake Bay Monitoring Cooperative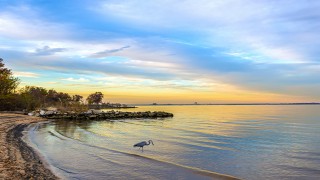 The  Chesapeake Monitoring Cooperative trains community members to collect water quality and macroinvertebrate data in the Chesapeake Bay watershed. Data is used to assess the Watershed's health.
Resilience and Adaptation in New England (RAINE)
In 2016, EPA started a project that engages community stakeholders in assessing the vulnerability of Mattapoisett, Massachusetts' drinking water to salt water intrusion from sea level rise and storm surges and has created interactive maps of flood scenarios (photo by Cynthia Naha). 
Charles River Monthly Monitoring River Science Program
In Massachusetts, the Charles River Monthly Monitoring Science program engages volunteer community scientists in collecting water quality samples and participating in restoration projects such as invasive species removals. 
`
Resources for Water Projects
Volunteer Water Quality Monitoring 
Volunteers from many local organizations collect water quality data to improve the health of water bodies. 
EPA collects water quality monitoring data to help water resource managers know where pollution problems exist, where to focus pollution control energies and where progress has been made.

The Water Quality Exchange (WQX) is the mechanism for data partners to submit water monitoring data to EPA.
The Water Quality Portal (WQP) is the mechanism for anyone, including the public, to retrieve water monitoring data from EPA.

The Water Data Collaborative unites community water scientists data generators who employ best available practices and technologies to provide data that enable the protection and restoration of our nation's waterways. 
The National Water Quality Monitoring Council serves data collected by over 400 state, federal, tribal, and local agencies through the Water Quality Portal
---
Cyanobacteria Monitoring 
There are three ways the public can get involved in monitoring for cyanobacteria through the Cyanobacteria Monitoring Collaborative and provide crucial information to government agencies that help address harmful algal blooms.
Crowdsourcing to find and report cyanobacteria blooms through the bloomWatch App
Mapping cyanobacteria to help understand where and when cyanobacteria species occur through cyanoScope
Monitoring cyanobacteria populations over time to help track seasonal patterns of cyanobacteria through cyanoMonitoring
---
Sanitary Surveys
---
Drinking Water Infrastructure
Crowd the Tap is an EPA-funded project that promotes access to safe drinking water by assisting individuals and groups with investigations of pipe materials that deliver drinking water to homes. Join the Crowd the Tap project
---
Waterbody Quality
Want to learn about your local waterbodies? EPA's How's My Waterway is an interactive website and map that provides information about the condition of your local waters based on data that states,  federal, tribal, local agencies and others have provided to EPA.