EPA Participatory Science Across the U.S.
What are EPA Regions?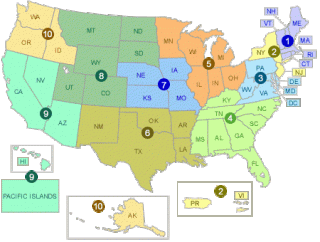 EPA has ten Regional offices, each of which is responsible for the execution of our programs within several states and territories. 
EPA offices with a geographic focus enable EPA to address health and environmental concerns in a specific area of the country across a set of environmental, economic, cultural, and other conditions common in that area. Focusing on a specific area also enhances opportunities to work with other federal, state, local and tribal partners, as well as with participatory science groups, and others.
Many participatory science activities are happening in each region that are based around local environmental concerns.
Check out what participatory science activities are happening in your region:
Region 1: New England
Serving Connecticut, Maine, Massachusetts, New Hampshire, Rhode Island, Vermont and 10 Tribes
Equipment Loan Programs:
New England Stormwater Toolbox Equipment Loan Program
Resources, Newsletters, and Social Media
---
Region 2
Serving New Jersey, New York, Puerto Rico, the U.S. Virgin Islands and 8 Tribes
Equipment Loan Programs:
Participatory Science Water Monitoring Equipment Loan Program
Resources, Newsletters, and Social Media
---
Region 3: Mid-Atlantic 
Serving Delaware, District of Columbia, Maryland, Pennsylvania, Virginia, West Virginia and 7 Tribes
Resources, Newsletters, and Social Media
---
Region 4: Southeast
Serving Alabama, Florida, Georgia, Kentucky, Mississippi, North Carolina, South Carolina, Tennessee and 6 Tribes
Resources, Newsletters, and Social Media
---
Region 5: Great Lakes 

Serving Illinois, Indiana, Michigan, Minnesota, Ohio, Wisconsin and 35 Tribes
Equipment Loan Programs:
Air Sensor Loan Program for Rural Communities and Living/Nature Museums
Air Sensor Loan Program for the Midwest and Upper Midwest States
Resources, Newsletters, and Social Media
---
Region 6: South Central

Serving Arkansas, Louisiana, New Mexico, Oklahoma, Texas and 66 Tribes
Resources, Newsletters, and Social Media
---
Region 7: Midwest

Serving Iowa, Kansas, Missouri, Nebraska and 9 Tribes
Resources, Newsletters, and Social Media
---
Region 8: Mountains and Plains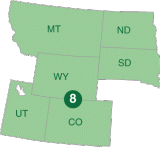 Serving Colorado, Montana, North Dakota, South Dakota, Utah, Wyoming and 28 Tribes
Resources, Newsletters, and Social Media
---
Region 9: Pacific Southwest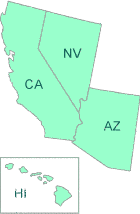 Serving Arizona, California, Hawaii, Nevada, Pacific Islands and 148 Tribes
Equipment Loan Programs:
Los Angeles Public Library Air Sensor Loan Program
 Resources, Newsletters, and Social Media
---
Region 10: Pacific Northwest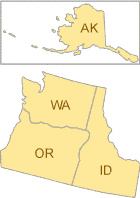 Serving Alaska, Idaho, Oregon, Washington, and 271 Tribal Nations
Equipment Loan Programs:
Portable Air Monitoring Device Loan Program for Tribes
Air Sensor Loan Project in Tribal Communities
Resources, Newsletters, and Social Media