Women in Radiation History: Lise Meitner
Lise Meitner helped discover the radioactive element protactinium, and was the first to describe and coin the term "nuclear fission" in a scientific paper. She was the first woman physics professor in Germany. The rise of the Nazis forced Dr. Meitner to flee Germany because of her Jewish ancestry. Her name was left off scientific papers in Nazi Germany. She continued her work in Sweden. Having overcome so many obstacles in life, Dr. Meitner actively supported women in science for the rest of her career. In 1997,  element 109 was named in her honor:  meitnerium.
This page on Lise Meitner is part of the Women in Radiation History section of RadTown.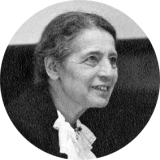 Born:  November 7, 1878, Vienna, Austria-Hungary
Died: October 27, 1968, Cambridge, United Kingdom
Awards: Enrico Fermi Award, Max Planck Medal, Lieben Prize, Otto Hahn Prize for Chemistry and Physics
Education: University of Vienna
Field of Study: Nuclear Physics
Career: Kaiser Wilhelm Institute, Royal Swedish Academy of Sciences
Five Facts about Lise Meitner
Click on the blue arrows below to discover five facts about Lise Meitner's distinguished career.