Women in Radiation History: Rosalind Franklin
British scientist Rosalind Franklin's application of radiation science was truly historic. Her work with x-ray crystallography confirmed the double-helix structure of the DNA molecule. During World War II, she used her talents in service to her country. Dr. Franklin's research advanced the understanding of viruses. Her remarkable life was tragically cut short by cancer.
Rosalind Franklin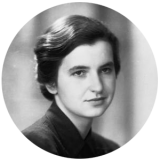 Born: July 25, 1920, London, United Kingdom
Died: April 16, 1958, London, United Kingdom
Awards: Louisa Gross Horwitz Prize 
Education: University of Cambridge
Field of Study: Physical Chemistry, X-ray Crystallography
Career: King's College London, Birkbeck College
Five Facts about Rosalind Franklin
Click on the blue arrows below to discover five facts about Rosalind Franklin's distinguished career.