Septic Systems Case Studies
Case studies help community planners, elected officials, health department staff, state officials, and interested citizens explore alternatives for managing their decentralized wastewater treatment systems.
Case Studies of Economic Analysis and Community Decision Making for Decentralized Wastewater Systems
This report examines how communities consider and value the benefits and costs of different scale wastewater facility options (onsite, cluster, and centralized options) in monetary or other terms, and examines the driving issues, motivations, thought processes, and decision-making methods of stakeholders relative to choices of wastewater system scale. The case studies are of eight US communities and cover seven specific topics.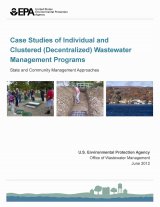 The examples on this page are compiled into a compendium that show how local programs use various treatment technologies, from simple septic systems to advanced treatment clustered units, to address community needs.
---
The specific case studies are grouped below into five models of decentralized wastewater system management by local communities:
Homeowner Awareness
Many homeowner awareness programs operate across the country. The most successful ones involve homeowners and support system maintenance by the homeowner, such as checking septic tank sludge levels.
Maintenance Contract
These programs target areas at higher risk of environmental degradation due to higher system densities, more complex treatment technology maintenance, or other factors. The most effective programs ensure that maintenance contracts are kept current and implemented properly.
Operating Permits
These programs often reward good system performance with extended permit renewal terms while requiring shorter permit lengths and more frequent inspections for owners with poorly performing systems.
Responsible Management Entity (RME) Operation and Maintenance
RME Operation and Maintenance is best used in areas with high environmental risk and a need for professional oversight to ensure consistent system operation and maintenance.
Responsible Management Entity (RME) Ownership
RME Ownership takes decentralized wastewater management to a high level of accountability. The RME serves as owner and manager of the onsite wastewater systems. Instead of the homeowner, the management entity takes responsibility for operation and maintenance and for scheduling needed repairs or service.