SepticSmart Week
SepticSmart Week 2022: September 19-23, 2022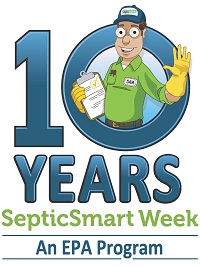 SepticSmart Week is an annual event that occurs the third week of September. Communities, local groups and state governments can bring attention to the importance of caring for and maintaining septic systems by organizing homeowner education events, sponsoring workshops or sharing social media from the SepticSmart program.
This year SepticSmart Week celebrated its 10th Anniversary!
SepticSmart Week is an opportunity for local communities, environmental groups, state and county leadership and other partners to issue a "proclamation" in support of SepticSmart Week.
2022 SepticSmart Photo Challenge Winners
The EPA Decentralized Wastewater Program, in collaboration with the EPA Decentralized MOU Partnership, celebrated the 10th anniversary of SepticSmart Week with it's inaugural SepticSmart Photo Challenge. The decentralized community, including septic homeowners, wastewater professionals and engineers, and state and local officials, submitted septic-themed photos meaningful to them.
SepticSmart Week Proclamations
SepticSmart Week is an opportunity for your community, organization, local/state government to bring attention to the care and maintenance of septic systems by issuing a Proclamation! These documents are available for use by various leaders in the community to recognize SepticSmart Week. Get started by downloading these editable files and sponsoring a SepticSmart Week Proclamation from your community or organization!
SepticSmart Week for Decentralized Wastewater MOU Partners