SepticSmart Education Materials
There are challenges across the country due to improperly maintained or failing septic systems for many homeowners, local environmental groups, county health departments and local governments. EPA's SepticSmart program aims to provide materials and resources to increase homeowner education on septic systems and promote awareness in caring for them.
SepticSmart education materials are targeted to homeowners but for use by anyone! These online resources may be downloaded, printed and shared as needed. Many of the materials are available in both English and Spanish and in some cases may be personalized by a business or local government.
---
SepticSmart Quick Tip Videos
These videos provide first-hand demonstrations on the importance of properly using and maintaining septic systems, learning how a septic system works, what not to put down the drain, the importance of getting your well water tested, and more.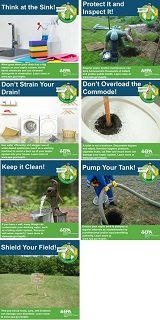 ---
SepticSmart Quick Tips
---
SepticSmart Brochures
These materials may be useful for homeowners, rental property owners or others interested in general information about the operation and maintenance of septic systems.
Homeowners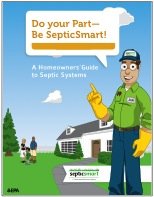 Rental Properties
---
SepticSmart Posters
---
SepticSmart Mailers
These postcards or inserts may be useful for a business or service provider interested in mailing reminders to customers to have their septic system serviced or maintained. Postcards include space to customize with to and from addresses.
---
SepticSmart for Tribal Communities
In cooperation with the Indian Health Service (IHS), EPA has developed a tailored version of the original SepticSmart Homeowner's Guide to reflect the unique factors of Tribal communities and homeowners on Tribal lands regarding the proper care of their systems. Also, EPA and IHS developed a tribal-tailored document describing the use of a centralized approach for the management of septic systems using a Responsible Management Entity (RME) for oversight and maintenance.
---
SepticSmart Community Case Studies
Across the country, local health organizations, governments, environmental groups, and others are stressing the importance of properly maintaining septic systems to homeowners. Although the ecological and health impacts of failing septic systems are felt by everyone in the community, homeowners are ultimately responsible for their systems.
Get inspired by these case studies showcasing how organizations have successfully reached this audience.
Ohio
Minnesota
Washington