About the 2021 Food Recovery Challenge National Award Winners
The 2021 Food Recovery Challenge national award winners shared details and quotes about their wasted food prevention and diversion activities, and about their awards with EPA. Read about their accomplishments and how they achieved them.
On this page:
---
Sprouts Farmers Market #176
Overland Park, Kansas 
Data-driven Winner, Grocer
Sprouts Farmers Market has a robust Food Rescue Program where stores donate edible food, that is not in retail condition, to local food pantries and hunger relief agencies. Sprouts sends food that does not meet donation guidelines to local cattle farms or compost facilities. Sprouts uses meat rendering programs to process meat and seafood waste for more productive uses, and recycles the grease rendered from their roasted chicken program.
In 2020, Sprouts Farmers Market #176 diverted food waste by 1,273 percent. This location's food donation increased 13x in food donations year over year.  In 2020, Sprouts introduced zero waste scorecards, which allows locations to see how much food waste and recyclable materials they divert. This has been a game changer for Sprouts stores, and their landfill diversion efforts have increased. 
"Working at Sprouts has given me a unique opportunity to interact with those serving some of the most vulnerable members of our local communities. Partnering with the Food Bank of South Jersey, we have volunteers pick up donations daily so we can get food directly to struggling families and their children, which is, in my opinion, one of the most impactful things you can do to directly serve your community. I'm proud to be able to take direct action to serve our local communities on behalf of Sprouts."—Levi Young, Receiving Manager 
---
Moonflower Farms 
Houston, Texas 
Data-driven Winner, Food Manufacturing
Moonflower Farms is a local hydroponic city farm in Houston, Texas. The design of the hydroponic system involves a closed loop system that recycles water constantly. This means the farm can grow the same crops (e.g., lettuce, herbs, flowers) with 90 percent less water than field farming. In early 2020, Moonflower Farms installed a rainwater collection system and received the American Heart Association's Foodscape Innovation Award. The collection system helps the farm further reduce water consumption and use less city water. In addition, the farm partnered with local Texas grocers who typically order produce from thousands of miles away. By purchasing from Moonflower Farms in Houston, they eliminate thousands of pounds of transport emissions and reduce the average 10–15 percent loss (food waste) due to travel and handling. 
Further, the farm developed a new hydroponic display system that allows them to ship live product directly to stores. The stores then keep the product alive and growing. This eliminated all the plastic clamshell packaging they used to use (1,000 clamshells a month). Now the farm delivers directly to the stores and places live product in the grow systems. Moonflower Farms has patented this new display. 
Finally, the farm decided to stop cutting and packaging product and only sell live product. Moonflower Farms also developed new, biodegradable paper packaging that is placed at stores for customers to pick and package farm product themselves. Moonflower Farms is focused on minimizing their environmental impact as much as possible and is now in talks to begin using electric vans for deliveries in 2022. 
"We are always looking for better ways to grow more efficiently with less environmental impact. Right now, we are partnering with Kroger in Houston to provide hyper-local lettuce and basil for their stores. This should greatly reduce transportation emissions and provide fresher, higher quality produce to the Houston market."—Federico Marques, CEO and Founder
---
Sodexo – GSMC Nutrition Svc
Lafayette, Colorado
Data-driven Winner, Medical Services
Good Samaritan Medical Center (GSMC) launched their Leanpath food waste prevention program in January 2020, at the beginning of the COVID-19 pandemic. Leaders of Good Samaritan's nutrition services department recognized the program's potential, so they worked to engage the team in the process. They overcame multiple hurdles, including changes in their leadership team and hourly staff reductions. The most critical challenge they faced was continued turnover in the executive chef position, which Good Samaritan relied on to drive this program. With each change, the team continued to embrace the food waste prevention program because they understood the importance of this initiative. Each one of their chefs contributed along the way, and by the end of 2020, the team understood that regardless of what was going on at the unit level, they had made an impact. 
The data indicated that the team had achieved their goals of engaging staff and leaders and reducing food waste. In 2020, they reduced food waste by 25 percent, which equates to 6,290 pounds in prevented food waste. The team has also saved around 5,242 meals, equivalent to preventing 20 metric tons of CO2 from entering the atmosphere. They finished the year by embracing GSMC's "Good Sam Goes Green" initiative, beginning to implement composting, and beginning the transition from disposable kitchenware to compostable or recyclable serviceware. 
"Our success with waste reduction throughout the COVID-19 pandemic is truly a testament to our team and their resiliency, consistency, and hard work. We believe sustainability isn't just a trend, and we are committed to improving our efforts daily. We see it as our mission now and in the future."—Natosha Jergensen, General Manager, Sodexo at Good Samaritan Medical Center
---
HelloFresh
New York, New York 
Data-driven Winner, Restaurants and Food Service Providers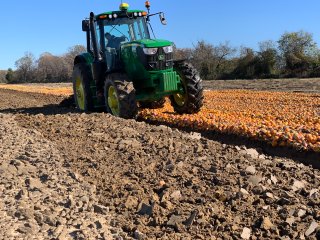 HelloFresh uses enhanced demand forecast modeling, smart just-in-time ordering, and robust rollover processes to reduce food surplus before it happens. While the company's business model largely designs out significant operational food waste in comparison to traditional grocery retail, HelloFresh has taken the extra step to reduce the limited food waste it does produce. In 2020, distribution centers diverted 2,355 tons of food surplus from landfills, 96 percent of which was donated to feeding people.
The 2020 fiscal year came with a variety of challenges. Because of the COVID-19 lockdowns, combined with unprecedented weather in the southern U.S., several of HelloFresh's sites experienced staffing shortages and supply chain constraints. The pandemic also brought an unprecedented 95 percent growth in demand, requiring HelloFresh to double its operations in a matter of weeks. Despite these challenges, HelloFresh is proud to note that the teams stepped up to not only deliver over 40 million boxes, but also a diversion rate of 57 percent.
In 2020, HelloFresh had a donations outlet at every site, with organics recycling solutions available at all distribution centers. While HelloFresh saw an overall increase in total surplus due to higher order volumes and operational challenges, the largest facility in Newark demonstrated inventory management excellence, with a 13 percent reduction in total cost of unsold inventory compared to 2019.
"Our mission at HelloFresh is not only to change the way people eat, forever, but to engage and uplift our local communities. During the pandemic, our staff came together like never before to divert surplus food into the communities where we operate through our food rescue partners. It was incredibly inspiring, and we were honored to be a part of the fight against food waste and food insecurity."—Jeff Yorzyk, Director of Sustainability for HelloFresh U.S.
---
Orange Coast College Recovery Kitchen
Costa Mesa, California 
Narrative Category Winner, Education & Outreach
Orange Coast College (OCC) Recovery Kitchen was founded in 2019 as part of the food service management program at Orange Coast College in Costa Mesa, California. The recovery kitchen was formed to help end student hunger and food waste on the campus. The kitchen also helps students in the food service management, culinary arts, baking and pastry, and nutrition programs gain experience working in a commercial high-volume kitchen, with emphasis on proper handling and processing of recovered foods. Students are educated on the importance of repurposing surplus edible food into nutritious, well-balanced meals. All the meals are distributed to OCC students and local families in need. The recovery kitchen collaborates with the on-campus pantry (Pirate's Cove), cafeteria services, and the college's culinary arts, nutrition and dietetics, and horticulture programs to recover food for the student body and local food banks. 
In 2020, OCC Recovery Kitchen distributed 212,392 meals and recovered 609,541 pounds of surplus edible food that would otherwise go to landfills. In 2019, OCC began diverting organic waste from landfills to anaerobic digestion. This continued until 2021, when OCC began using a CityPod urban composter, which has an annual capacity of 82 metric tons of food waste. In 2020, OCC Recovery Kitchen was in the position to help students and community members experiencing food insecurity during the COVID-19 pandemic. The greatest challenge the recovery kitchen faced in 2020 was the limited availability of refrigeration. There was an abundance of product, but limited refrigeration, which was resolved in 2021 when the recovery kitchen moved into the new College Center building, which is three stories and includes nine kitchens for student instruction.
"Our main purpose is to lower food insecurity among our students and reduce our campus's food waste through curriculum and collaboration. No student should ever go hungry. If we can tie it to curriculum so that we can train our future leaders, we can all work towards finding a solution to this problem."—Alexandra Yates, Program Director, Food Service Management Program at Orange Coast College
---
Food Forward
North Hollywood, California 
Narrative Category Winner, Innovation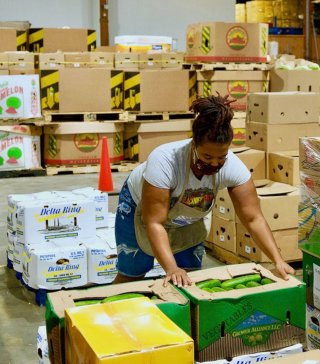 Food Forward is southern California's largest urban food recovery organization. Staff and volunteers recover fresh surplus produce and donate it, free of charge, to hundreds of agency partners, providing nourishment for food-insecure communities. 2020 brought record levels of food insecurity to the region and highlighted the need for Food Forward to scale its innovative produce recovery and distribution model to better serve over 350 hunger relief agency partners across eight counties, several states, and tribal lands.
Food Forward opened The Sprout in July 2020 within its Produce Pit Stop warehouse. This expanded space includes dry pallet storage, a dedicated area for building customized pallets for partners, room to stage completed pallets for pickup, and a loading dock. It is specifically designed to serve small and mid-sized hunger relief organizations with assorted produce suited to their service populations.
Food Forward's expanded Wholesale Produce Recovery program distributed 61 million pounds of produce in 2020—enough to meet the five-a-day fruit and vegetable needs of 150,000–160,000 people. The Sprout offers another outlet for diverting this recovered produce, and by the end of 2020, 78 hunger relief organizations received over 1.5 million pounds of produce through The Sprout alone. Beyond supporting many of the 160 new organizations donated to in 2020, The Sprout also created three new staff positions at Food Forward.
Taking The Sprout from concept to reality was a big learning experience for the Food Forward team. The team had to learn the most efficient workflows to create customized loads and how to best communicate with agencies about expectations. The team learned by trial and error, embracing flexibility and adjusting their plans as needed, with the ultimate goal of serving Food Forward's agency partners and diverting as much surplus produce as possible.
"This became the year of The Sprout (El Brote), an extension of Food Forward's Produce Pit Stop, which quickly grew to sprout hope, resilience, and most importantly, results. It sprung from the fertile surplus produce of a nation's broken food chain and the sweat and commitment of Food Forward's intrepid staff. These qualities aligned with our incredibly responsive funding community who enabled us to take on an unproven triage solution and make it a permanent solution for feeding our food insecure neighbors."—Rick Nahmias, Founder/CEO
---
The University of Texas at Arlington 
Arlington, Texas 
Narrative Category Winner, Leadership
The University of Texas at Arlington (UTA) addresses food waste reduction in multiple ways, including collaboration with dining services, involvement in EPA's Food Recovery Challenge, and an award-winning composting program. UTA has also collaborated with EPA and other organizations to host webinars about food waste reduction, sustainable dining, and food security.
UTA started a Food Recovery Network (FRN) chapter in partnership with the Arlington Life Shelter. UTA recovers food from dining services and tracks data using FRN's food tracking forms. In addition, a student-led research project proposed a redesigned system for food entering and leaving dining halls. The research targets how food items are selected, grown, served, handled, and disposed. The researchers also conducted a survey to explore including more meat alternatives to increase sustainability. 
Dining Services also has a Waste Not Program to eliminate and reduce production waste and expired food. Dining associates, who are trained to minimize waste in all operations, measure waste daily and complete weekly Waste Not logs. In September 2020, Dining Services reduced over 790 pounds of waste, which saved over $1,493.
UTA composts food waste from on-campus and off-campus dining services, coffee shops, and hospitals, as well as yard waste from campus grounds. The university uses this compost as mulch and soil amendment on UTA's campus grounds and community garden. UTA also hosts master composter training in partnership with the City of Arlington. 
The Office of Sustainability at UT Arlington launched a Regional Center of Expertise for Education on Sustainable Development (RCE North Texas). RCE connects organizations in north Texas to enable healthier communities and sustainable development through education, collaboration, and capacity building. UTA is also establishing a North Texas Food Policy Council. Food policy councils create an opportunity for stakeholders to discussion and address the challenges in regional food systems. 
"EPA estimates that 63.1 million tons of food waste was generated in the commercial, institutional, and residential sectors in 2018. Food waste is an emerging issue with environmental, social, and economic impacts, and UT Arlington recognizes the importance of minimizing food waste on our campus."—Meghna Tare, Chief Sustainability Officer
---
Cherripick 
Orlando, Florida 
Narrative Category Winner, Endorser
In 2020, Cherripick aimed to secure their first pilot program with one or more grocery retailers and conduct a marketing campaign to encourage in-store shoppers to use Cherripick. Cherripick supports 10% cashback rewards for items purchased three or fewer days from the sell/use by date. The company also strives to better understand which stores, brands, categories, and date ranges drive behavior changes. 
While Cherripick was unable to secure a grocery partner in 2020, it supported the recovery of over 500 pounds of fresh, edible food across nearly 50 retail store brands in many locations. 88 percent of the food was recovered within three days of its expiration date, showing that consumers are open to saving money and food from going to waste, even when the industry standard is to cull this food from shelves before consumers are willing to buy it. 
Cherripick accomplished the following in 2020: 
Participated in the National Retail Federation (NRF) Big Show in New York City in January 2020. Cherripick held meetings with five companies and noted their participation in EPA's Food Waste Recovery Challenge.  
Participated in hundreds of virtual and in-person retailer presentations throughout 2020, with companies like Walmart, Aldi, Winn-Dixie, and Kroger, as well as large consumer brands such as Dole, Dannon, and Siggi's. 
Conducted a Zero Hero Campaign in Cleveland, Ohio, during the lead up to a projected pilot in the region with Aldi. Participated in the Sustainable Cleveland Summit. 
Despite the COVID-19 pandemic in 2020, the team pushed ahead and continued to support food recovery even without a grocer partner. Although Cherripick has changed its approach to rewarding consumers, it remains dedicated to supporting food recovery in 2021. As part of that continued effort, Cherripick recently signed an agreement with the City of Orlando Greenworks program to target food waste reduction in Orlando.  
"Cherripick allows us to save a little bit extra on our grocery budget."—Stephen, Cherripick Champion 
---
Lovin' Spoonfuls
Boston, Massachusetts 
Narrative Category Honorable Mention, Leadership and Education & Outreach
Lovin' Spoonfuls' Food Rescue Coordinators recovered more food in 2020 than at any point in the organization's history: over four million pounds of perishable food (equivalent to over three million meals) for neighbors facing food insecurity. The top categories of foods recovered included: produce (over 42 percent), dairy (14 percent), baked goods (14 percent), and meat (11 percent). In addition, Lovin' Spoonfuls launched a new route in the greater Boston area through communities hit especially hard by the COVID-19 pandemic. The organization aspired to curb waste and keep the value in food by ensuring that it reached those who needed it in 40+ cities and towns across Massachusetts all during a time when the Commonwealth was experiencing the greatest increase in food insecurity in the nation.
Lovin' Spoonfuls' Senior Leadership Team reflected on lessons learned during the COVID-19 pandemic, and the ability to adapt to changing circumstances has long been the heart of Lovin' Spoonfuls' success. Investments in simple technology allowed on- and off-road staff to stay connected. Lovin' Spoonfuls focused on the physical and mental health of their team by acquiring personal protective equipment, offering weekly on-site COVID-19 testing, and partnering with a local food vendor to purchase grocery items and operate a pantry for Boston-based staff. The organization ensured the team was well-supported in showing up for the 180 nonprofit partners they served. While they adapted to virtual settings, Lovin' Spoonfuls' leadership team shared the organization's work in food recovery at several online conferences and webinars, as well as a TEDx talk.
"There are continued ample opportunities to prevent good food from going to waste, to keep the value in food, and to ensure it reaches people who need it. We're looking forward to expanding our operations into additional communities in the year ahead."—Lauren Palumbo, COO, Lovin' Spoonfuls