Food Recovery Challenge Results and Awardees
We are grateful for the dedication of our Food Recovery Challenge partners and their efforts to reduce and divert waste. EPA is planning to evolve our Sustainable Materials Management partnership programs to align with our new priorities. At this time, we are no longer accepting Food Recovery Challenge partners. 
On this page
Food Recovery Challenge (FRC) awards are given in two categories – data driven and narrative. Participants do not apply for the data driven awards, as these awards are given based on the information submitted in the SMM Data Management System and are based on percent changes comparing an organization's data to the previous year's data. Participants and endorsers apply for narrative awards in the following areas: Source Reduction, Leadership, Innovation, Education and Outreach, and Endorsers.
---
Food Recovery Challenge Results
In 2019 and 2020, nearly 600 Food Recovery Challenge participants and endorsers prevented and diverted over 1.2 million tons of wasted food from entering landfills or incinerators. Of this amount, participants and endorsers:
Prevented over 53,000 tons of wasted food from being created through source reduction (prevention) activities,
donated over 616,000 tons of food,
anaerobically digested over 248,000 tons of food and
composted more than 157,000 tons of food.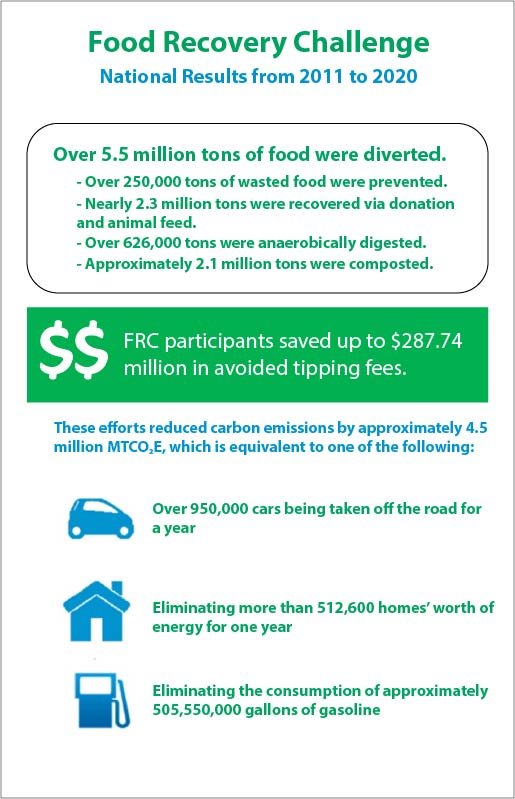 EPA is pleased to recognize the following organizations for their outstanding efforts in 2019 and 2020 to advance sustainable materials management and for their leadership in the sustainable management of food. Their accomplishments, along with other FRC participants and endorsers, play a role in  contributing to the United States' national goal of reducing food waste by 50 percent by 2030.
---
2021 Food Recovery Challenge Awards - National Winners
Data-driven Improvement by Sector – highest percent increase over previous years
Grocers: Sprouts Farmers Market #176 (Overland Park, Kan.)
Food Manufacturing: Moonflower Farms (Houston)
Restaurants and Food Service Providers: HelloFresh (New York City)
Medical Services: Sodexo – GSMC Nutrition Svc (Lafayette, Colo.)
Narrative Categories
Leadership, Winner: The University of Texas at Arlington (Arlington, Texas)
Leadership, Honorable Mention: Lovin' Spoonfuls (Boston)
Innovation, Winner: Food Forward (North Hollywood, Calif.)
Education and Outreach, Winner: Orange Coast College Recovery Kitchen (Costa Mesa, Calif.)
Education and Outreach, Honorable Mention: Lovin' Spoonfuls (Boston) 
Endorser, Winner: Cherripick Inc. (Orlando, Fla.)
 
---
2021 Food Recovery Challenge Awards - Regional Winners
In addition to national awards, EPA regional offices across the country provided recognition to Food Recovery Challenge participants and endorsers for outstanding accomplishments in preventing and diverting wasted food. Regional winners are listed below by EPA Region and then by U.S. state:
EPA's Region 2: New Jersey, New York, Puerto Rico and the U.S. Virgin Islands
New York
Rock and Wrap it Up!

Costco of the Five Towns
New York Yankees
Universal Studios

HelloFresh
Wegmans Food Markets
Sodexo at Le Moyne College
Sodexo at Russell Sage College
New Jersey
Ravitz Family Markets:

Shoprite: Union Mill Rd., Mount Laurel Supermarkets Inc.
Shoprite: Evesham Rd., Cherry Hill Supermarkets Inc.
Shoprite: Cherry Hill Supermarkets, Inc.
Shoprite: Mount Laurel Supermarkets Inc.
Price Rite Supermarkets, Inc.

Sodexo at Saint Peter's University
EPA's Region 3: Delaware, District of Columbia, Maryland, Pennsylvania, Virginia and West Virginia
Maryland
EPA's Region 7: Iowa, Kansas, Missouri and Nebraska
Iowa
Missouri
MARC Solid Waste Management District
Nebraska
Lincoln Public School's Hartley Elementary School
EPA's Region 9: Arizona, California, Hawaii, Nevada, American Samoa, Commonwealth of the Northern Mariana Islands, Federated States of Micronesia, Guam, Marshall Islands, and Republic of Palau
Arizona
Sprout Farmers Market #40
California
Sprouts Farmers Market #255
Feeding it Forward
FoodCycle LA
EPA's Region 10: Alaska, Idaho, Oregon, Washington and 271 native tribes
Washington
PCC Community Markets
Seattle-Tacoma International Airport
Seattle Mariners/T-Mobile Park
Gonzaga University
Microsoft Corporate Headquarters Campus
University of Washington – Seattle Campus
---
2020 Food Recovery Challenge Awards - National Winners
Data-driven Improvement by Sector – highest percent increase over previous years
Grocers: Sprouts Farmers Market #1 (Maricopa, Ariz.)
Colleges/Universities: The Culinary Institute of America (San Antonio)
K-12 Schools: Martha's Vineyard Regional High School with Island Grown Schools (Oak Bluffs, Mass.)  
State/Tribal/Local Government: The City of Philadelphia – Department of Prisons (Philadelphia) 
Restaurants and Food Service Providers: Chipotle of Lawrence (Lawrence, N.Y.)
Medical Services: Beth Israel Deaconess Medical Center (Boston) 
Newcomer: Wilton Public Schools (Wilton, Conn.) 
Narrative Categories
Leadership, Winner: Food Forward (North Hollywood, Calif.)
Education and Outreach, Winner: Los Angeles County Public Works (Alhambra, Calif.)
Endorser, Winner: Food Rescue Partnership (Davenport, Iowa)
---
2020 Food Recovery Challenge Awards - Regional Winners
In addition to national awards, EPA regional offices across the country provided recognition to Food Recovery Challenge participants and endorsers for outstanding accomplishments in preventing and diverting wasted food. Regional winners are listed below by EPA Region and then by U.S. state:
EPA's Region 2: New Jersey, New York, Puerto Rico and the U.S. Virgin Islands
New York
Rock and Wrap it Up!

Yankee Stadium
Dig Inn
Walls Bakery
Finger Lakes Gaming and Racetrack
Jumer's Casino
Westhampton Beach School District
Crawfords Coffee Bar & Cafe of the Five Towns
Panera Bread of the Five Towns
Animal Kingdom Production 
Aramark Coors Field
"Mr. Robot" Production 
Silicon Valley Sports  
Warner Brothers

Price Chopper/Market 32
Wegmans Food Markets
New Jersey
Ravitz Family Markets:

Shoprite: Evesham Rd., Cherry Hill Supermarkets Inc.
Shoprite: Cherry Hill Supermarkets, Inc.
Shoprite: Mount Laurel Supermarkets Inc.
Price Rite Supermarkets, Inc.

Sodexo at Utica College
St. John's University
Sprouts Farmers Market #945
HelloFresh
EPA's Region 3: Delaware, District of Columbia, Maryland, Pennsylvania, Virginia and West Virginia
Virginia
Virginia Department of Corrections
EPA's Region 5: Illinois, Missouri, Minnesota, Ohio and Wisconsin
Michigan
EPA's Region 7: Iowa, Kansas, Missouri and Nebraska
Iowa
Iowa Waste Reduction Center - University of Northern Iowa
Kansas
Shawnee Mission East High School
Kansas State University Pollution Prevention Institute
EPA's Region 9: Arizona, California, Hawaii, Nevada, American Samoa, Commonwealth of the Northern Mariana Islands, Federated States of Micronesia, Guam, Marshall Islands, and Republic of Palau
California
Disneyland Resort 
Zero Waste Company 
San Diego County Regional Airport Authority
Sprouts Farmers Market #428 
Sprouts Farmers Market #283 
Hawaii
Windward Zero Waste School Hui