Best Management Practices & Tools
On this page:
EPA seeks to share effective management practices, policies and programs that can reduce the overall volume of trash generated or prevent trash from entering the aquatic environment.
---
EPA's Microplastic Beach Protocol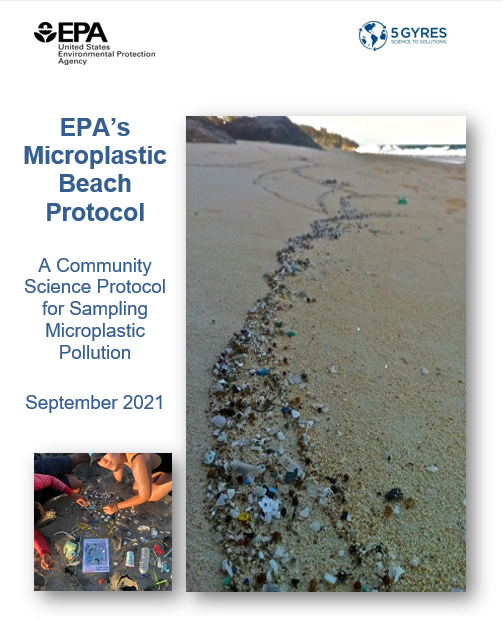 The EPA's Microplastic Beach Protocol was designed to help community scientists collect data on microplastic pollution along both freshwater and marine beaches and shorelines. Using this protocol, volunteers can collect important data that can be used to characterize current levels of microplastics pollution and look for local, regional, and global trends. The protocol was originally developed by the 5Gyres Institute and has since been updated and revised by the EPA.
Users are able to access a mobile version of the EPA's Microplastic Beach Protocol via the Marine Debris Tracker app.
This document provides an introduction to microplastics, an outline of how to collect and analyze samples using the protocol, and instructions for using the Marine Debris Tracker app to log data.  
---
Trash Stormwater Permit Compendium
The Trash Stormwater Permit Compendium is one in a series of documents developed by EPA as a resource for stormwater permit writers. 
The purpose of this compendium is to provide Phase I and Phase II Municipal Separate Storm Sewer System (MS4) permit writers with tools and information they can use in developing trash-related provisions for MS4 permits.
The Trash Stormwater Permit Compendium is also a useful tool for stormwater management planners, watershed planners, and others interested in how to insert effective trash measures into their planning documents. 
---

Escaped Trash Assessment Protocol (ETAP)
The Escaped Trash Assessment Protocol (ETAP), developed by the U.S. Environmental Protection Agency's Trash Free Waters program, is a quantitative survey tool which provides a standard method for collecting and assessing litter data.
The protocol is designed to be applied to a broad range of site types— e.g., parks, streets, parking lots, etc. — and environmental conditions — e.g., various hydrological and climatic regimes. This highly adaptable method for trash monitoring will provide practitioners and citizen scientists with a comprehensive and rigorous method for quantifying trash loadings. The tool can also be used to assess item age and level of fouling and analyze and compare across specific material types and categories of trash collected. This information can eventually be used to guide upstream source reduction decisions.
---
National Great Practices Compendium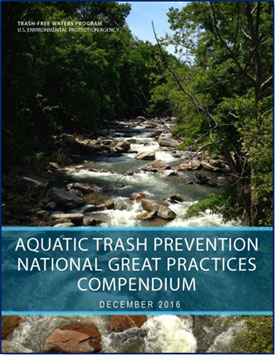 The National Great Practice Compendium highlights outstanding activities, technologies, and programs that prevent trash from entering the aquatic environment and/or reduce the overall volume of trash that is generated.
An activity qualifies as a Great Practice if it achieves measurable progress towards its trash prevention and/or reduction goals and shows a clear return on investment from such efforts.  Results must be measurable and achievable.
This compendium serves as a reference tool for Great Practices that show real results.  The Trash Free Waters program developed this resource after hearing from many stakeholders that they needed better information on "what works."  The Great Practices that are highlighted can help civic leaders and others make informed decisions about their future trash prevention program investments based upon the successes of others.
---
Atlas of Gulf States Litter Control Policy
and Programs
The Gulf Atlas is a compendium of state and local policies and programs that reduce and prevent aquatic trash, as well as the related enforcement mechanisms that support them.
The Trash Free Waters program developed the Gulf Atlas to address a strong stakeholder request for information on programs that are addressing this issue. 
The Gulf Atlas facilitates collaboration and information-sharing among state and municipal governments and other interested groups.
---
Marine Debris Campus Toolkit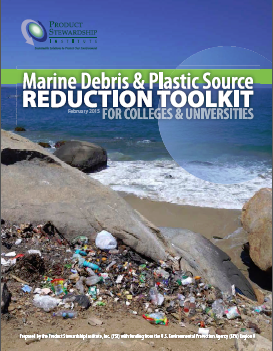 EPA, the Product Stewardship Institute, and the University of California collaborated on a Marine Debris & Plastic Source Reduction Toolkit for Colleges & Universities to help college campuses and other institutions cut their plastic waste, to help reduce marine debris and coastal pollution. The toolkit, funded by an EPA grant, resulted from a successful two-year pilot project by the Product Stewardship Institute at three coastal University of California campuses: UC Santa Barbara, UC San Diego, and UC San Francisco.
During the two-year project, all three UC campuses dramatically reduced their consumption of plastics. UC Santa Barbara saw a 97% decline in plastic bag use by campus food services through an agreement with their local Subway store to eliminate unnecessary packaging. By promoting campus hydration stations, the campus also eliminated over 60,000 single-use plastic water bottles. UC San Diego reduced plastic bag use by more than a million bags each year, working with their campus Subway restaurant to eliminate plastic bags and straw sleeves. UC San Francisco's Parnassus and Mission Bay campuses retrofitted more than 50 water fountains with gooseneck spouts to fill reusable water bottles, cutting campus purchasing of single-use plastic water bottles by 50%, and saving $27,500 each year. 
The Campus Toolkit is a detailed "how to" guide for reducing plastic waste on college campuses and other institutions. It includes:
A Footprint Calculator to determine a campus' "plastic footprint"
A source reduction plan to eliminate the use of disposable plastic items
Changing campus purchasing practices by switching to greener, lower-waste products, and
Establishing campus-wide plastic waste reduction policies.