What You Can Do About Trash Pollution
We all play a role in helping to prevent and remove trash in the environment. You can take action at home, school, and work to ensure a cleaner community and healthier waters. 
Watch the video "Repair the Future" to learn how everyone can help to reduce aquatic trash. This video was created by marketing students from California State Polytechnic University-Pomona and was the winner of the 2020 American Marketing Association (AMA)- EPA Trash Free Waters Video and Marketing Brief Competition.
On this page:
Reduce Consumer Waste
The most effective way to prevent trash from polluting our waterways is to reduce the amount of waste you create.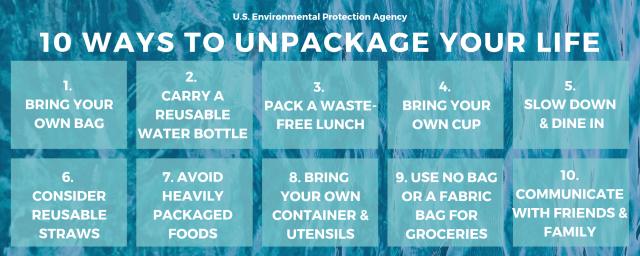 Replace single-use plastic packaging, bottles, and containers with reusable products or eliminate packaging when possible. Discover 10 ways to Unpackage Your Life page.
Buy used clothing and household items.
Repair, rather than replace, broken items.
Dispose of Waste Properly
Marine litter is often the result of poorly-managed trash on land. If trash is intentionally or accidentally littered on the ground, wind or rain can carry it into nearby waterways. The trash then travels downstream and can ultimately, end up in the ocean.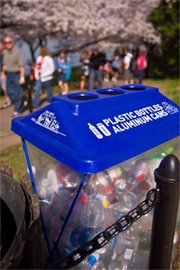 Never litter. Put trash in the appropriate bins and do not leave trash next to- or on top of an overflowing bin. 

Go to your municipality's website to learn how to properly dispose of your recyclable and non-recyclable waste. Be sure to recycle more, recycle right.

Take these steps to prevent trash from escaping from your outdoor trash bins on collection day:

Keep your lid closed and don't overflow the trash bin.  

Put trash outside shortly before pickup.  

Properly dispose of your Personal Protective Equipment (PPE). Remember to throw your masks, wipes, and latex gloves in the trash and not in the recycling bin, street, parking lot, or sidewalk. Para ver una infografía en español, haga clic aquí.
Volunteer in Your Community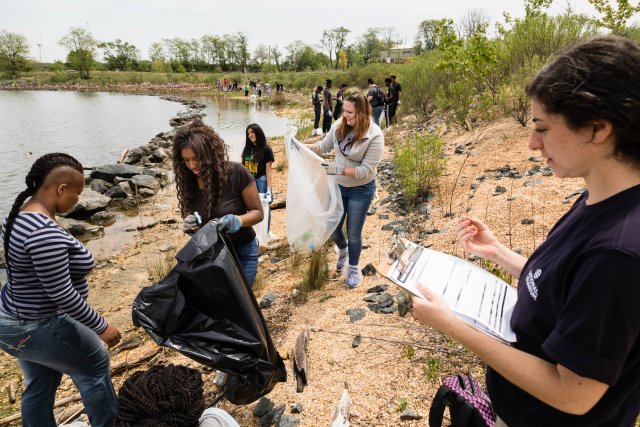 There are many ways that you can take action in your own community to reduce the amount of trash in streams, rivers, lakes, and oceans. Here are a few suggestions:
Invite your friends, family, and classmates to join in! 
Learn More and Spread the Message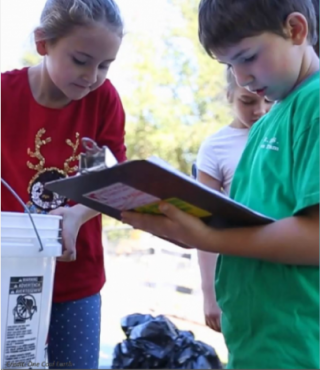 Learn more about how trash enters our waterways and impacts our communities, economies, and natural ecosystems. Share what you learn with your family, friends, and peers.