EPA Published Reports
On this page:
EPA conducts analysis and research to address important issues related to the potential health, ecological, and socio-economic impacts of trash and debris in the aquatic environment.
Summary of Expert Discussion Forum on Possible Human Health Risks from Microplastics in the Marine Environment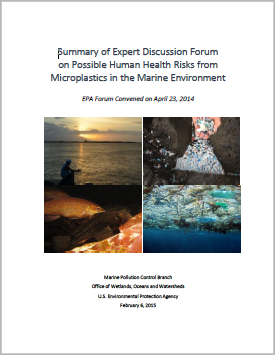 Download the ReportThe EPA Trash Free Waters program convened a panel of scientific experts on April 23, 2014. The purpose of the forum was to discuss available data and studies on the issue of possible human health risks from microplastics in the marine environment. The participating subject matter experts were asked to provide insights on the current scientific basis for determining human health risks, based on a review of scientific research done to date. The experts also were asked to identify data gaps and make suggestions for further study. The expert panelists did not provide recommendations for specific regulatory or non-regulatory actions to be taken. This document presents a summary of the expert panel discussion.
---
State of the Science White Paper: A Summary of the Effects of Plastics Pollution on Aquatic Life and Aquatic-Dependent Wildlife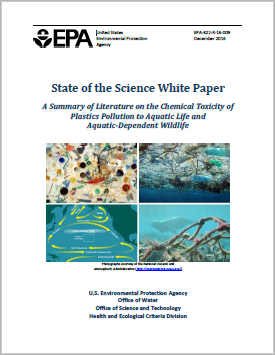 Download the ReportPlastics have become a pervasive problem in oceans, coasts, and inland watersheds. Recent estimates suggest that 4.8 to 12.7 million metric tons of plastic waste entered the global marine environment in 2010. Areas of accumulation of plastic debris include enclosed basins, ocean gyres, and bottom sediments. Plastics in the aquatic environment primarily originate from land-based sources such as littering and wind-blown debris, though plastic debris from fishing activities may be a key source in some areas. Plastic particles are generally the most abundant type of debris encountered in the marine environment, with estimates suggesting that 60% to 80% of marine debris is plastic, and more than 90% of all floating debris particles are plastic. This document is a state-of-the-science review – one that summarizes available scientific information on the effects of chemicals associated with plastic pollution and their potential impacts on aquatic life and aquatic-dependent wildlife.
---