State Water Reuse Resources
Please use the contact form to have your state's contact information and webpage included on this page.
In addition to the resources found below, you may wish to consult the State Water Reuse Contacts List (PDF), which compiles the technical water reuse contacts at the state level. 
Click on the map below to find water reuse resources for each of the states.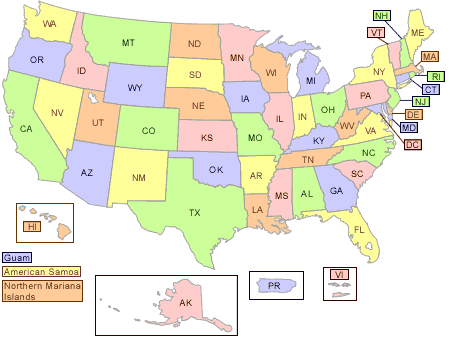 ---
Alabama
Alaska
Arizona
Arkansas
No available information
California
Colorado
Connecticut
Delaware
District of Columbia
No available information
Florida
Georgia
Hawaii
Idaho
Illinois
No available information
Indiana
No available information
Iowa
No available information
Kansas
Kentucky
No available information
Louisiana
Maine
No available information
Maryland
Massachusetts
Michigan
No available information
Minnesota
Mississippi
No available information
Missouri
Montana
Nebraska
No available information
Nevada
No available information
New Hampshire
New Jersey
New Mexico
New York
North Carolina
No available information
North Dakota
Ohio
No available information
Oklahoma
Oregon
Pennsylvania
Rhode Island
South Carolina
No available information
South Dakota
No available information
Tennessee
No available information
Texas
Utah
State of Utah Natural Resources Division of Water Resources, Utah State Water Plan,

Water Reuse in Utah
Vermont
Virginia
Washington
West Virginia
No available information
Wisconsin
Wyoming
No available information