Metal Finishing Effluent Guidelines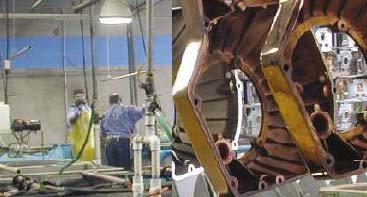 EPA promulgated the Metal Finishing Effluent Guidelines (
40 CFR Part 433
) in 1983, with technical amendments in 1984 and 1986. The regulations cover wastewater discharges from a wide variety of industries performing various metal finishing operations. About 44,000 facilities perform various metal finishing operations and discharge process wastewater directly to surface waters or indirectly to surface waters through POTWs. The Metal Finishing Effluent Guidelines are incorporated into
NPDES permits
for direct dischargers, and permits or other control mechanisms for indirect dischargers (refer to
Pretreatment Program
).
On this page:
---
What is Metal Finishing?
Metal finishing is the process of changing the surface of an object, for the purpose of improving its appearance and/or durability. Metal finishing is related to electroplating, which is the production of a thin surface coating of the metal upon another by electrodeposition.
---
Current Rulemaking for Chrome Finishing Facilities
Following announcement in the Preliminary Effluent Guidelines Program Plan 15 (September 2021), EPA is conducting a rulemaking to address per- and polyfluoroalkyl substances (PFAS) discharges from a subset of facilities in the Metal Finishing and Electroplating point source categories. Based on information and data collected during the Multi-Industry PFAS Study, EPA determined PFAS are used by some metal finishing and electroplating facilities to control hexavalent chromium emissions, a known human carcinogen and inhalation hazard. EPA determined facilities performing certain chromium operations, hereafter referred to as "chrome finishing facilities," including chromium plating, chromium anodizing, chromic acid etching, and chromate conversion coating operations, are the predominant sources of PFAS discharges by the Metal Finishing and Electroplating point source categories.
Questionnaire
EPA is planning to submit a new Information Collection Request (ICR) to the Office of Management and Budget (OMB) to obtain approval for an industry questionnaire to support the current rulemaking. EPA is soliciting public comments on this proposed collection and such comments are due by January 17, 2023. See the Federal Register Notice for instructions on submitting comments.
All supporting materials for the rulemaking and proposed ICR can be found at EPA's docket at regulations.gov. The Docket Number is EPA-HQ-OW-2022-0869.
---
Existing Rule - Facilities Covered
The Metal Finishing regulation is defined by manufacturing processes and not by industrial sectors. However, facilities regulated by the Metal Finishing Effluent Guidelines are often included in the SIC Major Groups 34 through 39:
Fabricated Metal Products, except Machinery and Transportation
Machinery, except Electrical
Electrical and Electronic Machinery, Equipment and Supplies
Transportation Equipment
Measuring, Analyzing and Controlling Instruments: Photograph; Optical Goods; Watches and Clocks
Miscellaneous Manufacturing Industries
Core Operations
The category covers plants which perform one or more of the following six operations:
electroplating (exceptions: refer to Related Categories)
electroless plating
anodizing
coating (phosphating, chromating, and coloring)
chemical etching and milling
printed circuit board manufacture (exceptions: refer to Related Categories)
If a plant performs any of those 6 operations, then discharges from the 46 operations listed in 40 CFR 433.10(a) are covered by the Part 433 standards.
---
Related Categories
"job shop" electroplaters (those which in a calendar year do not own more than 50 percent of the material undergoing metal finishing), and
independent printed circuit board manufacturers,
which are located at indirect discharger facilities, and
that were in operation before July 15, 1983.
In addition to the job shop electroplaters, discharges from the 46 metal finishing operations may be more properly and effectively regulated by the following categories:
---
Guidance and Background Documents
Download the publications

Coverage for Zirconization™ process (Memo, April 2016)
"Chemical Etching" Metal Finishing Option (Memo, June 2004)
Regulatory Determination for the "PreKote" Surface Preparation Process (April 2003)
Misuse of Sodium Dimethyldithiocarbamate (Memo, June 2000)
Permitting Guidance for Semiconductor Manufacturing Facilities (Memo, April 1998)
Guidance Manual for Implementing Total Toxic Organics (TTO) Pretreatment Standards (1985)
Guidance Manual for Electroplating and Metal Finishing Pretreatment Standards (1984)
---
Rulemaking History
Download the publications

Technical Amendment (November 7, 1986)
Correction (October 3, 1983)
Interpretation and Correction (September 26, 1983)
Technical Amendment (September 15, 1983)
Final Rule: Metal Finishing and Electroplating Categories (July 15, 1983)

Development Document (1983)
Industry description, wastewater characterization, treatment technologies, regulatory compliance cost estimates and pollutant loadings for the final rule

Proposed Rule: Metal Finishing and Electroplating Categories (August 31, 1982)
---
Additional Information
For additional information regarding the current rulemaking to regulate the discharge of PFAS from chrome finishing facilities only, please contact Phillip Flanders (flanders.phillip@epa.gov) or 202-566-8323.  For all other questions about the Metal Finishing Effluent Guidelines, please contact Ahmar Siddiqui (siddiqui.ahmar@epa.gov) or 202-566-1044.