Natural Gas and Petroleum Systems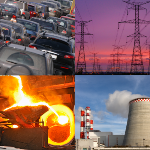 It is EPA's standard process to update the Inventory of U.S. Greenhouse Gas Emissions and Sinks (GHG Inventory) when relevant new and improved data are available. In recent years, as improved data have become available, EPA has updated methods and data sources for calculating greenhouse gas emissions for several sources in the natural gas and petroleum sectors.
See below for information regarding EPA estimates of greenhouse gas emissions from natural gas and petroleum systems in the annual GHG Inventory.
Archives: Previously Posted Memos and Other Information on Stakeholder Engagement
Resources: