Pilsen Area Soil Site
On this page
December 2016 
Crew beginning work to excavate soil on a residential property in Pilsen.U.S. Environmental Protection Agency is overseeing the cleanup of lead-contaminated soil in the residential area referred to as Operable Unit 2 of the Pilsen Area Soils site. Contractors from H. Kramer & Co. are conducting the work in compliance with U.S. EPA's unilateral order issued to H. Kramer in September 2016 to remove lead-contaminated soil from at least 54 residential yards in the target area.
H. Kramer is a corporation that owns and operates a secondary nonferrous metals facility manufacturing primarily brass and bronze ingots, where a portion of the facility's production capacity is devoted to lead-containing metal alloys. The facility is located at 1345 West 21st Street in the Pilsen neighborhood of Chicago, Illinois.
The current cleanup schedule calls for work from December through the summer of 2017. After coordinating with property owners, H. Kramer & Co. is beginning to dig up yards at a few homes during the week of Dec. 19. However, crews will pause work during winter months because freezing temperatures and heavy snowfall can make access to the ground and excavation difficult for workers. The warmer weather next spring will soften the ground and allow H. Kramer to resume cleanup.
Cleanup will consist of excavating contaminated dirt in the yards and gardens of homes with lead in surface soil greater than 400 parts lead per million parts soil. Engineering controls such as dust suppression and monitoring will protect workers and residents. The soil will be disposed of at a permitted disposal facility. Yards will be filled in with clean soil and restored to their original condition as much as possible.
If you own a residential property within OU2, U.S. EPA urges you to complete an access agreement allowing the Agency to sample your property for soil lead and find out if a cleanup is needed. Please contact Heriberto León or Ramon Mendoza (see box on upper right) for more information.
Site Description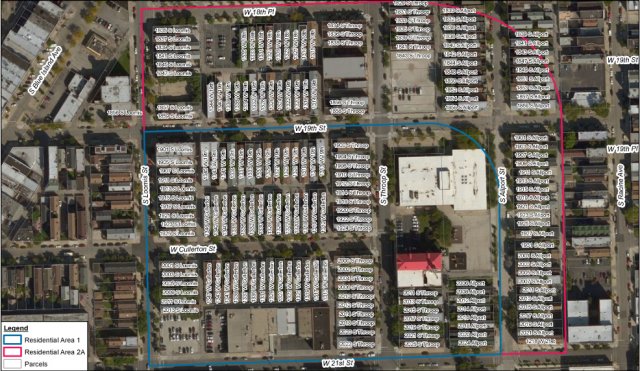 Pilsen Soil Operable Unit 2 Residential SiteOperable Unit 1 (OU1): OU1 consists of an east-west alley between West 21st Street and West Cermak Road and between South Loomis and South Throop Streets. It also includes a railway spur that begins on South Laflin Street just north of the Benito Juarez Community Academy athletic field and ending on West Cermak Road just east of South Loomis Street. (See map of Areas 1 through 10 representing segments along the spur and alley.) Areas 1 and 2 stretch east-west just north of the school's athletic field. Those two areas have separate work plans for areas owned by BNSF and the city of Chicago.
Operable Unit 2 (OU2): OU2 is a residential area bounded by West 18th Place to the north, a north-south alley between South Allport Street and South Racine Avenue to the east, West 21st Street to the south, and South Loomis Street to the west. There are about 178 residential properties in this 25-acre OU2 site. About 121 of the properties have non-permanent covers in their yards such as bare soil, grass or gravel and are the focus of EPA actions.
Site Background
U.S. EPA has been investigating lead contamination in Chicago's Pilsen neighborhood since 2011 in response to residents' concerns about the area's long industrial history.  The Agency conducted soil sampling in 2012 and 2013 and found high levels of soil lead collected from two residential areas, as well as from the alley and along the Burlington Northern Santa Fe (BNSF)-operated railroad spur between West 21st Street and West Cermak Road near the H. Kramer facility.
EPA continues to work closely with the City of Chicago and neighborhood organizations to provide information to residents about steps they can take to reduce exposure to lead contamination.
Documents