Interventions and Communication Strategies to Reduce Health Risks of Wildland Fire Smoke Exposures Grants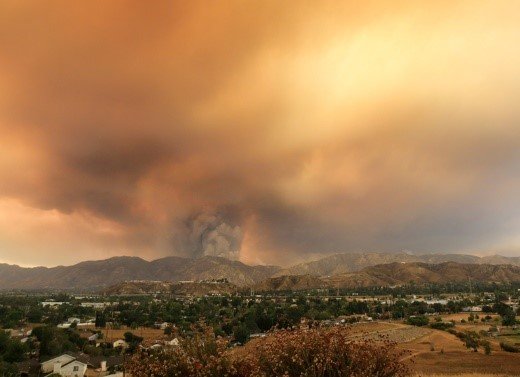 As part of its Science to Achieve Results (STAR) program, EPA awarded $9 million in grant funding for researchers to address behavioral, technical, and practical aspects of interventions and communication strategies to reduce exposures and health risks of wildland fire smoke.

Larger and more intense wildfires are creating the potential for greater smoke production and chronic exposures in the United States. To reduce the risk of catastrophic wildfires, the use of prescribed burns as a land manage tool is also increasing. Smoke released from wildland fires (wildfires and prescribed burns) is made up of a complex mixture of gases and fine particles produced when wood and other organic materials burn. The biggest health threat from smoke is from fine particles. These microscopic particles can get into your eyes and respiratory system – whether you are outdoors or indoors, and cause health problems such as burning eyes, runny nose, and illnesses such as bronchitis. Fine particles also can aggravate chronic heart and lung diseases - and even are linked to premature deaths in people with these conditions. In addition to particle pollution, smoke also contains air toxics that can cause cancer or other serious health effects.
To improve public health, the institutions receiving these grants will conduct research to understand what actions might be effective for reducing exposures to wildland fire smoke and how best to communicate these actions to various groups.
The grants will fund the following research projects:
Georgia Institute of Technology, Atlanta, Georgia
Award: $1,000,000
Project Title: Integrated Communication and Intervention Strategies to Reduce Exposure to Prescribed Wildland Fire Emissions in Schools, Schoolchildren and Communities
Principal Investigator: Armistead (Ted) Russell
Study Locations: Southern Georgia and Alabama
The goal of the project is to employ and assess the effectiveness of air quality forecasting, on-site low-cost monitoring and air cleaning, along with coordinated communication approaches, at reducing exposures of schoolchildren in southern Georgia and Alabama to elevated levels of PM2.5 and other air pollutants from prescribed burns. The project will address three hypotheses: 1) An integrated strategy containing both interventions and communications can reduce wildland fire pollution exposure in children and youth; 2) Targeted intervention, e.g., classroom-based air cleaning, can be used to effectively reduce exposures of school community members to prescribed burn emissions; and 3) Prescribed burn air quality impact forecasting can be used to reduce smoke exposures, both by adjusting the timing of burn activities that would lead to large population exposures and by alerting and providing guidance to potentially impacted areas in advance.
Ohio State University, Columbus, Ohio
Award: $999,995
Project Title: Enhancing Communication to Reduce Health Risks of Wildland Fire Smoke Exposure Due to Prescribed Burns
Principle Investigator: Olorunfemi Adetona
Study Locations: Ohio, South Carolina, Virginia
Although prescribed burning is an essential land management tool, it contributes to air pollution in the United States. The goal of this project is to decrease smoke exposures and associated health impacts from prescribed burn events. The research team is using robust and innovative qualitative and quantitative methods to conduct formative research on health risk communication messaging, materials, and mechanisms related to prescribed bum events, which will inform the development and dissemination of a Risk Communication ToolKit that can be used to plan for and conduct health risk communication in communities surrounding prescribed burn events.
University of Colorado-Boulder, Boulder, Colorado
Award: $549,919
Project Title: Informing School Decision-Making During Wildfire Events: Evaluation of Indoor PM2.5 Exposures and Associated Health Impacts in Children
Principal Investigator: Colleen Reid
Study Location: Denver, Colorado
When wildfire smoke impacts a community, schools must determine whether to close and send students home based on whether schools or children's homes are likely to have better indoor air quality. Many schools and communities, however, do not have information on PM2.5 levels inside and outside of their schools and homes to inform decisions about where students should shelter. The team will use low-cost air sensors to compare indoor school-day PM2.5 concentrations at homes and schools in the Denver area during wildfire season. The goal of this research project is to collect data to inform whether schools should stay open or closed during wildfire air pollution events.
University of Colorado-Boulder, Boulder, Colorado
Award: $549,000
Project Title: Assessing the Transport of Wildfire-Generated Particulate Matter into Homes and Developing Practical Interventions to Reduce Human Exposure (WildPM)
Principal Investigator: Marina Vance
Study Locations: Western U.S.
During a wildfire, some of the smoke from outdoors can enter homes and make it unhealthy to breathe indoor air, too. To protect people sheltering in homes during wildfire smoke events, the research team is assessing the transport of wildfire-generated particulate matter into single-family housing in the Western U.S. and developing practical interventions to help people reduce their indoor exposure to particulate matter from wildfires. The research team will evaluate the effectiveness of sustainable and practical interventions, including strategies in air cleaning, ventilation, and building sealing, in reducing indoor concentrations of particulate matter from wildfires.
Colorado State University, Fort Collins, Colorado
Award: $992,464
Project Title: Smoke-Ready Communities: Creating and Sustaining Air Quality Information Using Targeted Communication Interventions
Principal Investigator: Emily Fischer
Study Locations: Fort Collins, Colorado
The research team is building partnerships with communities in Colorado to enhance the available information about air quality. The team will develop targeted messaging utilizing trusted sources of information to reach individuals based on their needs and vulnerability. To meet project goals, researchers will create real-time, sub-city-scale smoke maps to support accurate and actionable communication about air quality. Researchers will also evaluate the effectiveness of these communication campaigns in developing individual-level awareness, cognitive, and behavioral outcomes.
Desert Research Institute
Award: $544,763
Project Title: Development, Implementation and Evaluation of Stakeholder-Driven Wildfire Smoke Monitoring and Messaging in Rural Nevada
Principal Investigator: Kristen Vander Mollen
Study Location: Northern Nevada
The goal of this project is to increase wildfire smoke risk mitigation in rural communities through the development, implementation, and evaluation of stakeholder-driven monitoring and messaging in Northern Nevada. The research team will evaluate the performance of selected portable air quality sensors; identify wildfire smoke risk knowledge gaps of emergency managers and the public; develop education materials for emergency mangers; and evaluate the effectiveness of in situ monitoring and messaging to mitigate wildfire smoke risk.
Stanford University, Stanford, California
Award: $999,846
Project Title: Evaluating the Effectiveness of Interventions on Reducing Wildfire Smoke Exposure and Health Risks in Low-Income Hard-to-Reach Communities in California
Principal Investigator: Gabrielle Wong-Parodi
Study Locations:  San Mateo County and Santa Clara County, California
In the western United States, wildfire smoke exposure increasingly threatens the health of low-income and non-English speaking communities. The team is researching affordable technology-and native language messaging-based interventions to decrease exposure to smoke and health risks among these communities during wildfires. Data will be collected and communicated through an innovative combination of a smartphone app (Stanford Smoke Study App, built from EPA's Smoke Sense Platform) and air pollution exposure and health sensing devices. The goal of this project is to identify affordable and actionable intervention steps to reduce health impacts from smoke exposure for low-income, non-English speaking individuals and communities in northern California.
University of California – Berkeley, Berkeley, California
Award: $988,740
Project Title: Participatory Design of Effective Risk Communication About Wildfire Smoke for Hard-to-Reach Populations
Principal Investigator: Linda Neuhauser
Study Location: California

This project focuses on improving communication on the risks of wildfire smoke exposure to harder-to-reach populations including farmworkers, Tribal Nations, the deaf community and non-native English speakers in California. The research team is analyzing existing resources on the dangers of wildfire smoke exposure. Researchers are also working with these communities to develop high-quality risk communication resources and tested, sustainable strategies for large-scale and locally targeted dissemination strategies that can be used by communities and healthcare providers to protect people from the health impacts of wildfire smoke exposure.
Public Health Institute, Oakland, California
Award: $994,407
Project Title: Filtration for Respiratory Exposure to wildfire Smoke from Swamp Cooler Air (FRESSCA)
Principal Investigator: Gina Solomon
Study Locations: Fresno County and Kern County, California
In California's San Joaquin Valley, the topography of the region traps smoke plumes from wildfires in both northern and southern California, resulting in extremely high particulate matter concentrations for many weeks each wildfire season. Agricultural workers may be disproportionately exposed to wildfire smoke because they work outdoors, and this exposure can continue after the workday ends if wildfire smoke infiltrates their homes. For this project, the research team is designing and field testing an affordable and effective filtration system for rooftop evaporative coolers, which are often used to cool homes without air conditioning in the region. The goal of the project is to create an affordable and effective filter that cleans the air and could be mass-produced for use in homes with evaporative coolers throughout the western U.S.
Portland State University, Portland, Oregon
Award: $547,899
Project Title: Household Atmospheric Dynamics under Elevated Smoke (HADES): Holistic Evaluation of Interventions for Reducing Indoor Levels of Wildland Fire Emissions
Principal Investigator: Elliott Gall
Study Location: Portland, Oregon
For this project, researchers are conducting field and laboratory measurements to holistically evaluate the effectiveness of recommended strategies to reduce indoor exposures to wildfire smoke. The research team is creating an Indoor Woodsmoke Dynamics (IWOOD) test facility to take measurements of airtightness, air exchange rate, and pollutant infiltration and penetration factors in homes. This will help improve the understanding of outdoor to indoor transport of gas and particle phase woodsmoke constituents in single-family detached homes. The team is also measuring the abundance and retention of polycyclic aromatic hydrocarbons (PAHs) on interior walls and evaluating the effectiveness of cleaning procedures. These chemicals can stick to indoor surfaces and slowly re-emit for months after a wildfire.
University of Washington, Seattle, Washington
Award: $548,537
Project Title: School Resilience to Wildland Smoke and Outdoor sources of Fine & Ultrafine Particles
Principal Investigator: Elena Austin
Study Locations: King County and Yakima County, Washington
The goal of the research is to enhance existing efforts taking place in Washington state to identify evidence-based solutions utilizing portable air cleaners (PACs) to improve indoor air quality in schools. Researchers are partnering with both urban and rural schools in Washington to implement a classroom-based Portable Air Cleaner (PAC) to reduce exposure to wildland fire smoke. The team will also work with schools to adapt an existing, hands-on air quality curriculum aimed at increasing environmental health literacy on the topic of ambient smoke, air quality and health.
University of California – Berkeley, Berkeley, California
Award: $549,940
Project Title: Community-Aligned Action Plan for Effective Communication of Wildland Fire Smoke Exposure Risks
Principal Investigator: Cesunica Ivey
Study Locations: San Francisco Bay Area, California
The overall goal of the project is to identify the most effective data sources and dissemination strategies for communicating wildfire smoke exposure risks and the drivers of the disconnect that exists between scientists and communities regarding exposure and health risk communication. Researchers are creating a community-aligned action plan for wildfire smoke exposure prevention to serve the residents of the San Francisco Bay Area, California. The proposed work will successfully engage members of underserved and marginalized groups, elevate their concerns regarding wildfire smoke and air pollution exposure risks and communication styles, and lead to solutions that eliminate disparities.
Related Resources