Understanding RSEI Results
This video will help you understand the results produced by EPA's Risk-Screening Environmental Indicators (RSEI) model. 
On this page:
On other pages:
RSEI produces different kinds of metrics (RSEI Score, RSEI Hazard, toxicity-weighted concentration) at different levels of aggregation (chemical, facility, industry sector, geography, etc.).
RSEI Score is the most commonly used metric and can be found in applications like EasyRSEI and Envirofacts, along with RSEI Hazard. Toxicity-weighted concentrations, along with RSEI Scores, are also provided in the RSEI Geographic Microdata results. 
What is a RSEI Score?
RSEI Score is a screening-level scoring metric that is intended to be the primary descriptor of relative risk-related impacts to human health for use in comparative and trend analysis. RSEI Scores are calculated as unitless values that account for the size of a chemical release, the fate and transport of a chemical within the environment, the size and location(s) of potentially exposed populations, and a chemical's relative toxicity. The graphic below summarizes how RSEI Scores are constructed. A RSEI Score is calculated as chemical toxicity weight multiplied by the estimated dose, multiplied by the potentially exposed population.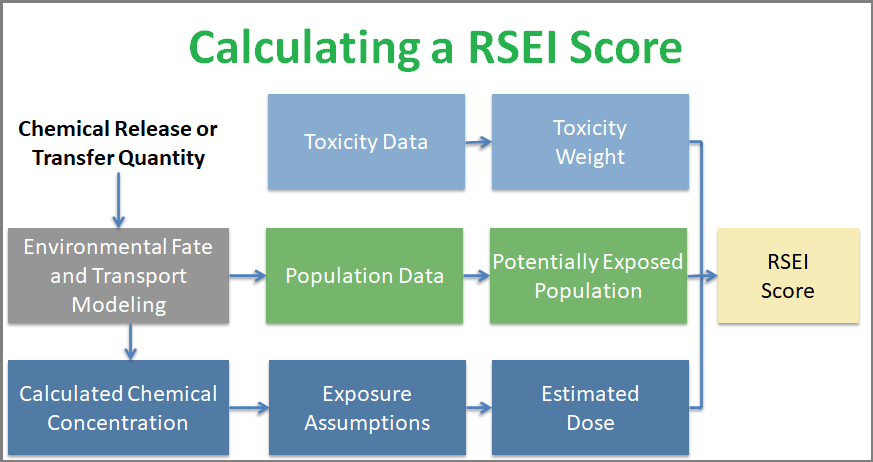 Chemical releases to air or water are modeled and are combined with exposure assumptions and estimates, toxicity information, and population estimates to calculate these risk-related scores. RSEI Scores do not describe a level or estimate of risk (such as the number of excess cancer cases), and cannot be used solely to draw conclusions about risk. 
RSEI Scores are designed to be compared to provide context from a relative risk-related perspective. Calculated as relative measures using the same method, RSEI Scores can be viewed and aggregated in various ways to examine potential impacts posed by chemical releases. RSEI Scores can be analyzed by chemical, by environmental exposure pathway, by facility or industry sector, or by geographic area. Screening or prioritization chemicals, facilities or industries, geographic areas, or other groupings by RSEI Score can highlight situations that may warrant additional investigation or analysis. Creating trends for various groupings using RSEI Scores can also help indicate relative change in potential risk-related impacts to human health for those groupings over time.
What does a high RSEI Score mean?
As relative and proportional values, RSEI Scores are calculated to be linearly related where a computed RSEI Score value that is 10 times higher than another RSEI Score value suggests that the potential for risk-related impacts is 10 times higher. High RSEI Scores (relative to other RSEI Scores) may indicate or identify situations that may warrant further investigation or analysis for health-related impacts, however, high RSEI Scores do not conclusively demonstrate sources of risk. As an example, a facility with a high RSEI Score may not be the primary source of chronic human health risk in an area. 
Relatively small chemical releases may lead to high RSEI Scores if the chemical toxicity weight is particularly high or if the modeled exposed population is large. Conversely, large chemical releases may lead to low RSEI Scores if the toxicity weight is low or if the modeled exposed population is small. Because RSEI Scores reflect changing population size at the local level, a RSEI Score could increase or decrease even without changes in the chemical release quantities over time. Therefore, population trends should be considered when examining RSEI Scores for the causes of changes in relative risk-related impacts over time on a given area.
A low RSEI Score (relative to other RSEI Scores) indicates lower potential risk-related impacts from reported TRI and RSEI modeled data, but other kinds of risk may also be present, including pollution from mobile sources like cars and trucks and unreported releases from facilities (see additional sources of environmental information to help assess situations of potential concern).
What is RSEI Hazard?
RSEI Hazard, also called toxicity-weighted pounds, is a screening-level metric that is intended to be the primary descriptor of relative potential hazard to human health for use in comparative and trend analysis. These toxicity-adjusted values give more context and greater significance to the more toxic chemicals than looking at chemical waste management quantities alone. RSEI Hazard results account for chemical waste management activity quantities (e.g., how much of a chemical is released to air) and a quantitative measure of their relative toxicities (e.g., how potentially hazardous are the chemicals to human health). RSEI hazard-based results can also include RSEI Modeled Hazard, which are RSEI Hazard values calculated only for RSEI modeled media, or the kinds of chemical releases and transfers that RSEI models to produce risk-related RSEI Scores. Note that RSEI Hazard is often higher than RSEI Modeled Hazard because more chemical waste management activities are included.
Unlike RSEI Score, RSEI hazard-based results (RSEI Hazard and RSEI Modeled Hazard) do not include environmental fate and transport modeling or any adjustments that consider population exposure. Differences in these scenarios all influence the relative contribution and relative significance a chemical release may make toward potential risk and potential health and environmental impacts. Therefore, RSEI Hazard results should be interpreted carefully; in some cases, high RSEI Hazard or RSEI Modeled Hazard values may not be associated with high potential risk. However, RSEI hazard-based results do provide an alternative perspective to pounds-based results or full risk-related scoring results, and are especially valuable when necessary data for risk-related modeling are not available. 
Why are RSEI Score and RSEI Modeled Hazard different?
Generally, situations where RSEI Score is relatively low and RSEI Modeled Hazard is relatively high indicate that something in the environmental fate and/or exposure scenario modeling is mitigating the potential risk-related impact on human health—for instance, a small potentially exposed population around a chemical release in a remote area, or a low calculated environmental concentration due to a fast rate of chemical decay, or treatment of a chemical in waste in an off-site incinerator or water treatment plant.
Transfers of chemicals in wastes to off-site incineration typically receive relatively high hazard-based values due to the size of the chemical waste transfers and the relative toxicities of the chemicals involved; however, incineration destroys a very large amount of the toxic chemicals received, so these kinds of transfers are generally unlikely to result in adverse human health effects. 
What are RSEI Modeled Pounds?
Only certain environmental releases and chemical transfers are modeled in RSEI (from stack and fugitive air emissions, discharges to receiving streams or waterbodies, transfers off site to publicly owned treatment works (POTW) facilities, and transfers off site to incineration) to produce risk-related RSEI Score results. Quantities of these waste management activities (in units of pounds) are labeled "RSEI Modeled Pounds" in charts and tables to emphasize that the value may not match the total waste management activity quantities pounds reported to TRI for a given chemical, facility, or a geographic area.
Why are cancer and noncancer effects combined?
The RSEI toxicity weighting methodology separately evaluates certain exposure routes (inhalation and ingestion) and classes of effects (cancer and noncancer). Although a given chemical can cause several types of toxic effects, the RSEI model generally assigns a chemical's toxicity weight for the given exposure route based on the single most sensitive toxic effect. If the chemical exhibits both carcinogenic and noncarcinogenic effects, the higher of the associated cancer and noncancer toxicity weights is assigned as the final toxicity weight for the chemical for the given route for the hazard-based results RSEI Hazard and RSEI Modeled Hazard, RSEI Score, and for toxicity-weighted concentration.
Cancer and noncancer effects are combined for the above results so that users only need to compare one set of numbers for analysis and that overall potential hazard and potential risk-related impacts may be better characterized. The RSEI model also produces RSEI results specific to cancer and to non-cancer effects for data users interested in looking at these results separately. The cancer-specific and non-cancer-specific RSEI results are described further on the RSEI results definitions page and can be found in EasyRSEI and in other RSEI data products.
What are toxicity-weighted concentrations?
Toxicity-weighted concentrations are RSEI-modeled concentrations of chemicals released to the environment, multiplied by chemical- and exposure route-specific toxicity weights. Unlike RSEI hazard-based values and much like risk-related RSEI Score values, these RSEI results include environmental fate and transport modeling using physicochemical property and chemical transformation data for both the air and water release pathways. However, unlike RSEI Score, no numerical estimates of the potentially exposed population are considered or characterized in producing toxicity-weighted concentration results.
Toxicity-weighted concentrations are provided in the RSEI Geographic Microdata for data user needs. These RSEI results are often used in and analyzed for relative comparisons of potential impacts between geographic areas and for environmental justice-related efforts, because, unlike RSEI Score results, they do not include population exposure or demographic considerations. With population excluded from the calculations, the toxicity-weighted concentrations allow thinly populated, but highly burdened (and potentially impacted) areas to be identified. However, toxicity-weighted concentration results may not be as useful as other RSEI model results for other screening-level analyses, such as for prioritizing facilities and industries for pollution reduction-related activities and initiatives.
Users should also note that toxicity-weighted concentrations and RSEI Scores are aggregated differently. RSEI Scores are designed to be fully additive- where you can add RSEI Scores for groups of chemicals, facilities, industries, geographic areas, etc., and, because the risk-related impact (score) is expressed using an estimated dose rather than an estimated concentration, you can add RSEI Scores for the air and water exposure pathways together. Toxicity-weighted concentrations, on the other hand, cannot be added together for the air and water exposure pathways, they must be analyzed separately. They are, however, designed to be additive across chemicals for the same geographic area since they are relatively weighed, but must be averaged when combining these results into larger geographic areas.