Holistic Watershed Management for Existing and Future Land Use Development Activities: Opportunities for Action for Local Decision Makers: Phase 1 – Modeling and Development of Flow Duration Curves (FDC 1 Project)
A technical direct assistance project funded by the U.S. EPA Southern New England Program (SNEP)
On this page:
---
Summary
This project ("Phase 1") is a 'proof of concept' demonstration: development and use of flow duration curves (FDC) for low-order and/or headwater stream segments as an important next-generation watershed optimization management tool for qualifying and quantifying the impacts from converting vegetated permeable land cover to impervious cover (IC conversion) and for developing watershed stormwater management and conservation strategies and for quantifying associated benefits. Impacts from changes to water quality, flooding frequency and duration, channel stability, ecohydrological function, and hydrogeomorphology. FDCs will also be used to assess impacts and inform on potential management actions needed related to development activities under existing and future climate change, such as flooding risks, stream-channel stability, increased pollutant export and reduced base flows.
Outcomes of this project will lead to Phase 2 that will directly inform development of next-generation municipal ordinance and bylaws that incorporate next-generation nD/rD practices, referred to here as "Conservation Development" (CD) practices, that include among other things, de-emphasis on use and application of impervious cover (IC), an increasing role of landscape architecture to achieve enhanced evapotranspiration (ET) and better geospatial distribution of nD/rD site runoff, preservation of natural vegetated areas and incorporation of architecture for increased sustainability and resilience and which preserves the pre-development hydrological condition. In addition, project outputs will include specific tasks to disseminate the technical transfer of the project, including the development of technical support documents (TSD) and webinars and trainings. In particular, it is contemplated that the project outputs would include a workshop for the SNEP Technical Assistance Network (STAN) to facilitate transfer of the project outputs.
The purpose of this project is consistent with the Vision, Purpose, Mission and Long-Term Goals of the Southern New England Program (SNEP), the purpose of this project is to (a) build capacity of municipalities and of SNEP partners to support restoration activities (Goals 4 and 5), (b) expand the use of nature-based approaches to treat pollution at the source and offer associated benefits for habitat, wildlife, and outdoor recreation (Goals 1, 2 and 4) and (c) identify opportunities to restore water quality and physical processes that support critical habitat and ecosystem function (Goals 1, 2 and 4).
PROJECT BACKGROUND
Conventional development approaches and existing stormwater management standards (where applicable) do not adequately address the full range of hydrologic, water quality and aquatic life impacts associated with human development and impervious cover ("IC"). The weight of evidence is clear that human development and urbanization have had a profound impact on water resources in multiple ways. The paving of vegetated land disrupts the natural hydrologic cycle at a site scale that has ramifications for the larger watershed. Recent research assessing the health and integrity of watersheds indicates that efforts to restore the hydrological and ecological function of our watersheds are not likely to offset the combined impacts of 1) past and future development that expands watershed impervious cover (IC), and 2) changing climate conditions. For instance, "billions of dollars continue to be invested in the physical restoration of urban channels. [However,] post-construction studies generally show . . . [these streams are in fact biologically] unrestored [except where stormwater control measures have been extensively implemented]." (Hawley; 2015). Watershed management needs to consider the magnitude, frequency, and timing of various flow events – and incorporate new insight on the role of lesser permeability soils (e.g., tills) which indicate such soils provide a primary mechanism for maintaining hydrological balance (Boutt; 2017). As human populations continue to grow, and population centers shift in response to changing natural hazards associated with climate change impacts, appropriate guidance on resource protection is a fundamental need for humans and ecological communities. The Flow Duration Curve encapsulates the full spectrum of hydrologic and hydrogeologic balance needed for assessing and preserving the future health of watersheds.
In brief, the FDC describes the frequency and duration of stream flow rates for a given location that occur over a long period. The FDC is a powerful diagnostic tool for evaluating impacts of watershed development and potential benefits of future management alternatives across the full spectrum of in-stream flow regimes:
FDCs Quantify Impacts. FDCs can be used to quantify the impacts (change in frequency and duration) to critical flow regimes (e.g., bank-full flow (i.e., flooding), scouring flows (i.e., channel destabilization), base flow (i.e., aquatic life), high pollutant export flows, etc.) for varying levels of development and IC.
FDCs Quantify Benefits. FDCs can be used to quantify anticipated benefits of alternative development practices and watershed stormwater management alternatives including:

relevance of existing stormwater standards;
enhanced Low Impact Development approaches;
optimized stormwater management solutions emphasizing green infrastructure (stormwater control measures (GI SCM) for both existing and future development conditions; and
identifying high-value hydrologic/ecological resource areas in which development should be avoided to maintain natural watershed functions essential for future watershed and water resource resiliency.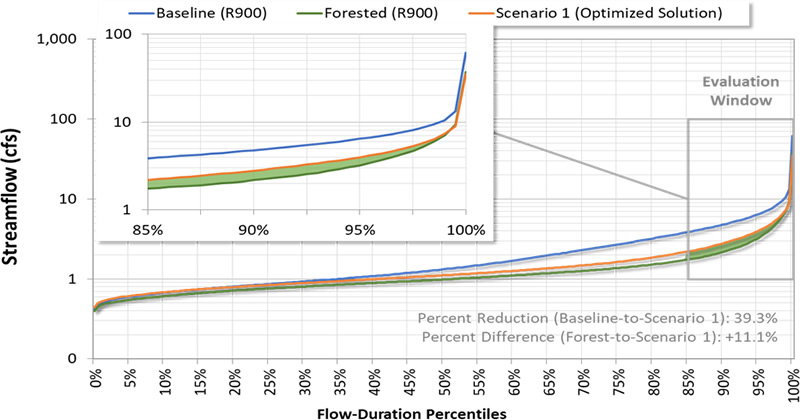 The above figure is an example flow duration curve for predevelopment and existing watershed development conditions, as well as an alternative conservation development management solution. The figure provides an example optimized solution for a given subwatershed after incorporating specific development and management practices in order to normalize the FDC towards the natural hydrologic condition of the forested state. Except for the smaller percentage of larger storm events, the optimized solution demonstrates that the watershed can be hydrologically restored, a condition that translates overall into less geomorphic distortions, reduction in flooding events, and improved water quality. Hydrologic normalization is a precursor for ecological health and restoration.
---
Project Partners and Technical Steering Committee
The project includes a Technical Steering Committee (TSC) comprised of members with expertise related to watershed and hydrologic stream flow modelling; geology and hydrogeology; stream ecology; fluvial geomorphology; green infrastructure and stormwater management; land use planning; and landscape architecture. The purpose of the TSC is to provide guidance and feedback to the core project team throughout the project, which shall be largely accomplished through their preparation for and participation in up to five (5) TSC meetings:
TSC Meeting 1: Completion of Subtask 4A - Draft Technical Scope Outline
TSC Meeting 2: Completion of draft Task 5 technical memorandum
TSC Meeting 3: Completion of draft Task 6 technical memorandum
TSC Meeting 4: Completion of draft Task 7 technical memorandum
The TSC consists of Academia, Consultants, EPA, NGO, States and others (listed alphabetically)):
Boston Society of Landscape Architects
EPA Contractor, Great Lakes Environmental Center
EPA Contractor, Paradigm Environmental, Inc.
EPA Region 1 Water Division's Stormwater Permitting and NonPoint Source Unit
EPA's Office of Research and Development's Atlantic and Ecology Division, Narragansett, RI
Fluvial Matters Consulting, University of Vermont
Horsley Witten Consulting Group
Kimberly Groff Consulting
Massachusetts Department of Environmental Protection
Rensselaer Polytechnic Institute
The Nature Conservancy
Southeastern Regional Planning and Economic Development District
University of Massachusetts, Amherst, MA
University of New Hampshire Stormwater Center
United States Geological Survey, and
Vermont Department of Environmental Conservation
---
Supporting Documentation
---
Selected Literature References
Barbaro, J.R., Sorenson, J.R., 2013. Nutrient and sediment concentrations, yields, and loads in impaired streams and rivers in the Taunton River Basin, Massachusetts, 1997–2008: U.S. Geological Survey Scientific Investigations Report 2012–5277; available at https://pubs.usgs.gov/sir/2012/5277/
Bell, Colin D., et al. (2020), Stormwater control impacts on runoff volume and peak flow: A meta-analysis of watershed modelling studies, Hydrological Processes, Vol. 34, Issue 14; available at https://doi.org/10.1002/hyp.13784
Blum, A. G., Ferraro, P. J., Archfield, S. A., & Ryberg, K. R. (2020). Causal effect of impervious cover on annual flood magnitude for the United States. Geophysical Research Letters, 47, Issue 5; available at https://doi.org/10.1029/2019GL086480
Boutt, David R. (2016), Assessing hydrogeologic controls on dynamic groundwater storage using long‐term instrumental records of water table levels, Hydrological Processes, Vol 31, Issue 7, available at https://onlinelibrary.wiley.com/doi/abs/10.1002/hyp.11119
Hawley, Robert & Vietz, Geoff. (2015). Addressing the urban stream disturbance regime. Freshwater Science. Vol. 35, No. 1; available at DOI: https://dx.doi.org/10.1086/684647
Homa, Elizabeth S., Brown, Casey, McGarigal Kevin, Compton, Bradley W., Jackson, Scott D. (2013), Estimating hydrologic alteration from basin characteristics in Massachusetts, Journal of Hydrology 503 (2013) 196–208; available at http://dx.doi.org/10.1016/j.jhydrol.2013.09.008
Palmer, Margaret and Ruhi, Albert (2019), Linkages between flow regime, biota, and ecosystem processes: Implications for river restoration, Science, Vol. 365, Issue 6459; available at https://doi.org/10.1126/science.aaw2087
Reichold, L., Zechman, E.M., Brill, E.D., Holmes, H., 2010. Simulation-Optimization Framework to Support Sustainable Watershed Development by Mimicking the Predevelopment Flow Regime. J. Water Resour. Plan. Manag. 136, 366–375; available at https://doi.org/10.1061/(asce)wr.1943-5452.0000040
Swanson, Steve (2002), Indicators of Hydrologic Alteration, Resource Note 58, National Science and Technology Center, Bureau of Land Management; available at: https://nctc.fws.gov/courses/csp/csp3112/resources/Wetland_Assessment_Methodologies/Indicators-HydrologicAlternation.pdf
Walsh, Christopher J., Roy, Allison H. et al. (2005), The urban stream syndrome: current knowledge and the search for a cure, J. N. Am. Benthol. Soc., 2005, 24(3):706–723; available at DOI: 10.1899/0887-3593(2005)024\[0706:TUSSCK\]2.0.CO;2
Yarnell, Sarah M. et al. (2020), A functional flows approach to selecting ecologically relevant flow metrics for environmental flow applications, River Res Applic., Vol 36, Issue 2, 318–324; available at https://doi.org/10.1002/rra.3575
---
Project Deliverables
[TBD] = "To Be Developed"
Task 0: Workplan and Schedule
Task 1: Prepare Quality Assurance Project Plan (QAPP)
Task 2: Project Management and Administration
Task 3: Technical Steering Committee Meetings
TSC Meeting 1: Completion of Subtask 4A - Draft Technical Scope Outline (Dec. 18, 2020)
TSC Meeting 2: Completion of draft Task 5 technical memorandum (May 22, 2021)
TSC Meeting 3: Completion of draft Task 6 technical memorandum (June 24, 2021)
TSC Meeting 4: Completion of draft Task 7 technical memorandum (Sept 23, 2001)
Task 4: Coordinate with TSC to Finalize Phase 1 Project Approach
Task 5: Compile Available Data/Information for Taunton River Watershed Modeling Analysis
Task 6: Phase 1 Hydrologic Streamflow Modeling Analyses [TBD]
[Draft Technical Memo and Appendix A now available for TSC Review]
Task 7: Phase 1 Hydrologic Streamflow Modeling Analyses [TBD]
Phase 1 Stormwater/Hydrologic Management Optimization Analyses
[FDC1 Draft Final Report and Appendices now available for TSC Review]
FDC1 Draft Final Report (PDF) (108 pp, 10.2 MB)
Draft Appendices:
---
Proposed Project Schedule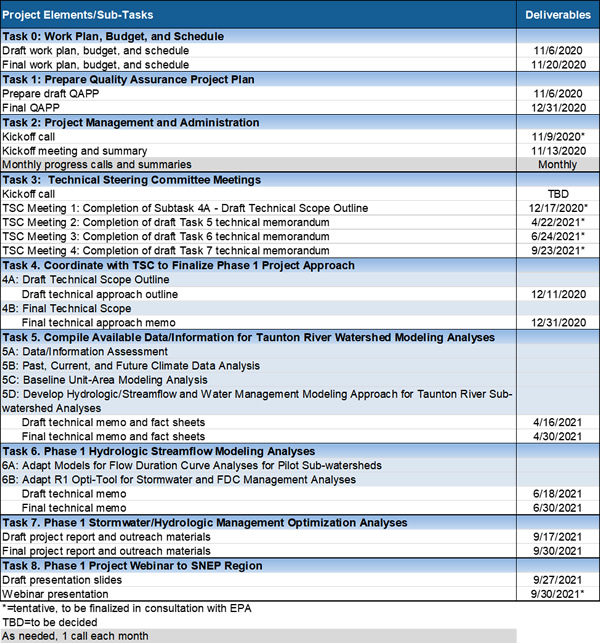 View a larger version of this image (PDF) (1 pg, 122 K)
---
Contacts
USEPA Project Leads
Ray Cody (cody.ray@epa.gov)
Surface Water Branch
Phone: (617) 918-1366
Mark Voorhees (voorhees.mark@epa.gov)
Newt Tedder (tedder.newt@epa.gov)
USEPA SNEP Coordinator:
Ian Dombrowski (dombrowski.ian@epa.gov)
Watersheds and Nonpoint Source Unit
Phone: (617) 918-1342