SNEP Program Plans and Reports
On this page:
---
Strategic Plan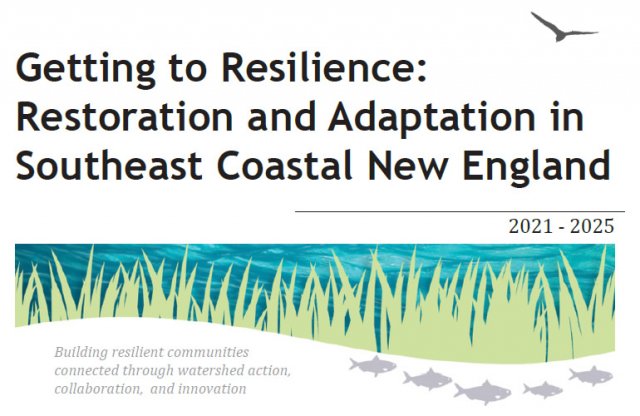 The purpose of this Strategic Plan is to build a 30-year framework for the Southeast New England Program that achieves our programmatic goals by 2050 to ensure 1) a resilient ecosystem of safe and healthy waters, 2) thriving watersheds and natural lands, and 3) sustainable communities. To that end, the Program has set the following priority actions for the next five years: 1) increase local capacity, 2) increase available solutions toward water quality restoration, 3) ensure diverse representation in programmatic decision-making, 4) demonstrate ways to address common challenges at a watershed level, and 5) increase local buy-in by working with community leaders to demonstrate and quantify the direct and indirect benefits of restoration efforts.
---
Congressional Report
Explanatory Statement Language: "Southeast New England Coastal Watershed Restoration Program [SNEP]. – The Committee is aware that the Agency has dedicated a significant portion of funding under the SNEP program towards a local capacity building program rather than to projects. The Committee directs the Agency to submit a report no later than 60 days after the enactment of this act detailing the scope of this investment, how it intends to build technical capacity within the area covered by the geographic program, and the metrics for assessing its progress."
Consolidated Appropriations Act, 2021, P.L. 116-260, Explanatory Statement, Pg. 88
*****
Executive Summary
This report updates the United States Congress on efforts by the U.S. Environmental Protection Agency (EPA) to build technical capacity to achieve environmental restoration through the Southeast New England Program (SNEP). The report discusses the scope of EPA's investment in capacity building, the vital role of that investment in preparing communities to undertake projects in the SNEP region, and EPA's plan to track and assess the environmental results achieved through building increased local capacity to finance, plan, design, and carry out restoration activities. Any future Federal activities or funding described in this report are subject to the availability of appropriations.
Congress' charge1 to EPA is to protect, enhance, and restore the coastal watersheds of southern New England, and includes specific instructions to:
Facilitate development of strategies to restore and protect southern New England estuaries;
Convene/lead comprehensive regional policy and outreach;
Establish goals emphasizing water quality and habitat restoration;
Develop and implement innovative technologies to meet challenges and create jobs;
Provide for streamlined interagency communication and an inclusive stakeholder process;
Collaborate with state agencies and other federal partners; and
Include local governments and agencies, non-governmental organizations (NGOs), and academic institutions as stakeholders.
EPA's SNEP addresses this charge by serving as a collaborative framework and a funding source for multiple organizations. EPA has established two major partnership efforts to carry out its charge: a SNEP Watershed Implementation Grants (SWIG) program that provides funding to implement projects, and a SNEP Technical Assistance Network ("SNEP Network" or "the Network") that provides technical assistance to local communities, tribes and nonprofit organizations to finance, plan, design and complete local implementation activities. The Network is comprised of sixteen organizations that together leverage existing programs and provide mentoring and expertise to local partner organizations. Their efforts empower and make it easier for communities and stakeholders to undertake effective restoration and protection projects over the long term.
In its first year alone, the Network has:
Begun working one-on-one with twelve communities to provide expertise in financing, mapping, planning, stormwater siting and design, and other project needs;
Offered "on-call" technical assistance to five communities in the SNEP region;
Completed two in-person trainings and ten webinars reaching over 600 people;
Helped launch the Providence Stormwater Innovation Center to provide stormwater management training; and
Begun two large-scale pilot projects to highlight restoration techniques, one on Aquidneck Island (Rhode Island) and the other in the Taunton River watershed (Massachusetts).
EPA has provided the Network with $3,226,741 in SNEP federal funding to support its activities over two years, with the possibility of receiving up to $6,000,000 over five years. EPA has developed a set of standardized metrics to capture and evaluate the value of these investments in capacity-building. These metrics are based on the number of local organizations assisted by the Network as well as the number that successfully undertake implementation projects after receiving assistance. Further detail about SNEP, the Network, and EPA's metrics and evaluation process are in the report that follows.
---
End of Year Summaries
The Southeast New England Program has many partnerships that contribute significantly to the Program overall. These Year in Review handouts afford the opportunity to highlight the work of some of our partnerships in more detail and discuss some of the work they've completed throughout the year.
---
Synthesis Reports
Read the Synthesis Report to learn more about the Southeast New England Program.