Climate Adaptation Profile: American Cyanamid Co.
Bridgewater, New Jersey
Site Description
The 435-acre American Cyanamid Co. site was formerly used to manufacture chemicals. It encompassed 27 impoundments and lagoons used for disposal of chemical sludge and other wastes. Due to past manufacturing practices, onsite soil and groundwater are contaminated with volatile organic compounds (VOCs), semi-volatile VOCs and metals. The site is located along the Raritan River.
Remediation Activities
A full-scale groundwater extraction and treatment system that includes a hydraulic barrier wall has operated onsite since 2019. The treated water is reinjected into an underlying aquifer that is not a source of drinking water. Remedial designs for stabilizing and solidifying contents of three 10-acre impoundments in the site's 268-acre north area (known as impoundments 3, 4 and 5) and site-wide soils are currently in development. In the site's south area, removal of acid tar and construction of a permanent capping system for two 2-acre impoundments temporarily covered with geomembranes and water caps (impoundments 1 and 2) is anticipated to begin in 2023.
Vulnerability to Climate Change Impacts
The site is extremely vulnerable to flooding. Most of the site is located within the 100-year floodplain, and the site periodically experiences the impacts of tropical storms associated with hurricanes strikes along the U.S. East Coast. For example, in 2011 a tropical storm resulting from Hurricane Irene released seven inches of rainfall within 48 hours and caused widespread flooding. The floodwaters caused significant damage across the site, including destruction at office trailers and a 30-day loss of electricity needed to extract contaminated groundwater. However, no major surficial release of contaminants occurred.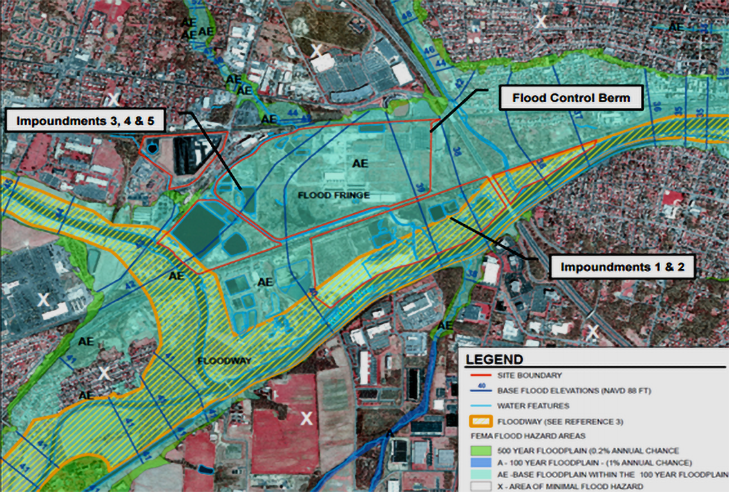 Floodwater entering the north area reached a height of five feet during the 2011 storm due to an inoperable mechanical sluice gate. This prevented standing floodwater from exiting the area, thereby creating a "bathtub" within the 10- to 12-foot-high flood control berm that surrounds impoundments 3, 4 and 5. Through use of generator-powered pumps, approximately 152 million gallons of floodwater was controllably discharged into an onsite stream (Cuckel's Brook) after floodwater sampling indicated the discharge would not negatively impact the stream's water quality.
Building Adaptive Capacity for Future Climate Scenarios
In 2012 the site owner began taking measures to increase climate resilience of the site's existing and future remedies. Critical electrical instrumentation for the site's interim groundwater extraction system was raised to elevations higher than the highest recorded onsite flood levels. To allow uninterrupted pumping during flooding events, the aboveground turbine pumps used for bedrock groundwater extraction were replaced with submersible pumps.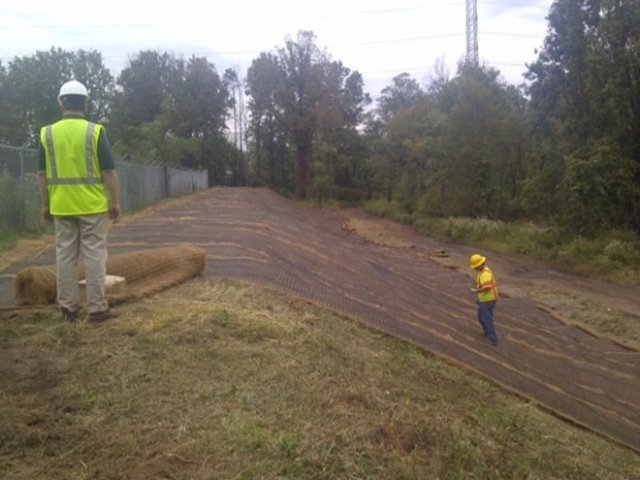 Also, the berms surrounding the two 2-acre waste impoundments were protected with turf reinforcement mats to increase their strength and prevent scour. These measures helped ensure the berms could withstand a minimum floodwater velocity of 8 feet per second. Additional resilience was gained by relocating all onsite office trailers to areas outside of the 100-year floodplain.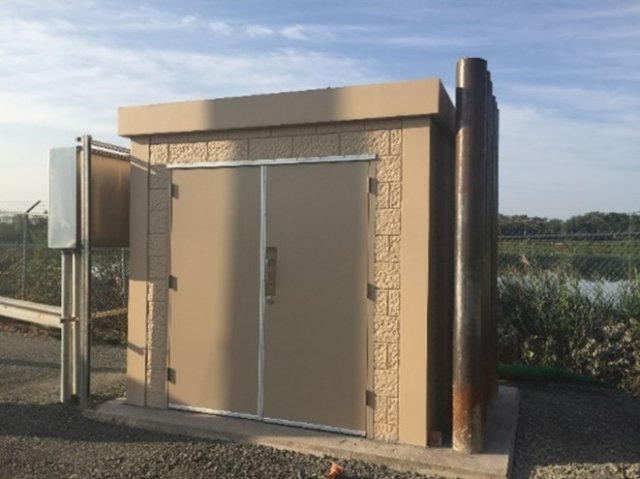 In 2018-2019 the full-scale groundwater treatment facility (including associated aboveground tanks) was constructed in the site's northwest corner, outside the 500-year floodplain. The enclosures for groundwater extraction controls and equipment consist of reinforced block structures installed on thick concrete foundations. Emplaced bollards further protect the structures from floating debris or swift flood waters. A new drum storage area also was built so that containerized wastes could be stored outside the flood hazard area.
In 2018 the selection of a final remedy for the two 2-acre waste impoundments in the south area considered the site's flooding risks. The remedy involves excavation, dewatering and offsite disposal of waste rather than onsite treatment or destruction of the waste. If one or more potential flooding events arise during the estimated 38 months of field operations, heavy machinery and remedial equipment can be quickly transported to higher elevations. The 2018 record of decision (ROD) also confirmed that the engineered caps to be installed over the impoundments would be designed and constructed to withstand a 500-year flood event, as required by an earlier (2012) ROD addressing site-wide remedial actions. Related decision-making is facilitated by an updated flood management and response plan that includes stage monitoring of the Raritan River.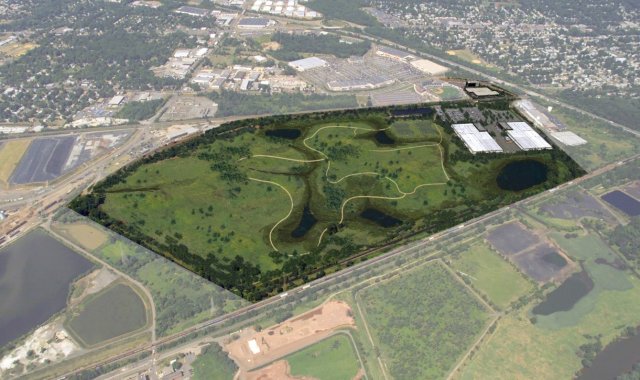 The multiple measures taken over past years have collectively increased the site remedies' resilience to flooding, as demonstrated in 2021 during a tropical storm associated with Hurricane Ida. Floodwaters overtopped impoundments 1 and 2 in the site's south area but caused only minor damage to the impoundment 1 geomembrane. The berms surrounding all the impoundments and other remediation areas remained intact, and the groundwater treatment facility continued to operate throughout the storm. Approximately 200 million gallons of floodwater were controllably released via the repaired sluice gate within two weeks.
Resilience measures to be implemented in the future include adding automation that enables remote control of the onsite sluice gate. Future site use is anticipated to include preservation and restoration of the floodplain ecosystem, which will provide a nature-based approach to local stormwater management.
Superfund Climate Resilience
EPA provides additional information about approaches for building climate resilience at Superfund sites.
Overview of Climate Adaptation Measures
EPA or the site owner implemented significant measures to build the remedies' resilience to flooding:
Incorporated into the site-wide remedy a requirement that all onsite capping systems be designed to withstand a 500-year flood event, at minimum.
Constructed the groundwater treatment facility outside the Raritan River 500-year floodplain, in the only onsite area where flooding has not occurred in the past.
Encased system controls and relevant supplies in reinforced concrete block structures attached to deep concrete foundations and protected by bollards.
Raised the elevation of critical electrical instrumentation for groundwater extraction and treatment.
Installed submersible pumps in bedrock wells to provide increased hydraulic control during future flood events.
Reinforced the berms of the two waste impoundments nearest the river to increase their strength and prevent erosion.
Relocated onsite office trailers to positions outside the Raritan River 100-year floodplain.
Developed a flood management and response plan that includes river stage monitoring.
Key Tools Used for Climate Projections
Points of Contact
References
July 2022