Plastics Product Manufacturing
This section examines how TRI chemical wastes are managed within the plastics product manufacturing sector (defined as facilities reporting their primary NAICS code as 3261).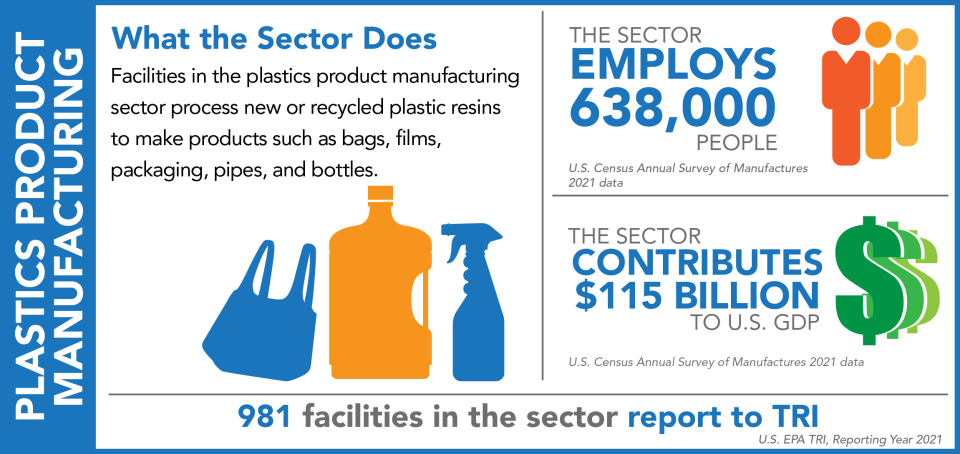 The plastics lifecycle consists of many steps, including petroleum and natural gas extraction; petrochemical refining; chemical, polymer, and plastic product manufacturing; the use of plastics by consumers, industry, and others; and end-of-life scenarios such as waste management or disposal into the environment outside of waste management systems. This profile is focused on the management of TRI chemical waste and environmental releases from the plastic product manufacturing stage of the plastics lifecycle.
Facilities in the plastics product manufacturing sector make intermediate products (e.g., rolls of laminated sheets or casings for TVs and radios) as well as products we use every day, such as bottles and bags for packaging, and pipes and flooring for construction, among many others. The sector takes new or recycled polymers and forms them into plastic products using a variety of molding or casting processes. Other sectors use intermediate products from the plastic products manufacturing sector to make consumer products like medical devices, electronics, and furniture.
This profile does not include the manufacture or assembly of plastic goods in other sectors such as battery casings, diapers, or appliances. It also does not address the management of plastic waste, discarded plastic products in the environment, or other end of life scenarios for plastic products. Additionally, this profile does not address management of TRI chemical waste from upstream processes such as the manufacturing of monomers or chemical additives like flame retardants or plasticizers such as phthalates. As with all TRI analyses, the information in this profile is limited to facilities that meet TRI reporting requirements and manage listed chemicals in excess of certain thresholds.
Inclusion of plastics product manufacturing in the National Analysis provides insights into how TRI chemical wastes are managed during the product manufacturing phase of the plastics lifecycle. This analysis highlights opportunities to learn more, including examples of successful pollution prevention and how TRI chemicals are managed in communities across the country.
This map shows the locations of the plastics product manufacturing facilities that reported to TRI for 2021, sized by their releases. Click on a facility for details on its TRI reporting.
Plastics Product Manufacturing Facilities Reporting to TRI, 2021
View Larger Map
For 2021, 981 facilities in the plastics product manufacturing sector reported to TRI. The majority of the sector's releases of TRI chemicals were to air (89% for 2021), a higher proportion than almost any other sector. Releases were dominated by styrene, which accounted for about half of the sector's air releases each year from 2012 to 2021. The chart below shows the number of facilities by plastics products subsector that reported to TRI for 2021.
---
This page was published in March 2023 and uses the 2021 TRI National Analysis dataset made public in TRI Explorer in October 2022.