Solar Panel Recycling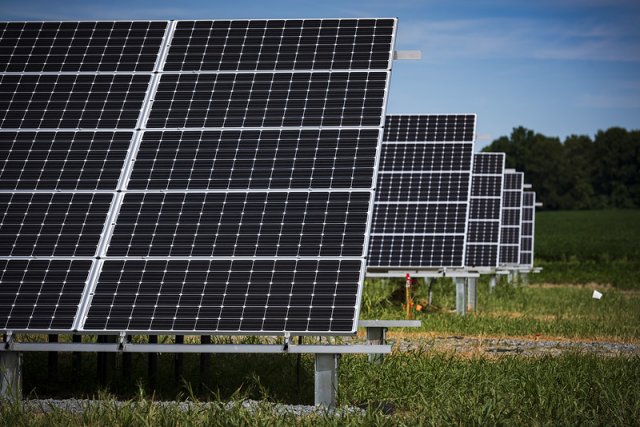 Find out how solar panels are recycled and where to take your end-of-life solar panels for recycling. 
On this page:
---
Background
Waste from end-of-life solar panels presents opportunities to recover valuable materials and create jobs through recycling. According to the International Renewable Energy Agency, by 2030, the cumulative value of recoverable raw materials from end-of-life panels globally will be about $450 million, which is equivalent to the cost of raw materials currently needed to produce about 60 million new panels. Diverting solar panels from landfills to recycling saves space in landfills in addition to capturing the value of the raw materials.  
---
How Solar Panels are Recycled
Recycling Overview
Crystalline-silicon solar technology represents most of the solar panel market share. This type of panel is constructed with an aluminum frame, glass, copper wire, polymer layers and a backsheet, silicon solar cells, and a plastic junction box. The polymer layers seal the panel from exposure to weather but can make recycling and panel disassembling difficult, as high temperatures are often required to loosen the adhesive. 
Many of these components can be recycled. Glass composes most of the weight of a solar panel (about 75 percent), and glass recycling is already a well-established industry. Other materials that are easily recyclable include the aluminum frame, copper wire, and plastic junction box. 
Other materials located within the solar cells may be more difficult to recycle. Silver and internal copper are valuable components, but panels typically contain very small amounts of these materials. Toxic metals like lead and cadmium may also be present in solar panels. 
Solar panels may contain critical materials, including aluminum, tin, tellurium, and antimony, as well as gallium and indium in some thin-film modules. 
Other components of a solar power system may include inverters, racking, and battery backup systems, which may also be recycled. Inverters may be able to be recycled with electronic waste, and racking may be recycled with similar scrap metals. Battery-based grid energy storage systems may be handled with current battery recycling programs.  
Recycling Process
An ideal recycling system would recover as much material from solar panels as possible. There are different methods to recycle solar panels, which can include some or all of the following three steps:
Removal of the frame and junction box;
Separation of the glass and the silicon wafer through thermal, mechanical or chemical processes; and/or
Separation and purification of the silicon cells and specialty metals (e.g., silver, tin, lead, copper) through chemical and electrical techniques.
The industry is new and still growing, with researchers examining how to commercialize recycling to economically recover most of the components of a solar panel. Elements of this recycling process can be found in the United States, but it is not yet happening on a large scale.
Recycling is already established in the glass, metals, and electronics industries, which can accommodate solar panels and other solar power system components. These processes typically involve crushing, shredding, and milling, usually after removal of the frame and junction box. In these processes, glass, aluminum, and copper may be recovered and the other materials, including the silicon solar cells, may be incinerated.
Thin film cadmium-telluride panels, which represent a smaller part of the solar market, undergo a different recycling process. At least one U.S. manufacturer runs dedicated recycling facilities for thin film panels which recover the semiconductor material (cadmium and tellerium) in addition to glass and copper. 
---
Solar Panel Reuse
Another way to keep solar panels out of landfills is through panel reuse, either by direct reuse or after refurbishment. When reused, solar panels get a second life generating clean energy at a different location. The secondary market has not yet gained traction in the United States, and regulatory considerations include electrical grid interconnection regulations, and fire, building, and electrical codes that must be examined when planning for solar panel reuse. However, there are many beneficial ways solar panels could be reused in situations where they aren't connected to the electrical grid, including electric bike or vehicle charging stations, or other remote locations. 
---
Additional Resources
For more information on solar panel recycling, please visit the following resources: