Coordinators in EPA Regional Offices for Lead-Poisoning Prevention Efforts
EPA maintains 10 regional offices to implement federal environmental programs around the country. Within each region, a Regional Lead Coordinator oversees the development of lead-poisoning prevention efforts. Click on your region in the map below for your Regional Lead Coordinator's contact information. 
Note that if you are looking for a list of EPA's regional contacts for general inquiries (not specific to the Lead Program), please see information about EPA's Regional Offices. The contacts listed below cannot respond to any inquiries about topics other than lead and lead poisoning.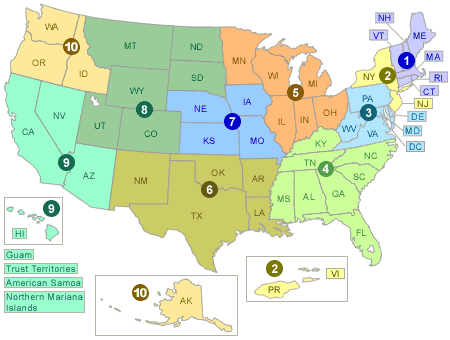 Headquarters
Location: Washington, DC
Office of Chemical Safety and Pollution Prevention of Toxics
Office of Pollution Prevention and Toxics
1200 Pennsylvania Avenue, NW
Mail code: 7404T
Washington, DC 20460
Region 1
About Region 1
States: CT, ME, MA, NH, RI, VT
Regional Contact: Amanda Brylski
Email: brylski.amanda@epa.gov
Phone: (617) 918-1758
U.S. EPA Region 1
Office of Environmental Stewardship
5 Post Office Square, Suite 100 (OES-05-4)
Boston, MA 02109-3912
Region 2
About Region 2
States: NY, NJ, PR, VI
Regional Contact: Audrey Moore
Email: moore.audrey@epa.gov
Phone: (732) 906-6809
U.S. EPA Region 2
MS-225
2890 Woodbridge Ave.
Edison, NJ 08837-3679
Region 3
About Region 3
States: DE, MD, PA, VA, WV, District of Columbia
Regional Contact: Kyle Chelius
Email: chelius.kyle@epa.gov
Phone: (215) 814-3178
U.S. EPA Region 3 (3LC61)
1650 Arch St.
Philadelphia, PA 19103-2029
Region 4
About Region 4
States: AL, GA, KY, MS, NC, TN, FL, SC
Regional Contacts:
Sarah Hawley (Lead Program) 
Email: hawley.sarah@epa.gov
Phone: (404) 562-8960
Bryce Covington (Lead Enforcement)
Email: covington.bryce@epa.gov
Phone: (404) 562-9192
U.S. EPA Region 4
Sam Nunn Federal Center
61 Forsyth Street, NW
Atlanta, GA 30303
Region 5
About Region 5
States: IL, IN, MI, MN, OH, WI
Regional Contact: Emma Avant
Email: avant.emma@epa.gov
Phone: (312) 886-7899
U.S. EPA Region 5 (DT-8J)
77 W. Jackson Blvd.
Chicago, IL 60604
Region 6
About Region 6
States: AR, LA, OK, NM, TX
Regional Contact: Mikeal Adams
Email: adams.mikeal@epa.gov
Phone: (214) 665-6711
U.S EPA Region 6
1445 Ross Ave., 12th Floor
Dallas, TX 75202-2733
Region 7
About Region 7
States: IA, MO, KS, NE
Regional Contact: Crystal McIntyre
Email: mcintyre.crystal@epa.gov
Phone: (913) 551-7261
U.S. EPA Region 7
WWPD/TOPE
11201 Renner Blvd.
Lenexa, KS 66219-9601
Region 8
About Region 8
States: CO, MT, ND, SD, UT, WY
Regional Contact: Michelle Reichmuth
Email: reichmuth.michelle@epa.gov
Phone: (303) 312-6966
U.S. EPA Region 8 (8P-P3T)
1595 Wynkoop Street
Denver, CO 80202-1129
Region 9
About Region 9
States: AZ, CA, HI, NV, Guam, Samoa, Guam
Regional Contact: Nancy Kain
Email: kain.nancy@epa.gov
Phone: (415) 947-4280
U.S. EPA Region 9 (CMD-4-2)
75 Hawthorne St.
San Francisco, CA 94105
Region 10
About Region 10
States: AK, ID, OR, WA
Regional Contacts:
Kim Farnham (Enforcement) 
Email: farnham.kim@epa.gov
Phone: (206) 553-6697
Maria Tartaglia (Outreach) 
Email: tartaglia.maria@epa.gov
Phone: (206) 553-1128
U.S. EPA Region 10
Pesticides and Toxics Unit (OCE-101)
1200 Sixth Ave.
Seattle, WA 98101