Safe Water Resources Research Milestones
On this page, view by decade:
EPA's water research provides the science and innovative technologies that the Agency and the nation need to maintain drinking water resources and systems, as well as to protect the chemical, physical and biological integrity of the nation's waters. Here are some of our most important research achievements.
2020s 
2021 - New Village Blue Project Offers New Orleanians Insights into Their Water Quality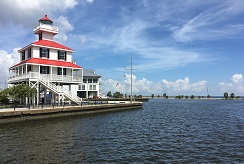 EPA launched Village Blue Lake Pontchartrain, a water quality monitoring project in New Orleans, to help the community learn more about their local water quality and its greater connection to the Mississippi River. Water sensors at a site near the New Canal Lighthouse on the south shore of Lake Pontchartrain record measurements of select water quality parameters every hour and display the data in real-time online.
Village Blue Lake Pontchartrain Offers New Orleanians Insights into Local Water Quality
2021 - EPA Scientists Develop Tool that Provides Information on U.S. Freshwater Resources
Scientists and partners developed Freshwater Explorer to help U.S. communities understand national and local water quality issues. The tool provides water quality information to help federal, state, territory, tribal, and local partners make decisions about freshwater resources, and can be used by anyone to better understand national and local water quality issues.
EPA Scientists Develop Interactive Tool that Provides Water Quality Information about U.S. Freshwater Resources
2021 - EPA Releases a Web Tool to Help Monitor Water Quality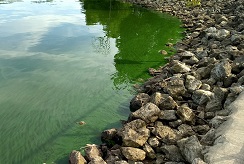 EPA released Cyanobacteria Assessment Network (CyAN) Web, a  tool that helps federal, state, tribal, and local partners identify when a harmful algal bloom may be forming where people swim, fish, and boat. The tool uses satellite data to alert users based on specific changes in the color of the water in over 2,000 of the largest lakes and reservoirs across the U.S.
EPA Releases Cyanobacteria Assessment Network (CyAN) Web Tool to Help Monitor Water Quality
2021 -Researchers Advance the Understanding of How Climate Change Will Affect Harmful Algal Blooms in Reservoirs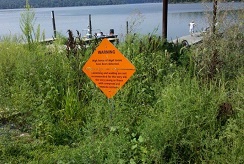 Climate change and ongoing nutrient pollution may cause more frequent and intense cyanobacterial blooms. However, there is limited historical monitoring data that can show the rate and severity of the potential increase. To address this issue, scientists collaborated with U.S. Army Corps of Engineers to compile and analyze over 30 years of monitoring data from 20 U.S. reservoirs located in Indiana, Kentucky, and Ohio.
EPA Researchers Analyze 30 Years of Data to Understand How Warming Temperatures Will Affect Harmful Algal Blooms in Reservoirs
2021 - EPA Releases Enhanced Aquifer Recharge Report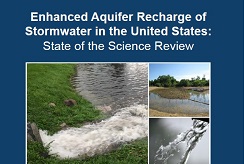 EPA released a report that provides a summary and synthesis of scientific and technical literature on Enhanced Aquifer Recharge (EAR) using stormwater. The report can be used to inform recommendations for safe, effective EAR using stormwater in different development and hydrogeologic settings. 
Enhanced Aquifer Recharge of Stormwater in the United States: State of the Science Review (Final Report)
2021 - EPA Develops Tools for Nutrient Management
EPA developed several tools for nutrient management that can be used to make decisions to protect water quality from nitrogen pollution. These include a comprehensive input and output budget for nitrogen in the transboundary Nooksack watershed between Washington state and Canada; and modeling frameworks (VELMA, Atlantis, and Salish Sea models) to help planners visualize how benefits and tradeoffs of decisions will impact terrestrial and marine ecosystem services. 
Key components and contrasts in the nitrogen budget across a US-Canadian transboundary watershed
Visualizing Ecosystem Land Management Assessments (VELMA) Model - 2.0
2021 - Next Gen Fertilizer Challenges Seek Greater Efficiency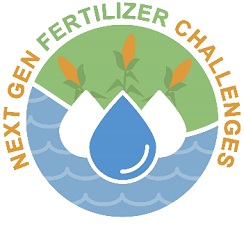 Two new Next Generation Fertilizer Innovation Challenges focused on "Enhanced Efficiency Fertilizers" (EEFs) as a type of new formulation that controls fertilizer release or alters reactions to reduce nutrient losses to the environment. The challenges have identified 16 promising EEF solutions already on or near market.
Next Gen Fertilizer Challenges
2020 - EPA Research Helps Protect Recreational Water Quality
EPA research has advanced protection of recreational water from harmful pathogens with the development of new fecal contaminant detection methods and the strengthening of the scientific basis of existing methods, source tracking, predictive tools, and health effects assessments. The science is supporting the recreational water quality criteria (RWQC) recommendations to protect the public from exposure to harmful levels of pathogens from fecal contaminants in all water bodies designated for recreational use.  
Research to Support and Implement Recreational Water Quality Criteria (RWQC)
Research to Support and Implement Recreational Water Quality Criteria (February 2020 webinar recording
2020 - EPA Develops Methods to Detect COVID-19 in Wastewater to Inform Public Health Decisions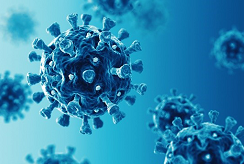 Genes specific to SARS-CoV-2, the virus that causes COVID-19, can be detected in wastewater and monitored as a sensitive early indicator of low levels of infections in the community. In swift response to the global pandemic, researchers developed and applied methods to detect different forms of the virus and the genetic marker in wastewater. to help accurately monitor prevalence of COVID-19 in communities and inform public health decisions.
EPA's SARS-CoV-2 Research: Assessing Virus Levels in Sewage for Community Level Screening
SARS-CoV-2 in Wastewater Monitoring (September 2020 webinar recording)
2020 - EPA Releases a Suite of Tools to Remove Contaminants from Water 
EPA created a suite of software models to help evaluate and design systems that use granular activated carbon or ion exchange resins for the removal of contaminants, including PFAS, from drinking water and wastewater. The models provide states and utilities with a better understanding of the fundamentals of carbon adsorption and what that means to the operation, performance, and costs associated with this technology.
Environmental Technologies Design Option Tool (ETDOT)
Water Treatment Modeling Tools for PFAS and Other Contaminants (April 2020 webinar recording)
2020 - EPA Funds Studies of Wildfire Impacts on Drinking Water Quality
Wildland fires may impact watersheds and drinking source water through increased sedimentation and mobilization of nutrients, heavy metals, and other pollutants. EPA funded two projects that provide modeling and decision support tools that can help explore treatability and adaptation strategies for impacted water systems.
Wildfires and Resulting Impacts to Water Bodies Used as Drinking Water Sources (September 29, 2020 webinar recording)
2020 - EPA

Moves 

EPANET to an Open-Source Platform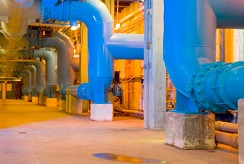 Researchers worldwide use EPANET to model water distribution systems. EPA  moved it to GitHub, an open-source platform. The release maintains and extends EPANET and includes major updates to the hydraulic and water quality engines of EPANET 2.00.12.
2020 - EPA and USDA Launch Next Gen Fertilizer Challenges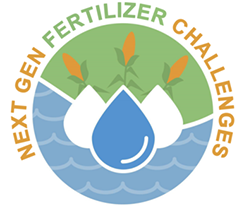 EPA established a partnership with the U.S. Department of Agriculture to advance agricultural sustainability in the U.S. via two challenges. The challenges are designed to accelerate the development and use of innovative fertilizer technologies to maintain or increase crop yields and reduce environmental impacts to air, land, and water.
Next Gen Fertilizer Challenges
2020 - Annual EPA Drinking Water Workshop Goes Virtual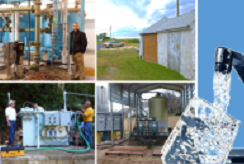 EPA's 2020 Drinking Water Workshop, hosted in partnership with the Association of State Drinking Water Administrators, was held virtually for the first time. The virtual format allowed for broader participation, with in-depth training, technical talks, and breakout discussion groups spanning a range of topics related to solutions and strategies for handling small drinking water system challenges. Over 3,300 people attended worldwide.
Agenda and Recordings for the 17th Annual EPA Drinking Water Workshop (Virtual)
18th Annual EPA Drinking Water Workshop: Small System Challenges and Solutions
2020 - EPA's Report Provides Real-World Data on the Impact of Green Infrastructure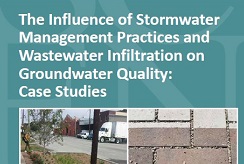 The use of green infrastructure can potentially mitigate local problems such as flooding and water shortages. This report provides real-world data that can be used by state, local and tribal agencies to understand the impact of using green infrastructure on groundwater quality for aquifer recharge.
The Influence of Stormwater Management Practices and Wastewater Infiltration on Groundwater Quality: Case Studies
2020 - EPA Launches Website Featuring PFAS Analytical Methods
EPA established a public website that consolidates PFAS analytical and sampling methods for drinking water; groundwater; surface water; wastewater; air; and solids, including soils, sediments, biota, and biosolids, some of which may eventually become standard or research methods. The website includes analytical methods resources from EPA and other federal agencies and non-governmental organizations, and sampling, data analysis, and laboratory certification resources.
PFAS Analytical Methods Development and Sampling Research
2020 - WMOST Updates Help Watershed Planning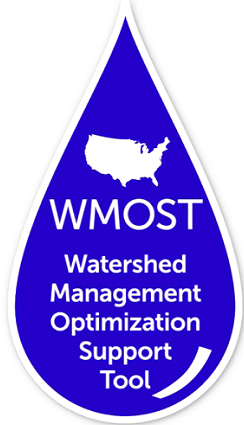 EPA published updates to the Watershed Management Optimization Support Tool (WMOST), including WMOST v3; WMOST v3.01, and a benefits module. The tool facilitates integrated water management and helps stakeholders to determine the most cost-effective management approaches to eliminate combined sewer overflows and meet water quality goals.
Watershed Management Optimization Support Tool (WMOST)
2010s 
2018 – EPA Updates a Method for Treating PFAS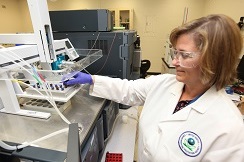 EPA updates Method 537 to quantitate 18 per- and polyfluoroalkyl compounds (PFAS) in drinking water. EPA had published the original Method 537 for detecting 14 PFAS in 2009. Since then, more PFAS that have the potential to contaminate drinking water have been identified or introduced in manufacturing as PFOA/PFOS alternatives.
Methods to Measure Waterborne Contaminants Research to Minimize Health Risks
2018 – EPA Adds PFAS Treatment to the Drinking Water Treatability Database
EPA's Drinking Water Treatability Database provides public access to reference information gathered from thousands of peer-reviewed literature sources on the control of contaminants in drinking water. Researchers at the Agency update the database with information on the capabilities of drinking water treatment technologies for removal of per- and polyfluoroalkyl compounds. Researchers continue to keep the Database current with the latest technologies.
Drinking Water Treatability Database (TDB)
Research on Per- and Polyfluoroalkyl Substances (PFAS)
2016 - EPA Assesses the Impacts of Hydraulic Fracturing on Drinking Water
Congress requests a National Study on the Impacts of Hydraulic Fracturing on Drinking Water. EPA plays a key role in coordinating and staffing the research effort. In 2016, EPA releases the final assessment. The report concludes that hydraulic fracturing activities can impact drinking water resources under some circumstances. Impacts can range in frequency and severity, depending on the combination of hydraulic fracturing water cycle activities and local- or regional-scale factors.
Hydraulic Fracturing For Oil And Gas: Impacts From The Hydraulic Fracturing Water Cycle On Drinking Water Resources In The United States (Final Report)
EPA Releases Final Report of the Potential Impacts of Hydraulic Fracturing on Drinking Water Resources (Blog by Tom Burke)
2015 - EPA Improves Testing of Recreational Water
EPA begins a multi-year field study of the health effects of beachgoers exposed to fecal-contaminated recreational water. The epidemiological study developed dose-response associations between novel, faster approaches to measure water quality and health symptoms among swimmers. The research directly informed revised recreational water quality criteria.   
Research to Support and Implement Recreational Water Quality Criteria (RWQC)
2015 - EPA Develops New Methods for Testing Drinking Water for Algal Toxins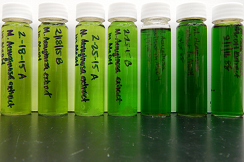 EPA scientists finalize a new method for determining the presence and concentrations of cyanobacterial toxins in drinking water. These toxins are produced by harmful algal blooms in water and cause health risks for humans and animals.
Recreational Water Quality Criteria and Methods
Methods to Measure Waterborne Contaminants Research to Minimize Health Risks
2015 - EPA Teams with Federal Partners to Fight HABs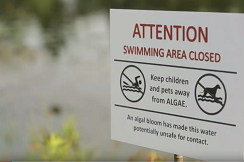 EPA teams with the National Aeronautics and Space Administration, the National Oceanic and Atmospheric Administration, and the United States Geological Survey to form the Cyanobacteria Assessment Network with a focus on developing tools using satellite data to help protect the public from harmful algal blooms (HABs) in fresh water.
Recreational Water Quality Criteria and Methods
Cyanobacteria Assessment Network Application (CyAN app)
2014 - EPA Focuses Support on Small Drinking Water Systems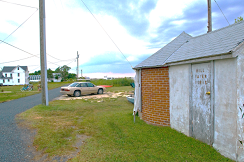 EPA begins an outreach campaign to support state and local officials with small drinking water systems. EPA's small systems training workshops and webinars continue to provide in-depth information on various solutions and strategies for handling system challenges and included the latest in EPA research. 
Small Drinking Water Systems Research
2012 - EPA Collaborates on the NetZero Project
EPA launches the Net Zero initiative with the Department of Energy and U.S. Army Corp of Engineers. Net Zero is a collaboration focused on developing and applying innovative approaches for reducing water use, and repurposing, recovering and recycling water resources at Fort Riley and other U.S. military bases.
2012 - EPA Develops Virtual Beach Software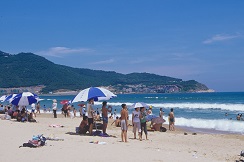 EPA develops a rapid method to determine within four hours if water is safe for recreational use, and a Virtual Beach software suite that uses local data such as wave height, water temperature and rainfall to forecast concentrations 24-48 hours in advance. The science is used to update the national recreational water quality criteria.
2011 - EPA Launches a Water Technology Innovation Cluster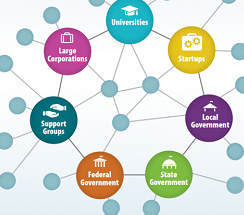 In partnership with the Small Business Administration, EPA announces the formation of Confluence, a Water Technology Innovation Cluster in the Dayton/Cincinnati/Northern Kentucky/Southeast Indiana area.  Water clusters help solve the Nation's environmental challenges by spurring technology innovation. EPA's Cincinnati research facility was selected for this initiative because of its rich research and development infrastructure to anchor the effort technically.
2000s 
2007 - EPA Begins the Aging Water Infrastructure Research Program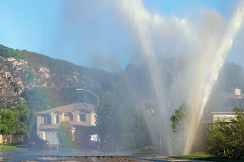 EPA begins an initiative to develop innovative technologies for the operations, maintenance, and replacement of aging and failing drinking water and wastewater systems. Researchers conduct the critical science and engineering needed to improve and evaluate promising innovative technologies and techniques for more effective operation and maintenance of systems. 
Aging Water Infrastructure Research
2005 - EPA Advances Microbial Source Tracking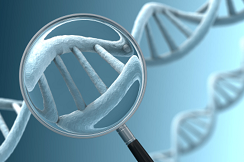 EPA researchers develop advanced microbial source tracking assays for protecting recreational waters and drinking water sources. The novel DNA sorting technique known as Genome Fragment Enrichment can identify sources of fecal pollution. This speeds up the implementation of appropriate corrective measures and lowers the cost of cleanup.
Research to Support and Implement Recreational Water Quality Criteria (RWQC)
2001 - EPA Adopts New Standard for Arsenic in Drinking Water
Based on the latest research, EPA adopts a new standard lowering the permissible amount of arsenic in drinking water from 50 µg/L to 10 µg/L. To help states meet these new standards, EPA researchers evaluate innovative and cost-effective water treatment technologies.  With 50 demonstration projects in 26 states, EPA provides water utility operators and regulators with important information about removing arsenic from drinking water.
Arsenic Treatment Technology Demonstrations
1990s 
1997 - EPA Evaluates Treatment of Surface Water Used for Drinking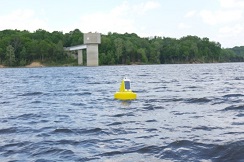 EPA completes the first community intervention study evaluating the public health benefits associated with Agency-mandated treatment of surface water used for drinking. This study is key in the National Estimate of Waterborne Diseases and in enforcement actions.
Drinking Water Requirements for States and Public Water Systems
An approach for developing a national estimate of waterborne disease due to drinking water and a national estimate model application.
Study of Waterborne Disease Occurrence
1994 - EPA Releases a Model for Drinking Water Distribution Systems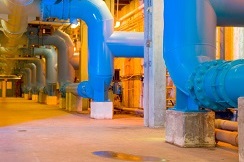 EPA releases the first version of EPANET, which is used throughout the world to model drinking water distribution systems. It can also be used to evaluate resilience to security threats or natural disasters. EPANET helps water utilities maintain and improve the quality of water delivered to consumers.
1993 - EPA Focuses Water Research on Fighting Pathogens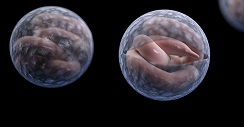 EPA researchers begin a decade of research focused on disinfection, treatment, and development of methods to treat stubborn pathogens. This follows the 1993 Cryptosporidiosis outbreak in Milwaukee and the 1991 reauthorization of the Clean Water Act.
Cryptosporidium and the Milwaukee Incident
Cryptosporidium: The Milwaukee Experience and Relevant Research
1970s 
1977 - EPA Research Supports National Drinking Water Standards
National drinking water standards go into effect for the first time. All public water suppliers are required to test their public water routinely and notify their customers if water was not up to EPA standards. EPA scientists support the drinking water standards with robust research.
Drinking Water Regulations and Contaminants
1975 - EPA Opens a Facility Focused on Drinking Water Research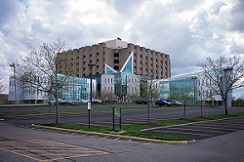 EPA chooses Cincinnati, Ohio as the site for its primary water research programs. A new water research facility is dedicated by President Gerald R. Ford as the EPA Environmental Research Center. The facility is later renamed in honor of its first director and is internationally recognized for drinking water research.

Andrew W. Breidenbach Environmental Research Center (AWBERC)
1972 - EPA Research Supports the Clean Water Act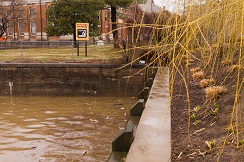 Congress passes the Clean Water Act to restore and maintain the nation's waters by preventing pollution. EPA science continues to support the implementation of the Clean Water Act. 
Summary of the Clean Water Act
1972 -The US and Canada Cooperate to Clean Up the Great Lakes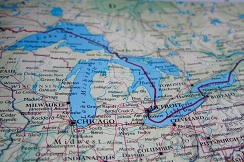 The U.S. and Canada agree to clean up the Great Lakes, which contain 95 percent of North America's fresh water and supplies drinking water to approximately 25 million people. EPA science contributes to the assessment and clean-up of the lakes.
Great Lakes Water Quality Agreement (GLWQA)
1971 - EPA Develops the Storm Water Management Model (SWMM)
EPA scientists develop and release the first version of SWMM. The model now incorporates green infrastructure practices and is used widely throughout the world and is considered the gold standard in the design of urban wet-weather flow pollution abatement approaches.
Storm Water Management Model (SWMM) 
1960s 
1969 - A Fire on the Cuyahoga River Highlights the Need to Protect the Environment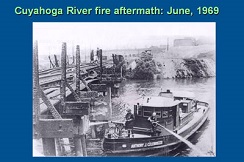 The Cuyahoga River in Ohio becomes so polluted that it catches on fire. The fire helped spur an avalanche of water pollution control activities, such as the Clean Water Act and the Great Lakes Water Quality Agreement. By bringing national attention to water pollution issues, the Cuyahoga River fire is one of the events that led to the creation of the U.S. EPA and the Ohio EPA.