Companies Crushing Pollution Video Challenge
Show off your video talents and win up to $5000 by showcasing a company adopting forward-looking P2 practices!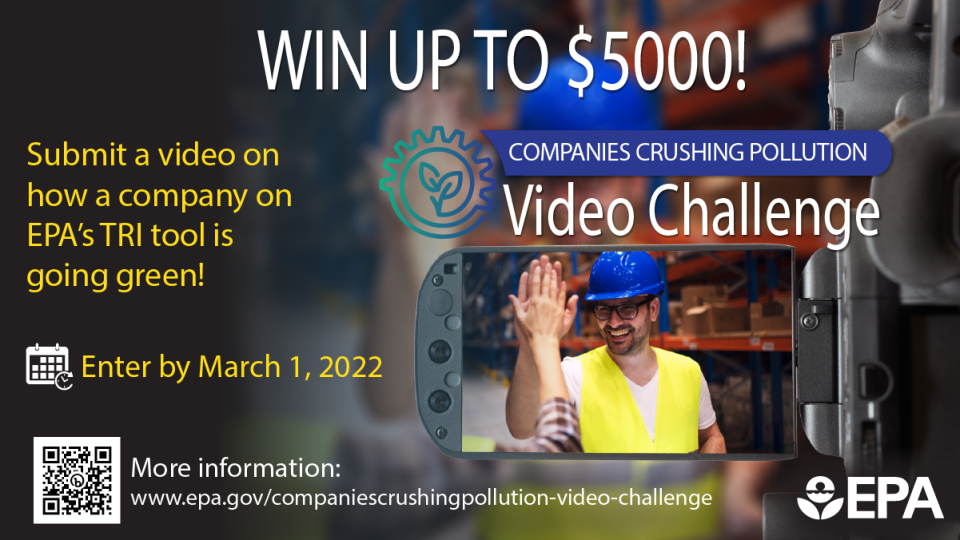 EPA launched a challenge promoting innovation in pollution prevention at industrial and federal facilities. The Challenge invites students and other members of the public, including people who live near industrial facilities, to use the TRI P2 Search Tool to identify a TRI facility that has reported implementing source reduction practices and make a video illustrating how those practices or techniques benefit the business and positively impact communities and the environment. The challenge is open now and all videos must be submitted by March 1, 2022.
On this page:
Challenge Overview
Eligibility
This challenge is open to high school students (grades 9-12), college students, or other members of the public who live in the United States or its territories. Participants may be individuals or teams. 
Federal employees, children of EPA employees, and children of affiliated state or tribal judging panel members may not enter the challenge. Employees of the companies profiled for this challenge are not eligible to apply. 
Timing
Submissions accepted: December 1, 2021 – March 1, 2022
Review of submissions: March - May 2022 
Prizes awarded: Late May/Early June 2022
Prizes  
EPA will award a total of $50,000 in prize money to multiple participants. Awards will be given in three categories: High School, Colleges/Universities, and "Open," with 8 to 9 awards in each category. For team submissions, awards will be divided among the team members. EPA will recognize participating business partners with letters of appreciation. Students under 18 years of age must have parental permission. 
|   | First Place | Second Place | Third Place | Honorable Mentions |
| --- | --- | --- | --- | --- |
| High School | $5000 (one award) | $3000 (one award) | $2000 (two awards) | $1000 (five awards) |
| Colleges/Universities | $5000 (one award) | $3000 (one award) | $2000 (two awards) | $1000 (five awards) |
| Open | $5000 (one award) | $3000 (one award) | $2000 (two awards) | $1000 (four awards) |
In addition to receiving cash prizes, winning videos will be posted on the EPA's website and social media platforms.
Rules
Video Content:
In 1 to 3 minutes, the video must describe pollution prevention practices implemented at a facility that reports to TRI and clearly explain or illustrate the benefits of these practices and improvements to the surrounding communities and environment.
Facilities eligible for being profiled are limited to those that reported implementing source reduction practices in one or more of the past five TRI reporting years (2016 to 2020). Eligible facilities can be found using the TRI P2 Search Tool. The video and accompanying documentation may cover information beyond what is provided in the TRI P2 Search Tool.  Check out the definition of P2. 
Applicants should strive to present creative, innovative and educational video content.
The video can be submitted in any language, but you are required to include a transcript for both English and the language presented.
Video Specifications:
1 to 3 minutes in total length.
Source video file must be one of the following formats: MPEG4, 3GPP, MOV, AVI or WMV
Either 24 or 30 (29.9) frames per second
1080 pixels resolution.
Note that most video cameras on phones should be capable of producing a video meeting the specifications above.
Submission Limit:
Each individual or team is limited to entering one video in the Challenge. Multiple submissions from the same source will be disqualified.
 

How to Develop a Video for the TRI-P2 Challenge 
Use the TRI P2 Search tool to identify facilities that have reported source reduction activities. Remember that only facilities that reported P2 activities to EPA's TRI Program (as identified from the TRI P2 Search Tool) from 2016 to 2020 qualify to be profiled in a video. However, the activities highlighted (e.g., reductions in greenhouse gas emissions) may extended beyond reported information. Refer to the resources section below for more tips. 

Make sure to check the facility compliance history. Those facilities currently in significant violation or non-compliance should not be selected for highlighting in the video.

Reach out to the facility's representatives and ask if they would be interested in participating in a project to highlight innovative pollution prevention practices. 

If the facility representatives agree, we suggest meeting with them to determine exactly what they want highlighted and whether there are any areas that should not be filmed. We encourage you to be as collaborative as possible.  

Shoot your footage. 

If you decide to add music to your video, make sure to review the EPA Music Licensing Guidance (pdf). There are several free music services available online. 

Edit and work closely with the facility to develop a video product that both you and the company agree best reflects the company's P2 achievements in it's facility.  

Submit your video per the instructions below.  
How to Enter
Participants must post their video submission to YouTube as an unlisted video and send the link along with the required paperwork listed below by the March 1, 2022, deadline.
Submission Email:
Make sure to fill out the challenge entry form below and submit the rest of the paperwork by email to guthrie.christina@epa.gov.
Send emails with the subject: 'TRI-P2 Video Challenge Entry.'
Note: To ensure your submission is not blocked by EPA servers, please keep emails under 9 MB.
Required Paperwork: Each video entry must be accompanied with the following paperwork:
Terms and Conditions
Intellectual Property:
Winning videos will be posted on the EPA website and announced in late May or early June 2022.
Video content may be used by EPA and the public for informational, educational, and or public relations purposes. 
All video entries must be accompanied with signed License Agreement and Consent Forms found below. Each person appearing on the video must sign a Consent Form.
Music use must follow EPA guidelines on music licensing. See the How to Develop a Video Section.
Challenge participants are responsible for complying with applicable copyright and intellectual property laws for any materials used in their videos. "Fair use" rules may allow the use of copyrighted material in certain circumstances. As an example, see the fair use guidelines on YouTube . Participants should seek legal guidance if they have questions about using copyrighted materials.
Non-Endorsement:
EPA and EPA officials do not endorse any product, service or enterprise that may appear in submitted videos. Furthermore, by recognizing winning videos, EPA is not endorsing products, services or enterprises that may appear in those videos.
Funding Information:
Participants cannot use funding from the federal government (either through grants or contracts) to compete in the Challenge.
All prize awards are subject to EPA verification of the winners' identity, eligibility and participation in the Challenge. Awards will be paid using electronic funds transfer and may be subject to federal income taxes. EPA will comply with the International Revenue Service (IRS) withholding and reporting requirements, where applicable.
Winners are responsible for reporting and paying all applicable taxes in their jurisdiction of residence (federal, state/provincial/territorial and local). Winners will be required to provide information to facilitate receipt of the award, including completing and submitting any tax or other forms necessary for compliance with applicable withholding and reporting requirements.
Plagiarism:
EPA has a no-tolerance policy for plagiarism. Any applicant whose work is determined to be plagiarized in whole or in part will be disqualified.
Waiver:
By entering this Challenge, participant agrees to assume any and all risks and waive claims against the federal government and its related entities (except in the case of willful misconduct) for any injury, death, damage, or loss of property, revenue, or profits, whether direct, indirect, or consequential, arising from their participation in the Challenge, whether the injury, death, damage, or loss arises through negligence or otherwise.
Disclaimer:
EPA reserves the right to disqualify any submittal.
Judging
A panel of EPA and American Chemical Society subject matter experts will evaluate submissions using a 100-point scale and submit recommendations to EPA. EPA will determine the final winners and award all prize winners. Videos that do not meet the specifications in the rules section will be disqualified.
The video submission and any written documentation will be judged on the following criteria. For additional details on the judging criteria, see attached document.  Video Challenge Judging Criteria (docx)
Production Value (20 points): Submissions will be evaluated for the production quality of the video submitted. 
Pollution Prevention and Storytelling (40 points): Submissions will be evaluated on how they communicate a persuasive, meaningful, accurate and engaging P2 message to a broad set of audiences. Credit will be given to videos that note information identified in the TRI P2 Search Tool, describe the P2 activities that were implemented, illustrate the benefit(s) to the facility, and explain why the facility decided to invest in the P2 activity or activities.   
Community Impact and Storytelling (30 points): Submission will be evaluated on how significantly  the implemented pollution prevention technique or technology positively impacts the environment and the community. 
Outreach Strategy (10 points): Submission will be evaluated on how well they increased awareness around pollution prevention actions implemented.
Helpful Resources
FAQ
Is there a minimum number of entries EPA must receive to hold the challenge?
If EPA receives fewer than 25 submissions, the video challenge may be cancelled.
Are community and technical colleges eligible to participate?
Yes, all students enrolled at community colleges and technical colleges are eligible to compete.
Can I apply to the challenge if I am an international student living in the United States or in a U.S. Territory?
Yes.
Is there a recommended team size?
No, teams can be as large or as small as desired and interdisciplinary teams are highly encouraged. Student prizes will be distributed evenly among all student team members. 
Can a school have more than one team?
Yes.
Can my submission tell a story using a collection of shorter clips?
Yes, your story can be divided into discrete parts. If you want to use a collection of shorter clips to tell your story, stitch them together in one video file for submission. The single video file must still be between one-three minutes long. Submit the file containing your clips with all other required documentation. If your video is selected as a finalist, we may ask for the individual clips to share through EPA social media accounts.
Does the facility I focus on need to be in my community?
No, you may focus on any facility that has reported source reduction activities to the TRI in the last five years. In choosing a facility, consider how you might show it in your submission. Nearby facilities may host site visits or allow for interviews. If you're unable to visit the facility, get creative! Remote interviews, phone calls and images can all be used to tell your story provided you have obtained consent to record audio or video.
What is Pollution Prevention?
Pollution Prevention (P2), also known as source reduction, is any practice that reduces, eliminates, or prevents pollution at its source prior to recycling, treatment or disposal. Reducing the amount of pollution produced means less waste to control, treat, or dispose of. Less pollution means less hazards posed to public health and the environment.
How will prizes be distributed?
EPA will pay student prizes via direct deposit. Student prizes will be distributed evenly among all student team members. Faculty prizes must be deposited into a departmental account under the care of the winning faculty advisor. All prizes are subject to federal, state and local taxes. EPA will comply with Internal Revenue Service 1099 reporting requirements. 
Contact Information
Please reach out to Christina Guthrie, if you have any questions: guthrie.christina@epa.gov or 202-564-8846