Research Highlights
EPA scientists have primary responsibility for the continual development of CMAQ and its related models. There are currently a number of research projects underway that focus on a range of topics, from exploration of atmospheric science fundamentals to incorporation and evaluation of recent scientific breakthroughs into research versions of the CMAQ model. Eventually, this new knowledge will serve the public by being incorporated in future publicly available CMAQ releases. The research and development team welcome comments and questions about these topics and would be happy to discuss the potential for collaborations.
Research Highlights: Table of Contents
Demonstrating the Viability of Global Weather Data for Global CMAQ
Researcher : Robert Gilliam
Posted: September 2021
Citation: Gilliam, R. C., Herwehe, J. A., Bullock, Jr, O. R., Pleim, J. E., Ran, L., Campbell, P. C., & Foroutan, H. (2021). Establishing the suitability of the Model for Prediction Across Scales for global retrospective air quality modeling. Journal of Geophysical Research: Atmospheres, 126, e2020JD033588. https://doi.org/10.1029/2020JD033588
Summary: Substantial progress has been made to develop an Advanced Air Quality Modeling System (AAQMS) to holistically simulate influences of global emissions and meteorology on regional and local air quality. A recent paper by Gilliam et al. (2021) documents the evaluation and the successful integration of EPA's model updates in the Model for Prediction Across Scales (MPAS), a global meteorology model that is central to the AAQMS with CMAQ. Updates to MPAS included the implementation of four-dimensional data assimilation (Bullock et al., 2018), the implementation of the Pleim-Xiu land-surface model and atmospheric mixing routine into MPAS.
Annual simulations were conducted for a comprehensive evaluation that examined model performance over all seasons. The evaluation of MPAS focused on weather near the surface, weather aloft (up to about 12 km), radiation (a key in photochemistry), and precipitation. MPAS compared well against observations by matching or improving upon the error levels of the current regional meteorology driver for CMAQ, the Weather Research and Forecasting model (WRF). As an example, seasonal precipitation statistics indicated that MPAS has slightly lower error and bias than WRF. Figure 1 below shows the season precipitation totals that were observed (PRISM) and modeled by MPAS and WRF. Features in the PRISM observational dataset were better replicated by MPAS from the winter precipitation over the southern U.S. to summer precipitation over the western U.S. While there are certainly areas of improvement in MPAS, this evaluation lends confidence in MPAS as the meteorological driver for the AAQMS.
Evaluation of 15 years of modeled NOX across the contiguous United States
Researcher : Kristen Foley
Posted : May 2021
Citation: Toro, C., Foley, K., Simon, H., Henderson, B., Baker, K., Eyth, A., Timin, B., Appel, W., Luecken, D., Beardsley, M., Sonntag, D., Possiel, N. Evaluation of 15 years of modeled atmospheric oxidized nitrogen compounds across the contiguous United States. Elem Sci Anth (2021) 9: 1. DOI: https://doi.org/10.1525/elementa.2020.00158
Summary: In recent years, many published studies comparing ambient NOX and NOY concentrations to modeled or inventory values found a high bias on the order of 1.4 - 2 times observed levels. Some researchers proposed reducing mobile-source NOX emissions by 30-70% in their modeling applications. Many of these applications were based on evaluation of summer 2011 modeling to leverage the 2011 National Emissions Inventory and various summer field campaigns such as the 2011 DISCOVER-AQ Baltimore. Here, NOX estimates from annual photochemical simulations for years 2002-2016 are compared to surface network measurements of NOX and NOY to evaluate the Community Multiscale Air Quality (CMAQ) modeling system performance by U.S. region, season, and time-of-day. In addition, aircraft measurements from 2011 DISCOVER AQ are used to evaluate how emissions, chemical mechanism, and measurement uncertainty each contribute to the overall model performance. We show distinct seasonal and time-of-day patterns in NOX performance. Summertime NOx is overpredicted with bimodal peaks in bias during early morning and evening hours and persisting overnight.  The summertime morning NOX bias dropped from between 28% and 57% for earlier years (2002-2012) to between -2 and 7% for later years (2013-2016). Summer daytime NOX tends to be unbiased or underpredicted.  In winter, the evening NOX overpredictions remains, but NOX is unbiased or underpredicted overnight, in the morning, and during the day. NOX overpredictions are most pronounced in the Midwestern and Southern U.S. with Western regions having more of a tendency towards model underpredictions of NOX.  Modeled NOX performance has improved substantially over time, reflecting updates to the emissions inputs and the CMAQ air quality model.  Model performance improvements are largest for years simulated with CMAQv5.1 or later and for emissions inventory years 2014 and later, coinciding with reduced onroad NOX emissions from vehicles with newer emission control technologies and improved treatment of chemistry, deposition, and vertical mixing in CMAQ.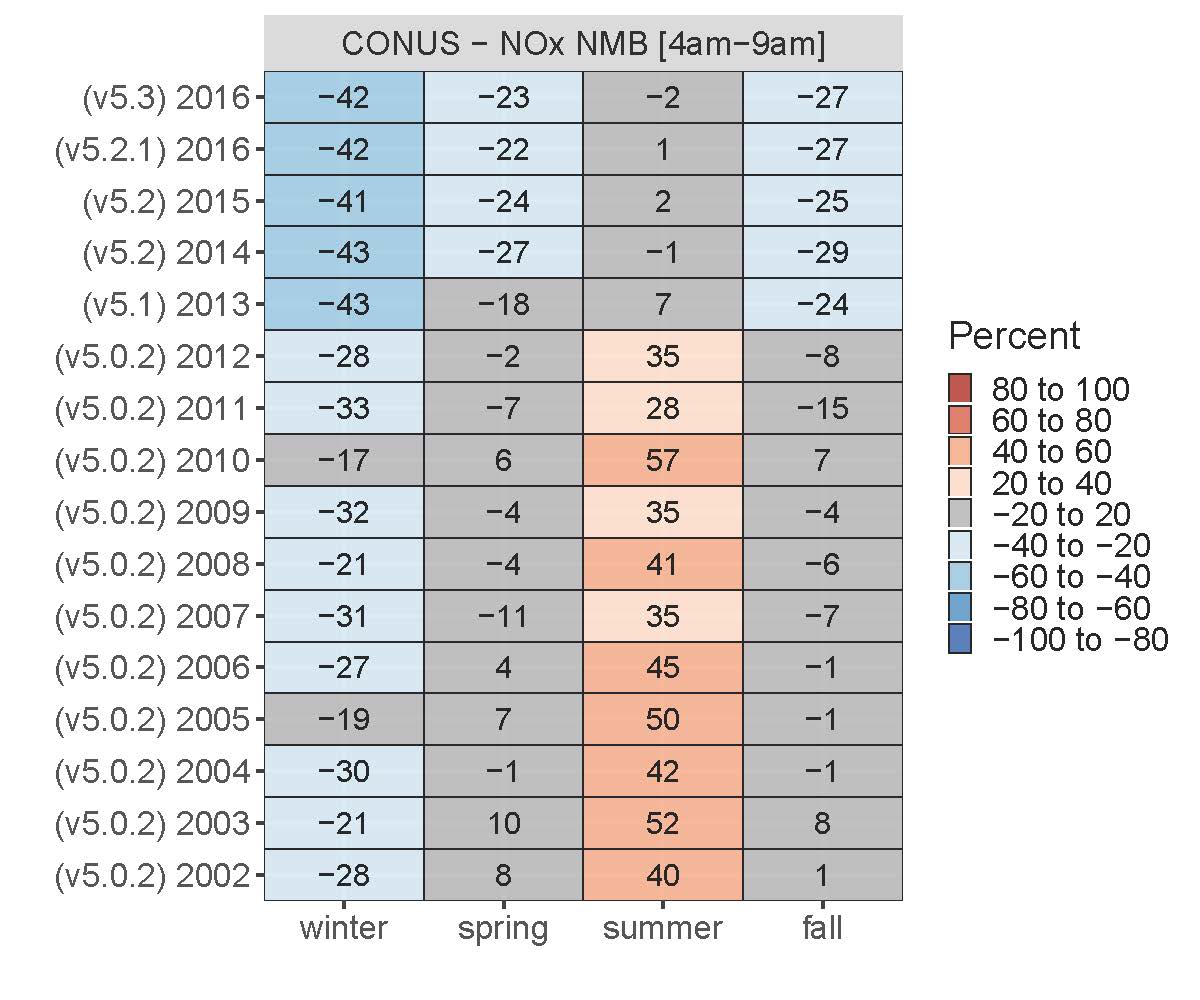 Characterizing Air Emissions, Transport, and Deposition of PFAS from a Fluoropolymer Manufacturing Facility
Researcher : Emma D'Ambro
Posted : January 2021
Citation: D'Ambro, L., Emma, Pye, H.O.T., Bash, O., Jesse, B., James, A., Efstathiou., C, Gilliam, C., Robert, Reynolds, L., Talgo, K., and Murphy, N., Benjamin. Characterizing the Air Emissions, Transport, and Deposition of Per- and Polyfluoroalkyl Substances from a Fluoropolymer Manufacturing Facility. Environmental Science & Technology (2021), 55, 2, 862-870, https://doi.org/10.1021/acs.est.0c06580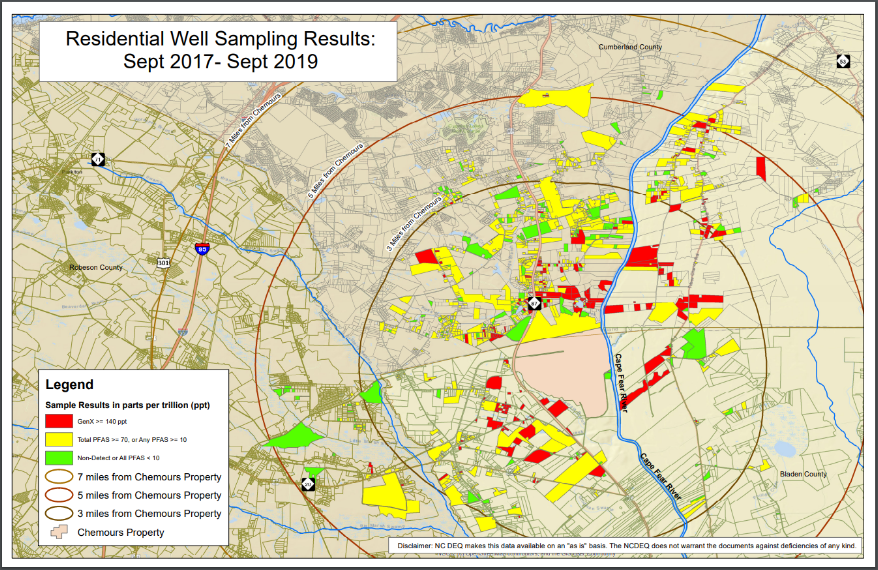 Summary: Per- and polyfluoroalkyl substances (PFAS) are a class of industrially produced compounds whose emissions to air may contribute, via transport and deposition, to concentrations in surface water, ground water, and private well water in the vicinity of large point sources. Air quality modeling techniques can be used to quantify air concentrations and deposition fluxes to help parse the role of exposure pathways such as direct inhalation and ingestion via contaminated water. We apply the Community Multiscale Air Quality model (CMAQ) to a case study in Eastern North Carolina to model the PFAS emissions and transport at fine scale (1 km) from the Chemours Inc. Fayetteville-Works (Fig. 1). Reported air emissions by the facility include 53 species and their emission rates. The top compounds by mass are explicitly implemented into CMAQ-PFAS, with the remaining lower emission rate species (< 45 kg yr-1) lumped into an aggregate species. The behavior of atmospheric PFAS emissions is largely unknown due to the lack of atmospheric studies and physicochemical property measurements. We use OPERA, a physicochemical property estimation model, and an updated deposition module to estimate the air concentration and deposition of individual and total PFAS compounds from this facility. We specifically investigate compounds of public and regulatory concern, namely GenX, as well as the entire suite of emitted PFAS. Homologues are compared to investigate the role of structure on deposition and air concentration as a function of distance from the facility. We find that only a small fraction (<5%) of GenX and Total PFAS air emissions deposit within 150 km of the facility (Fig. 2). The majority of emissions then are transported to other parts of the U.S. and beyond. To our knowledge, this is the first time a comprehensive set of PFAS emissions from a manufacturing point source has been evaluated for its impact on the atmosphere. Our results are an important step in understanding the behavior of significant PFAS emissions from a point source and can be used to inform studies quantifying exposure and biological effects.
Using Near-Field Exposure Modeling to Inform Ambient Air Emissions and Models
Researcher: Havala Pye
Posted: September 2020
Citation: Qin, M., Murphy, B.N., Isaacs, K.K., McDonald, B.C., Lu, Q., McKeen, S.A., Koval, L., Robinson, A.L., Efstathiou, C., Allen, C., Pye, H.O.T. Criteria pollutant impacts of volatile chemical products informed by near-field modeling. Nat Sustain (2020). https://doi.org/10.1038/s41893-020-00614-1
Read only link:  https://rdcu.be/b76hV
Summary: 
Understanding the role of volatile chemical products (VCPs, see
emerging applications of CMAQ
) on air quality and health requires information on product usage, the fraction of product emitted to air, and the reaction pathways that result in ozone and secondary organic aerosol (SOA). In recent work by Qin et al., the High-Throughput Stochastic Human Exposure and Dose Simulation (SHEDS-HT) model was used to estimate product usage and the emissions of VOCs while the CMAQ model along with observational constraints from the CalNex field campaign were used to bound the role of VCPs in ozone and SOA formation. SHEDS-HT, literature, and top-down constraints imposed by ambient observations suggest that emissions of VOCs from VCPs are likely underestimated in the NEI for California and potentially across the United States. After remedying emission magnitudes and SOA formation potential, CMAQ indicates VCPs are responsible for ~41% of fresh SOA and ~17% of maximum daily 8-hr average ozone in summer Los Angeles. Inhalation was also estimated to be more competitive with dermal and ingestion exposure to organic compounds than previously thought.
Photolysis of Particulate Nitrate Oxidizes Sulfur Dioxide in the Atmosphere
Researcher: Golam Sarwar
Posted: August 2020
Citation: Zheng, H., Song, S., Sarwar, G., Gen, M., Wang, S., Ding, D., Chang, X., Zhang, S., Xing, J., Sun, Y., Ji, D., Chan, C. K., Gao, J., McElroy, M. B.: Contribution of particulate nitrate photolysis to heterogeneous sulfate formation for winter haze in China, Environ. Sci. Technol. Lett. 2020, publication Date: June 25, 2020, https://doi.org/10.1021/acs.estlett.0c00368
Summary: 
Recent experimental studies suggest that particulate nitrate can photolyze and produce nitrous acid in aerosol liquid water which can subsequently oxidize sulfur dioxide into sulfate. In this study, we implemented a heterogeneous reaction in the Community Multiscale Air Quality (CMAQ) model to represent the conversion of sulfur dioxide into sulfate due to the photolysis of particulate nitrate and examined its impact on sulfate production in China. The current model without the chemistry substantially under-predicts observed atmospheric sulfate concentrations in China. Model results suggest that the reaction can increase sulfate production in China and the enhancement depends on the particulate nitrate photolysis rate used in the analysis. Reported photolysis rate of particulate nitrate vary by 1-3 orders of magnitude. The reaction can increase sulfate concentration by ~15% of the gap between the model prediction and observed concentration in winter when a particulate nitrate photolysis rate of 10 x the nitric acid photolysis rate is used. However, it increases sulfate concentration by ~65% of the gap between the model and observed concentration at a particulate nitrate photolysis rate of 100 x the nitric acid photolysis rate. Additional research is currently underway to examine the impact of the reaction on sulfate production over the Northern Hemisphere.
---
EPA Leads Study Synthesizing Information on Acidity of Atmospheric Particles and Clouds
Researcher: Havala Pye
Posted: May 2020
Citation: Pye, H. O. T., Nenes, A., Alexander, B., Ault, A. P., Barth, M. C., Clegg, S. L., Collett Jr., J. L., Fahey, K. M., Hennigan, C. J., Herrmann, H., Kanakidou, M., Kelly, J. T., Ku, I.-T., McNeill, V. F., Riemer, N., Schaefer, T., Shi, G., Tilgner, A., Walker, J. T., Wang, T., Weber, R., Xing, J., Zaveri, R. A., and Zuend, A.: The acidity of atmospheric particles and clouds, Atmos. Chem. Phys., 20, 4809–4888, https://doi.org/10.5194/acp-20-4809-2020, 2020.
Summary: The acidity of atmospheric condensed phases, particles and clouds, has implications for particulate matter formation, deposition, and metal solubilization. Historical measurements indicate that cloud and fog droplet acidity has changed in recent decades in response to controls on emissions from human activity, while the limited trend data for suspended particles indicate acidity may be relatively constant. A new review by Pye et al. in Atmospheric Chemistry and Physics reflects the efforts of an international team to synthesize knowledge on the acidity of atmospheric particles and clouds. It includes recommendations for estimating acidity and pH, standard nomenclature, a synthesis of current pH estimates based on observations, and new model calculations on the local and global scale. 
As part of the activity, CMAQ as well as other models' fine aerosol pHF (figure below) and cloudwater pHF values were presented. Since cloud and aerosol pH are an important property influencing a wide range of endpoints, improvements to how aerosol and cloud pH are represented in models could potentially enhance policy and programs informed by them. For locations with observationally constrained pH estimates, agreement between models and observations can be within 1 pH unit. However, the acceptable level of agreement required between models and observations depends on the target of a specific assessment (e.g., PM sensitivity to emissions, deposition of nutrients and acidity, metal solubility). Evaluating a model's pH in the context of how an error in pH may propagate to an endpoint of interest could help uncover model biases that have been unidentified to date and increase the understanding of the effects of emissions, human activity, and climate change on society and the Earth system as a whole.
The article is included in the Encyclopedia of Geosciences, a collection of peer-reviewed scientific review articles on topics relevant to the geosciences, published in the open-access journals of the European Geosciences Union (EGU).
---
EPA Study Shows Significant Ground-Level Ozone in the U.S. Mountain West Attributed to Lightning-Induced Nitrogen Oxide Emissions
Researcher: Daiwen Kang     
Posted February 2020
Citation: Kang, D., R. Mathur, G. A. Pouliot, R. C. Gilliam, and D. C. Wong, 2020: Significant ground-level ozone attributed to lightning-induced nitrogen oxides during summertime over the Mountain West States.  npj Climate and Atmospheric Science, 3, doi:10.1038/s41612-020-0108-2.
Summary: Stringent National Ambient Air Quality Standards are required to protect susceptible populations and improve public health. Accordingly, effective control measures on man-made contributions to air pollution must consider natural sources and their contributions to background pollution levels. Lightning-induced nitrogen oxides (LNOX) in the presence of sunlight, volatile organic compounds, and water vapor can be a relatively large but uncertain source of ozone (O3). Using lightning flash data to estimate LNOX emissions in the Community Multiscale Air Quality (CMAQ) model, EPA scientists demonstrated that typical summertime lightning activity across the U.S. Mountain West injects NOX emissions comparable to those from man-made sources over the region, contributing significantly to the amount of ground-level O3 in that region. This study was recently published in the Nature Partner Journal Climate and Atmospheric Science and highlights the growing need for comprehensive models, such as CMAQ, to quantify natural sources and their contributions to background O3.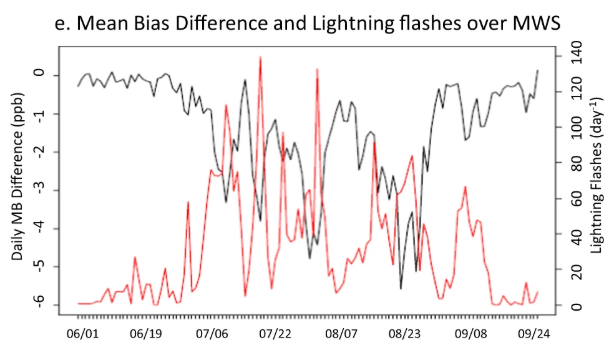 ---
New Bidirectional Ammonia Flux Model in an Air Quality Model Coupled with an Agricultural Model
Researcher: Jonathan Pleim    
Posted October 2019
Citation: Pleim, J. E., Ran, L., Appel, W., Shephard, M. W., & Cady‐Pereira, K. (2019). New bidirectional ammonia flux model in an air quality model coupled with an agricultural model. Journal of Advances in Modeling Earth Systems, 11. https://doi.org/10.1029/2019MS001728
Summary:  Ammonia surface flux is bidirectional; that is, net flux can be either upward or downward. In fertilized agricultural croplands and grasslands there is usually more emission than deposition especially in midday during warmer seasons. In North America, most of the ammonia emissions are from agriculture with a significant fraction of that coming from fertilizer. In this study we developed a new bidirectional ammonia flux modeling system that has been implemented in the Community Multiscale Air Quality (CMAQ) model version 5.3, which has close linkages with the Environmental Policy Integrated Climate (EPIC) agricultural ecosystem model. Daily inputs from EPIC are used to calculate soil ammonia concentrations that are combined with air concentrations in CMAQ to calculate bidirectional surface flux. The model is evaluated against surface measurements of NH3 concentrations, NH4+ and SO42− aerosol concentrations, NH4+ wet deposition measurements, and satellite retrievals of NH3 concentrations. The evaluation shows significant improvement over the base model without bidirectional ammonia flux. Comparisons to monthly average satellite retrievals show similar spatial distribution with the highest ammonia concentrations in the Central Valley of California (CA), the Snake River valley in Idaho, and the western High Plains. In most areas the model underestimates, but in the Central Valley of CA, it generally overestimates ammonia concentration. Case study analyses indicate that modeled high fluxes of ammonia in CA are often caused by anomalous high soil ammonia loading from EPIC for particular crop types. While further improvements to parameterizations in EPIC and CMAQ are recommended, this system is a significant advance over previous ammonia bidirectional surface flux models.
Ammonia concentration from CMAQ on left and CrIS satellite retrievals on right averaged for June 2016
---
Anthropogenic combustion emissions of NOx facilitate oxidation and resulting PM2.5 from biogenic monoterpenes
Researcher: Havala Pye       
Posted: March 2019
Citation: Pye, H. O. T., D'Ambro, E., Lee, B., Schobesberger, S., Takeuchi, M., Zhao, Y., Lopez-Hilfiker, F., Liu, J., Shilling, J., Xing, J., Mathur, R., Middlebrook, A., Liao, J., Welti,A., Graus, M., Warneke, C., de Gouw, J., Holloway, J., Ryerson, T., Pollack, I., Thornton, J. A.: Anthropogenic enhancements to production of highly oxygenated molecules from autoxidation. P Natl Acad Sci USA, https://doi.org/10.1073/pnas.1810774116, 2019.
Summary:  Recent work by Pye et al. (2019) shows that autoxidation pathways dictate the abundance and anthropogenic modulation of secondary organic aerosol (SOA) from monoterpenes. A key feature of the mechanistic SOA developed in the work is the low volatility of the particles, making them relatively insensitive to changes in primary organic aerosol or other organic aerosol sources via absorptive partitioning feedbacks. While reductions in NOx are predicted to lead to increasing autoxidation and potential for PM2.5, they also reduce oxidant abundance which can offset the changes in SOA yield such that NOx emission reductions have co-benefits for monoterpene SOA from first generation autoxidation pathways. Evidence for the mechanism was observed downwind of Atlanta in the summer of 2013 where autoxidation products were enhanced in the presence of elevated NO. The mechanism developed by Pye et al. indicates that about a quarter of the recent (1990-2010) decline in organic aerosol in the southeast US may be due to changes in monoterpene SOA.
Read more about monoterpene SOA development in CMAQ: Improving the representation of monoterpene chemistry leading to PM2.5 in CMAQ
---
Modeling long-term trends in nitrogen and sulfur deposition across the United States
Researcher: Rohit Mather       
Posted: September 2018
Citation: Zhang, Y., Mathur, R., Bash, J. O., Hogrefe, C., Xing, J., and Roselle, S. J.: Long-term trends in total inorganic nitrogen and sulfur deposition in the US from 1990 to 2010, Atmos. Chem. Phys., 18, 9091-9106, https://doi.org/10.5194/acp-18-9091-2018 , 2018. 
Summary:  The ultimate-fate of atmospheric emissions of NOx, NH3 and SO2 and their derived products is removal by wet scavenging and dry deposition at the surface. Accurate quantification of these atmospheric sinks of airborne nitrogen and sulfur species is important not only from an atmospheric budget perspective, but also because of potential ecological effects arising from their deposition to terrestrial and aquatic ecosystems. Excess deposition of nitrogen and sulfur is detrimental to ecosystems, since it leads to decreased biological diversity, increased terrestrial and aquatic eutrophication and acidification. Accurate quantification of changes in atmospheric deposition amounts is critical for maintaining ecosystem health.
In this study, we use model simulations spanning a 21-year period from 1990-2010 to investigate the spatial distribution and temporal trends in the total inorganic nitrogen and total sulfur deposition across the U.S., including changes in chemical composition of the deposition as well as the relative importance of the wet and dry deposition components.  Analysis indicate that atmospheric deposition amounts of both total inorganic nitrogen and sulfur have decreased significantly across the U.S. in response to reductions in emissions of NOx and SO2. Total inorganic nitrogen deposition decreased significantly over the Eastern Temperate Forests, Northern Forests, Mediterranean California and Marine West Coast Forest, resulting from decrease in oxidized nitrogen deposition driven by reductions in NOx emissions during this period. Nationwide, dry deposition accounted for 58-65% inorganic nitrogen deposition amount. Oxidized nitrogen dominated the total inorganic nitrogen deposition in the U.S. during the first decade but a shift occurred in 2003 when deposition of reduced nitrogen became dominant. The study highlights the growing importance of NHX deposition as emissions of NOX and SO2 have been reduced substantially over the years.
---
A Case Study Evaluation of Fog Simulation Using Two Land-Surface Models
Researcher: Brian Eder       
Posted: August 2018
Citation:  Brian Eder, Robert Gilliam, Patrick Campbell, Melissa Wrzesien , Donna Schwede and Tanya Spero, presented at the Joint WRF and MPAS Users' Workshop, Boulder, Colorado, June 11th – 15th, 2018.
Summary:  Despite its importance to ecosystem health (related to pollutant and nutrient deposition), the numerical simulation of fog lags the simulation of other meteorological phenomena due, in large part, to its complexity and limitations of model resolution. 
This evaluation provides a case study of fog formation/simulation in the Nooksack Valley Region centered in Washington State during an extensive fog episode in January of 2014.  Numerous simulations of WRFV3.9 (4 km) were conducted using two land-surface models: PX-LSM and Noah-LSM and a variety of physics parameterizations.  Two such configurations designed to provide commensurability were examined in this study  focusing on a 72-hour period 00UTC 19 January – 23UTC 21 January.  
A snapshot in time (19UTC 19 January) is shown below comparing a GOES (West) 1 km visible satellite image with the total liquid water content (g/kg) of the lowest 8 model layers for the PX-LSM (middle) and the Noah-LSM (right).  Colorization starts at a threshold of ≥ 0.015 g/kg which corresponds to visibilities less than 1000 m, the threshold for fog as defined by the World Meteorological Society. Both LSMs simulated advection fog well (seen over the Pacific Ocean), but tend to under simulate radiation fog over the Nooksack Valley in the eastern part of the State.  This underestimation, which was more prevalent with the Noah-LSM, is being investigated.