Risk Management
Risk Management is a distinctly different process from risk assessment. Risk assessment establishes whether a risk is present and, if so, the range or magnitude of that risk. In the risk management process, the results of the risk assessment are integrated with other considerations, such as economic or legal concerns, to reach decisions regarding the need for and practicability of implementing various risk reduction activities. Risk managers also use risk assessment results as a basis for communicating risks to interested parties and the general public.
As described in EPA's Risk Characterization Handbook, risk managementThe process of deciding whether and how to manage risks. Risk management requires consideration of legal, economic and behavioral factors, as well as ecological, human health and welfare effects of each decision/ management alternative. Management may involve regulatory and non-regulatory responses. (source: CRS 2005) is a process that evaluates options for protecting public health and the environment. Examples of risk management actions include deciding how much of a substance a company may discharge into a river; deciding which substances may be stored at a hazardous waste disposal facility; deciding to what extent a hazardous waste site must be cleaned up; setting permit levels for waste discharge, storage, or transport; establishing national ambient air quality standards; and determining allowable levels of contamination in drinking water.
Risk management is informed by scientific assessment of risks to human and ecosystem health with information drawn from toxicology, chemistry, epidemiology, ecology, and statistics - to name a few. Risk management also is informed by:
Economic factors, such as the benefits of reducing risks and the costs of mitigation or remediation options and distributional effects.
Laws and legal decisions that define the basis for the Agency's risk assessments, management decisions, and, in some instances, the schedule, level, or methods for risk reduction
Social factors, such as income level, ethnic background, community values, land use, zoning, availability of health care, lifestyle, and psychological condition of the affected populations (may affect the susceptibility of a definable group to risks from a particular stressor)
Technological factors that affect the range and feasibility of management options, and potential impacts from each option
Political factors might include interactions among branches of the U.S. Federal Government with other federal, state, and local government entities, including tribal agencies
Current practices, as defined by Agency policy and political administrations, including inquiries from members of Congress, interest groups, or concerned citizens.
Public values that reflect broad attitudes of society about environmental risks and risk management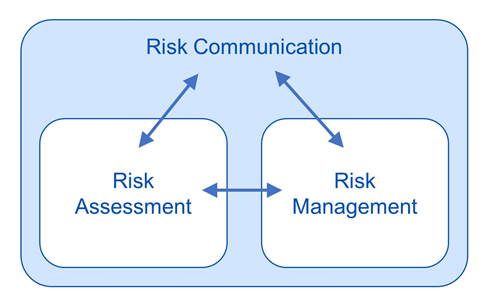 Appropriate risk management actions for sectors of industry or for local communities can be spelled out in risk management plans for day-to-day activities and for actions to be taken under emergency situations.
EPA and other agencies often request reporting of chemical releases or occurrence of other potentially hazardous situations to assist in risk management. Environmental monitoring programs for air and water quality assist in evaluating the efficacy of risk management actions. Risk Management is constantly conducted by EPA and the current Risk Management activities that are underway can be found on the TSCA Risk Management web site.
Emergency risk management generally is planned among a group of local, state, and federal agencies to facilitate rapid response and interagency and public communications.
Risk Management Guidance Documents
Below are links to a few examples of EPA risk management guidelines and plans.
Document
Description
EPA. 2017. How to Better Prepare Your Community for a Chemical Emergency A Guide for State, Tribal and Local Agencies

This guide provides an overview of the EPCRA requirements for:

State Emergency Response Commissions (SERCs),
Tribal Emergency Response Commissions (TERCs),
Local Emergency Planning Committees (LEPCs), and
Tribal Emergency Planning Committees (TEPCs).

These requirements include emergency planning, emergency release notifications, and hazardous chemical inventory reporting.
EPA's Risk Management Plan (RMP) Rule
These Risk Management Plans provide valuable information to local fire, police, and emergency response personnel to prepare for and respond to chemical emergencies in their community. Making RMPs available to the public also fosters communication and awareness to improve accident prevention and emergency response practices at the local level.
EPA's Superfund Risk Assessment: Risk Management
This page outlines Risk Management as it pertains to Superfund Risk Assessments, as well as provides additional documents.
EPA's PFAS Action Plan
EPA's PFAS Action Plan outlines concrete steps the agency is taking to address PFAS and to protect public health.
EPA's Air Toxics Risk Assessment
This page outlines the Risk Assessment plan as it pertains to Air Toxics.
EPA's Federal Action Plan to Reduce Childhood Lead Exposure
The Action Plan will help federal agencies work strategically and collaboratively to reduce exposure to lead with the aim of ultimately improving children's health. 
EPA's Clean Water Action Plan
EPA's Clean Water Action Plan serves as a national call to action, urging all levels of government, utilities, community organizations, and other stakeholders to work together to increase the safety and reliability of clean drinking water.