Superfund Site Assessment Process
The Superfund site assessment process begins with site discovery or notification of a release or potential release into the environment. EPA may be notified of hazardous waste activity by citizens, states, tribes or other environmental programs. At federal facilities, the process starts with a facility's listing on the Federal Agency Hazardous Waste Compliance Docket (Docket).
Following notification, non-federal sites undergo Pre-CERCLA Screening to determine whether to add the site to the Superfund Active site inventory for further assessment. Federal facilities may bypass this step; each facility placed on the Docket undergoes a preliminary assessment. Using Hazard Ranking System (HRS) criteria, EPA, its state and tribal partners, or the appropriate federal department or agency then conduct a preliminary assessment and, if warranted, a site inspection or other more in-depth assessment. A Site Reassessment may also be performed to gather and evaluate new information at a site.
The HRS scoring system is applied to derive a preliminary site score at the conclusion of each assessment to help determine whether the site qualifies for placement on the National Priorities List (NPL). Sites with preliminary HRS scores below 28.50 do not qualify for the NPL, and are assigned a No Further Remedial Action Planned (NFRAP) decision. The NFRAP decision can also be made at sites with preliminary HRS scores of 28.50 or higher if EPA determines the site would received a "no action" Record of Decision (ROD) if placed on the NPL.
Sites that do not qualify for placement on the NPL remain with the state, tribe, municipality or other federal government agency. Sites that do qualify for the NPL and need further short- or long-term cleanup attention are referred to appropriate cleanup programs. These programs include EPA's Emergency Response and Removal program, EPA's Resource Conservation and Recovery Act (RCRA) Corrective Action program, state, tribal, municipal and other federal government cleanup programs EPA's Superfund Alternative Approach (SAA), and the NPL. The following chart illustrates the major components of the Superfund Site Assessment Process: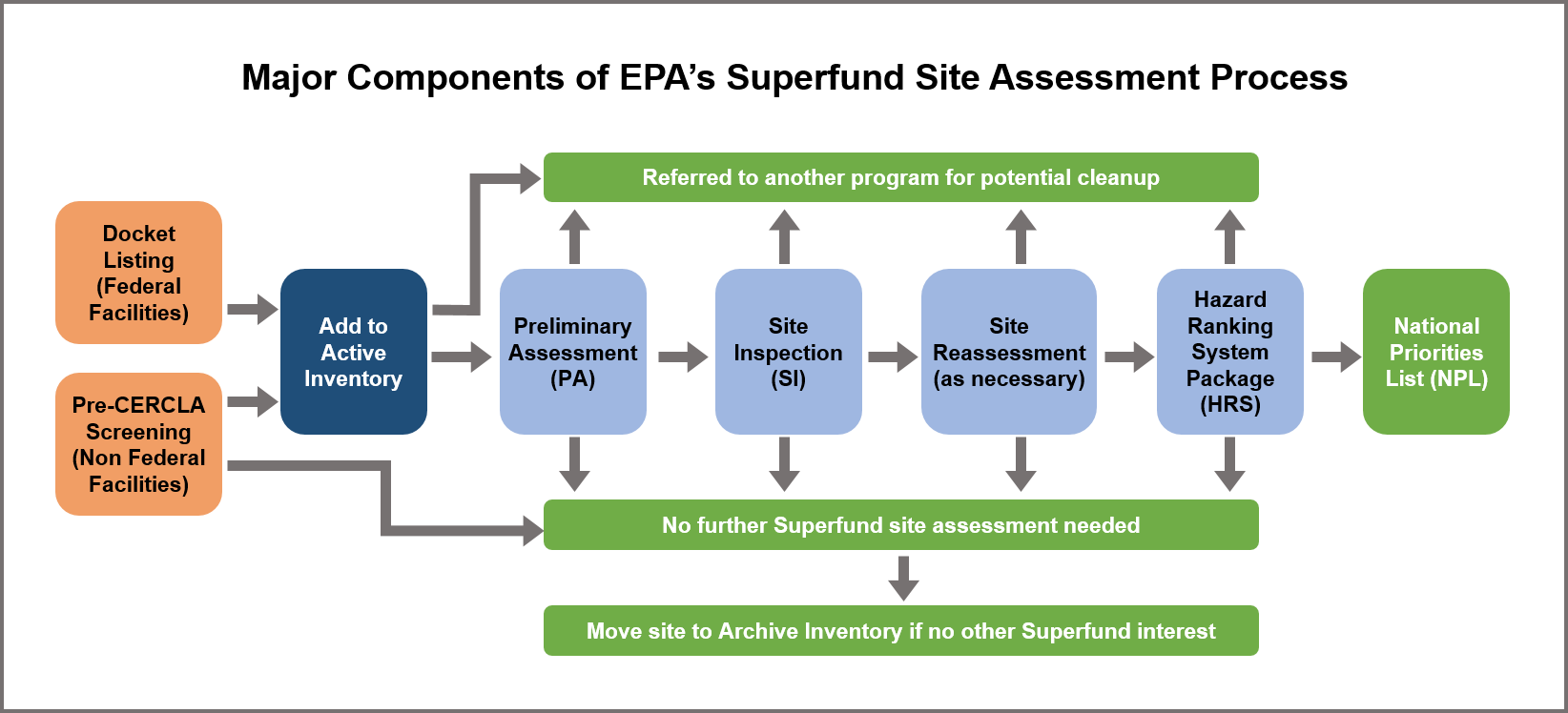 Cleanup Approaches
Multiple avenues for cleaning up a site are evaluated during the site assessment process to determine which is the most appropriate. For descriptions of these cleanup options, click the link below:
The screening-level assessments used in the Superfund site assessment process are limited in scope and intended to collect the necessary information required to determine eligibility for placement on the NPL. These assessments are not intended to fully characterize the nature and extent of potential contamination associated with a site. If required, comprehensive site characterization, to determine the extent of contamination and human health and ecological risk assessments are generally conducted as part of the remedial cleanup process.