Contaminant Fate, Transport & Exposure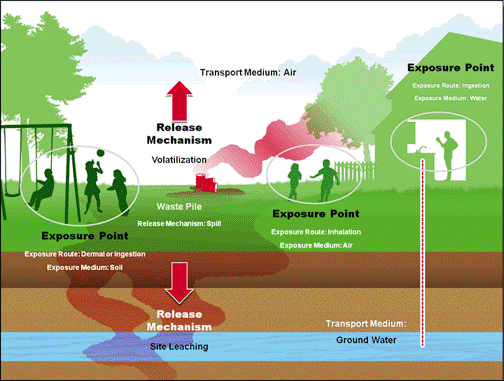 EPA develops procedures and methods to contain and mitigate contamination and to clean up the environment following public health and environmental incidents and disasters. Large scale contamination incidents could require the decontamination of multiple buildings and the outdoor environment, including water and wastewater systems. Knowledge of the fate (persistence and life cycle) and transport (movement) for various types of contaminants is key to understanding exposure mechanisms and informing sampling, cleanup, and restoration decisions.
EPA researchers are studying the potential for exposure from contaminants, including the impact of short-term exposures. For example, it's important to understand whether a contaminant released into the environment will continue to pose an exposure threat to people, animals, and plants over time. Information and models on exposure assessments can inform public health and cleanup decisions ranging from sampling, decontamination, waste management, and operational countermeasures.
Research Areas
Research Projects
Analysis for Coastal Operational Resiliency (AnCOR) Project – a multi-agency, multi-year program to develop and demonstrate capabilities and strategic guidelines to prepare for a wide-area release of a biological agent.
Related Resources and Tools
CompTox Chemical Dashboard – an online tool that integrates available chemical information including physiochemical properties, environmental fate and transport, exposure, usage, and more.