Contaminant Detection and Sampling and Analysis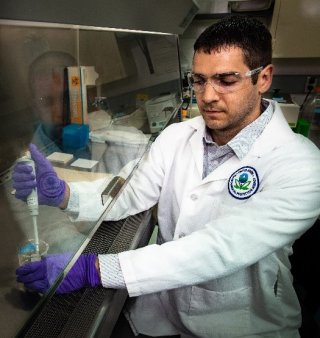 To protect public health following a wide-area chemical, biological (pathogen and/or biotoxin), or radiological (CBR) contamination incident, environmental sampling and analysis results are used to make decisions regarding cleanup of contaminated areas and water distribution systems to help citizens return to their normal routines. Examples of types of samples that might be collected include air (aerosol), water, surface (such as building materials), and soil. Contamination involving CBR agents requires special sampling, handling and analytical procedures.
Research Topics
EPA's research helps improve contaminant detection capabilities, sampling strategies, sample collection procedures, and sample analysis methodologies needed during and following CBR contamination events.
Available Tools
EPA's Environmental Sampling and Analytical Methods (ESAM) Program provides rapid, online access to information and tools to coordinate sampling analysis during a response to a CBR contamination incident. The program supports field and laboratory efforts to characterize contaminated sites and to remediate contamination.
EPA's Trade-off Tool for Sampling (TOTS) is a web-based tool for visually creating sampling designs and estimating the associated resource demand through an interactive, point-and-click interface. The resulting sample plan can be used to consider trade-offs in one's sampling design (i.e., cost-benefit analysis), alternate sampling approaches (i.e., traditional vs. innovative sampling methods), and sampling coverage.
Scribe is a software tool developed by EPA's Environmental Response Team (ERT) to assist in the process of managing environmental data. Scribe captures sampling, observational, and monitoring field data.
Featured Science Matters Articles